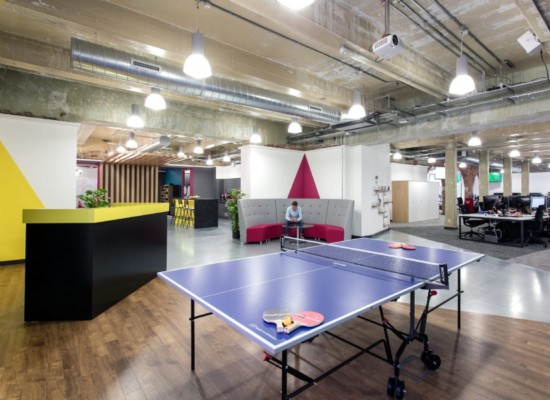 Functional spaces to more people friendly
Emma Leith, an interior decorator at Giant Leap, has shared the top five workplace trends that we can expect to see in South African offices in 2018.
Dynamic workplaces layouts

The multi-functional community space is an office trend that has been around for some time now. This workspace layout is quite popular and accommodates constant change. This allows people to be more productive, supports communication and allows flexibility in the workplace.
This trend is modular, lightweight, and features work furniture with a sit or stand option. More creative environments are producing inspiring, unconventional work spaces like yoga and meditation lounges for important creative and innovative meetings.
A new comfort level

Office spaces are now being created to feel like a home away from home. This is done by creating cosy, welcoming lounges, communal canteens, and comfortable break-out areas.
This helps to make employees feel more relaxed, at ease and valued. Home furniture is now being used in offices which creates a warm, eclectic,  never-want-to-leave-the-office feeling. This trend will grow in 2018 as millennials are pushing for this style of workin.
Some peace and quiet

The open plan office also creates a need for private areas to allow for concentration. This is needed whether for a private phone call, meeting or place to work with no disturbances.
Bringing The Outside In

A biophilic design which focuses on the human's innate love of nature will be seen in 2018. People want to see more of nature as they spend 90% of their time indoors.
Wellness in the Workspace

Wellness programmes encourage physical and mental health. Gyms, showers and break rooms provide complimentary healthy refreshments which are some of the few offerings that can create greater employee satisfaction.
____
Learn about the safety plan put into place by SAPS this festive.
____
Find out how desalination plants can help with the water crisis.
____
Read about the new changes to Uber.
---
Related Articles:
How Long Does Debt Counselling Take?
0 comment(s)
---
The Willard® BLUE Battery Promotion Has a Winner!
0 comment(s)
---
The Development of a Solar Photovoltaic Market in Ghana
0 comment(s)
---
Businesses to be Verified Based on New B-BBEE Code Amendments from 01 December
0 comment(s)
---
SAP SuccessFactors & Skillsoft
0 comment(s)
---