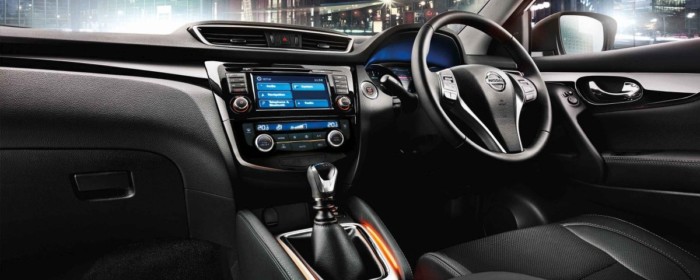 Self-indulgent Atmosphere
Ready to take on the city? If you answered yes, then why not do it with pure urban elegance. The Nissan Qashqai offers you just that, with its intuitive technology and state-of-the-art connected services, its dynamic ride and handling gives you complete control, always.
The Qashqai gives you the comfort and luxury of graphite leather interior with spinal support seats and cushioned kneepads, while the ambient lighting enhances your luxury experience.
If you worried about safety, the Nissan Qashqai has cutting-edge safety systems that are always on the lookout.
Zero Gravity Seats
Inspired by NASA, the Qashqai's remarkably comfortable front seats were built to maximize comfort while minimizing fatigue.
Luminous Style
Turn any day or night into a bright day with inviting ambient lighting located around the centre console. This touch gives you and your passengers a true feeling of luxury.
Take Control
The Nissan Qashqai gives you total control at your fingertips, with various advanced Drive-Assistant Display screens delivering infographics in real time.
Be In Control
Four cameras gives you a panoramic exterior of the Qashqai to make reversing and parking a real breeze. The bird's eye view allows you to check out the lay of the land from above, you can choose different dual views while manoeuvring.
Get Connected
Get connected in the Qashqai thanks to NissanConnect, packing a wealth of features. These features are easy to use thanks to the high resolution 7-inch anti-glare touchscreen.
NissanConnect is packed with a wealth of features that are incredibly easy to use thanks to the high resolution 7" anti-glare touchscreen. With a powerful combination of audio, navigation and communication functions, as well as cutting edge connectivity and smartphone integration features, the Nissan QASHQAI is an integrated part of your connected lifestyle, just like your smartphone, tablet and computer.
____
Read more on the Nissan Qashqai.
____
Read more on the exterior of the Nissan Qashai.
____
Read more on the festive specials Nissan had.
---
Related Articles:
Bigen celebrates 50 years of "doing good while doing business"
0 comment(s)
---
Youth Employment: Finding Alternative Opportunities in the Township Economy
0 comment(s)
---
Simple Solutions
0 comment(s)
---
Important B-BEE Affidavit Criteria
0 comment(s)
---
Scramble for Covid-19 Vaccine Exposes Pitfalls of Africa's Pittance Investment in Research and Development
0 comment(s)
---