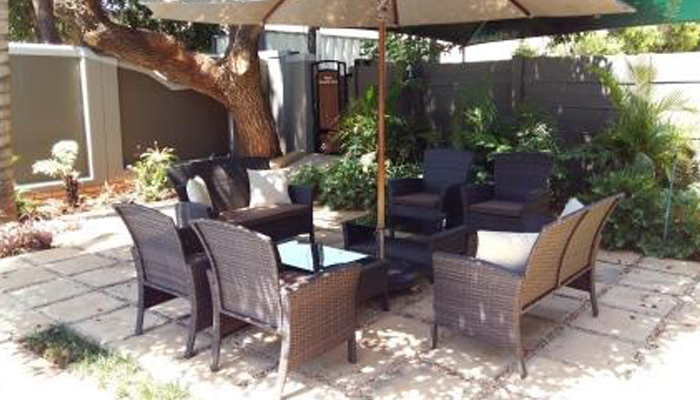 Liza's Cottage: Before and After

Upon buying an operational guesthouse (Liza's Cottage) located in Hatfield Pretoria, the new owners appointed Nuclei to assist with a complete interior renovation of the building and all guest rooms. Since the building has been in use for many years with barely receiving any maintenance, the job scope grew to include repair work and general maintenance.


Existing furniture and finishes had to be re-evaluated to better suit the functionality and aesthetics of the guesthouse, while complementing the existing architectural style and character and keeping budgetary constraints in mind. Additionally, new finishes allowed the opportunity for a higher star rating through the use of more luxurious and higher quality finishing.

One of the main concerns with the upgrade to Liza's Cottage was the fact that the guest house had to remain operational with minimum disturbance to the occupants. To this end, the project was divided into seven phases starting with the main house which included the office, reception and guest service areas. Once completed, work to the guest rooms started; completing them two at a time (each forming its own phase) and finally moving on to the exterior of the building and garden.
Dividing the project into small phases, made it possible for potential disturbances to guests to be contained and kept to a minimum as areas were finished off quickly.

As part of the interior renovation, new furniture was sourced for most of the guest service areas.  New artwork was commissioned, and better functioning cupboards and desks were provided to all rooms. Partial upgrades were made to en-suite bathrooms of all rooms; ensuring that they comply to the latest regulations and standards.

Exterior work on Liza's Cottage amongst others included repainting the entire building, refinishing all timber windows and upgrading the design of the entire pool area. A new boundary wall was also designed and added to the back of the property where the existing dilapidated precast fence was an eyesore and security risk.


Exterior work had to be coordinated with the neighbouring hospital, since construction of the boundary wall affected the hospitals staff parking. The entire area therefore had to be screened off and the boundary wall completed in sections to not disturb hospital staff.

Lastly, in order to ensure that a star rating higher or equal to the existing can be achieved, incorrectly designed auxiliary spaces and service areas had to be rearranged and redesigned to comply with the latest hospitality regulations. This included a complete restructuring of the in-house laundry areas and food storage areas.



____
News: Metrorail Central Line still down.
____
Tech: New skyscraper in the Mother City.
____
Business: Signs that consumer spending power is returning.
---
Related Articles:
WORLD ENVIRONMENT DAY - Are you making this mistake in your home?
0 comment(s)
---
Henley Business School is top in Southern Africa for Executive Education
0 comment(s)
---
UFS Research Impacts Food Security Across Borders
0 comment(s)
---
Medicinal Mushrooms
0 comment(s)
---
CloudSmiths Proudly Announces the Launch of their Salesforce Field Service Centre of Excellence in South Africa
0 comment(s)
---