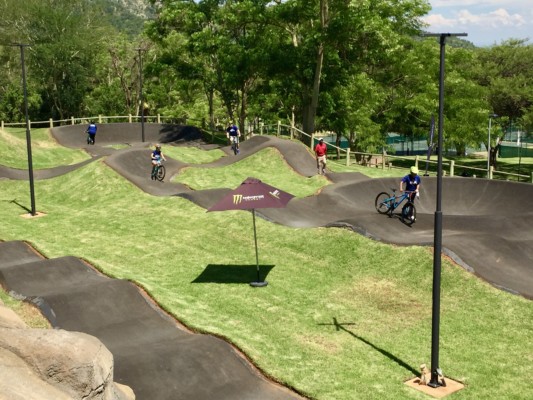 Sun Bike Park brings awesome pump track action to Sun City
Constantly evolving its offering to bring new and diverse experiences to guests, Sun City has introduced the Sun Bike Park – a multi-wheel, asphalt pump track for skateboards, bmx, mountain bikes, dirt jump bikes and in line skates. There is also a dedicated kiddies' track intended for push bikes only. The asphalt surfaces offers more grip and makes the track safer and easier to ride on.
The Sun Bike Park is open from Tuesdays to Sundays and riders can use their own wheels or hire a bike.  The facility was designed with beginners and safety in mind however, the main pump track does require some understanding or ability in order to navigate the course on a bike or skateboard. Professional riders will enjoy this facility as there are various options throughout the track where they can do double sections and maintain their speed through the track with ease. The track features a 360º bowl on the south side. This is a very unique feature that is usually associated with skate parks, as it allows riders to change their direction. The track is also easy-rolling which means riders can use it in any direction.
The construction of the Sun Bike Park involved a team of over 50 people during the course of the build and due to its location on a steep slope behind the Valley of Waves, was an ambitious excavation feat.
The excavation project involved the removal of some 1800 tons of material to level out the area on which to build the park.  More than 1500 tons of this material was rock that had been excavated during the construction of The Palace of the Lost City. The elevation meant that the team only had one access point to the site that was very steep and tricky traverse.
"We almost rolled trucks and machines at multiple times during the construction. On one day in particular when one of the tipper trucks started sliding backward while going up the access point, I was sure it was going to roll over with its full 15ton load on the back. I remember calling our CFO and saying that I didn't think we can finish this project because it is near impossible getting anything up here. He reassured me that we could do it, and we did. The day the asphalt crew arrived on site, I told them well the only way to get the asphalt up was by hand. Some of them laughed and some of them were angry as we had to take close to 100 tons of material in, and shape and compact it in six days, working in temperatures of 35 to 40ºC most of the time. If it wasn't for the experience and dedication of our team and everyone who worked with us, this project probably would have never happened," recalls Dirk Van Schalkwyk, Project Manager.
Describing pump tracks as art works, van Schalkwyk says each one is unique.
"Although 3D software is used to draw up track designs, location of this site presented some challenges and the layout had to be changed three times before it could be finalised. The excessive rock underneath the surface meant we could not put our storm water drains in according to the original plan so we had to work around it. This meant we had to redesign and build the track to fit around an entirely new storm water plan. Thus the track area had to be longer and narrower than originally planned.
Sun City's General Manager, Raul De Lima says: "We wanted the track to ride well in both directions and this is typically difficult to do. However the team spent a lot of time on the shape of the rollers and the variation in elevation through the track in order to achieve this. We are really pleased with the end result and we have no doubt that the Sun Bike Park is going to be a hit with our guests regardless of their ability."
The cost to take on the Sun Bike Park is R80 for Adults (full day pass) R40 (full day pass) for kids under the age of six. There is a full range of rental bikes on offer from Norco Bikes starting from R150 to R350 (full day pass, including a helmet). Protective gear and gloves are also available for sale or rental.  Operational hours are 08h00 to 17h00 on Sundays, Tuesdays and Thursdays; 11h00 to 17h00 on Wednesdays and 08h00 to 18h00 on Fridays and Saturdays.  Closed on Mondays.  Operational hours may vary during peak season.
For more information about Sun City and all the changes visit #NewSunCity connect with us on Facebook SunCitySA or follow us on Twitter SunCityResortSA and Instagram @SunCityResortSA.
Business Essentials is Africa's premium networking and business directory.
Read more from our Press Room.
---
Related Articles:
How Long Does Debt Counselling Take?
0 comment(s)
---
The Willard® BLUE Battery Promotion Has a Winner!
0 comment(s)
---
The Development of a Solar Photovoltaic Market in Ghana
0 comment(s)
---
Businesses to be Verified Based on New B-BBEE Code Amendments from 01 December
0 comment(s)
---
SAP SuccessFactors & Skillsoft
0 comment(s)
---