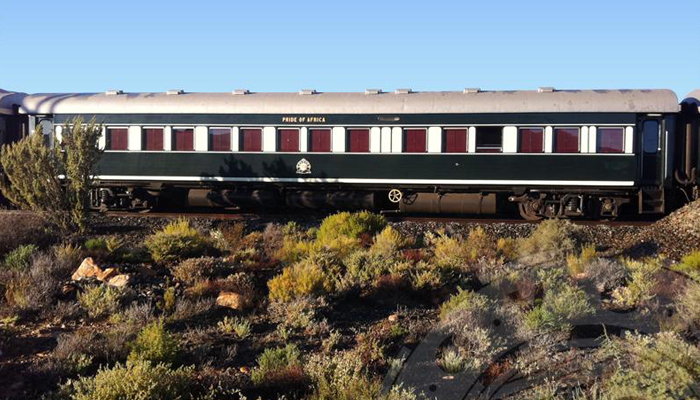 From the Indian to Atlantic Ocean across Africa

In July and August of 2019 Rovos Rail, the luxury rail company based in Pretoria, will set off on a new 15-day expedition which will traverse Tanzania, Zambia, the Democratic Republic of Congo (DRC) and the Benguela line with journey's end in Lobito, Angola.

It will be the first time in history that a passenger train will travel the east to west copper trail. "To be able to introduce a new adventure after 29 years in operation is exciting and presents me with a new and refreshing operational challenge", says Rohan Vos, owner and CEO of Rovos Rail Tours. The privately owned company has seven journeys already on offer which have over the years been enjoyed by thousands of international travellers.

This inaugural voyage sets off on 16 July 2019 from the Tanzanian capital, Dar es Salaam, a city familiar to the luxury rail operator as it has been running its 15-day Cape to Dar trip since 1993. The westbound sojourn includes a game visit to the Selous Reserve, a fly-in safari to the South Luangwa National Park where two nights are spent, a city tour of Lubumbashi in the DRC and opportunities for short walking tours detailing Angola's recent history. The journey is also available in reverse with the departure from Lobito on 2 August 2019.

Three types of accommodation are available which include the ± 16sqm Royal suite, the ± 11sqm Deluxe suite and the ± 7sqm Pullman suite. Each accommodation type has its own bathroom with shower, toilet and wash basin with the Royal suite inclusive of a Victorian-styled ball-and-claw bath.

Rates, which start at USD$12 820 per person, vary according to suite type and are fully inclusive of all meals on board, all alcoholic and other beverages on board, the off-train excursions, the fly-in safari and two-night game reserve stay as well as room service, laundry and the services of an on-board historian and doctor. Not included are flights, pre or post tour accommodation, transfers and gratuities for the train staff.

"It's taken over two years to acquire permission from the respective authorities and to have our proposed itinerary approved", says Vos. "My team and I have flown across our borders on a few occasions to meet the relevant officials, drive the route and conduct site visits in an effort to smooth the way as best we can for our band of intrepid travellers who will hopefully join us on this expedition", he adds.

For a reputable company known for its adventurous spirit, exceptional train tours and its perseverance, this certainly will be a grand voyage worthy of the history books.

_____
VAT increases to 15% – What are the practical implications for my business?
_____
Design Trends for 2018.
_____
Retirement Fund – Frequently Asked Questions.
---
Related Articles:
How Long Does Debt Counselling Take?
0 comment(s)
---
The Willard® BLUE Battery Promotion Has a Winner!
0 comment(s)
---
The Development of a Solar Photovoltaic Market in Ghana
0 comment(s)
---
Businesses to be Verified Based on New B-BBEE Code Amendments from 01 December
0 comment(s)
---
SAP SuccessFactors & Skillsoft
0 comment(s)
---