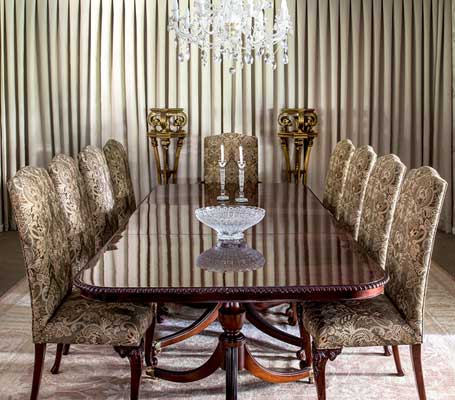 Griffiths & Griffiths showcase their 18th century dining room furniture.
Griffiths & Griffiths are the premier supplier of solid mahogany English Replica furniture in South Africa. The deluxe imported range is sourced from the Norman Adams Collection of 18th century antiques, and optimises the very best of the Georgian and Regency periods. These are fine investment pieces, as quality replicas offer the perfect antique alternative for the corporate executive environment or the elegant home.
In this elegant dining room, we have used our 10-seater solid mahogany Regency dining room table, with fully upholstered Chippendale Scroll Foot dining room chairs, upholstered in a unique damask velvet. The full wall of silk curtains with box pleats provides the perfect backdrop for the gilded Rams Head Torcheres. A Swarovski® crystal chandelier suspended above this 3.2M table completes the look of luxury, style and elegance.
Contact Griffiths & Griffiths today so we can help you design your perfect dining room by combining beautiful fabrics with our extensive range of 18th Century solid mahogany furniture.
____
News: City warns residents about scam.
____
Rovos Rail launches new route.
____
Find out about change management.
---
Related Articles:
How Long Does Debt Counselling Take?
0 comment(s)
---
The Willard® BLUE Battery Promotion Has a Winner!
0 comment(s)
---
The Development of a Solar Photovoltaic Market in Ghana
0 comment(s)
---
Businesses to be Verified Based on New B-BBEE Code Amendments from 01 December
0 comment(s)
---
SAP SuccessFactors & Skillsoft
0 comment(s)
---