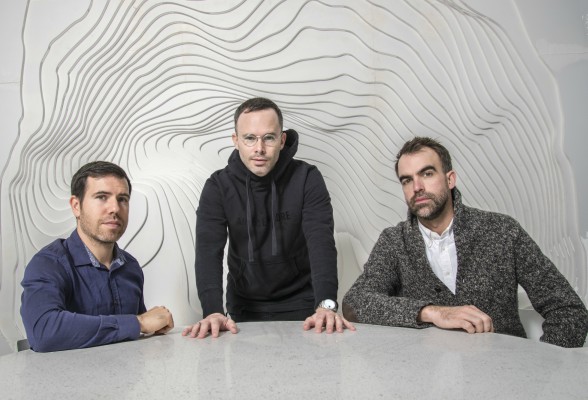 Caesarstone presents 'Altered States' by Snarkitectureat Fuorisalone 2018, Milan
The annual prestige of Milan Design Week is around the corner. For the 6th time, leading surface manufacturer Caesarstone returns to Milan's Fuorisalone. In 2017 we welcomed a folkloric playground by Jaime Hayon, and before that, Tom Dixon brought us the Elemental Kitchens. This year to unveil 'Altered States', the highlight event of their 2018 designer collaboration programme with New York-based collaborative practice Snarkitecture. Being this the year of Eurocucina, which takes place biennially, this year's collaboration explores the core theme of the kitchen island.
"Our starting point was the Kitchen Island, which has transformed from a functional cooking area into the hub of the modern home, a space for entertainment, social interaction and performance."
says Raanan Zilberman, Caesarstone CEO.
"We asked Snarkitecture to create an installation that will inspire architects and designers to think about the future of the kitchen and use our material in new ways."
Snarkitecture looked at water as the most important "ingredient" in the kitchen, drawing inspiration from its changing states in nature (glacier, river, geyser) and in the kitchen (ice, water, steam) to create Altered States. The islands take form with stratified layers that resemble natural topography
While creating experiential environments, the installations reflect the multiple functions of your typical kitchen island – a place of preparation, performance, and occasional kitchen-sink drama. Expect to find Layers of Vanilla Noir surrounding a massive ice sphere, while water vapour rises from a circular cavity. And an enticing "play to start" butting draws viewers into the smart kitchens of today.
Showcased at the faded grandeur of Palazzo dell'Ufficio Elettorale di Porta Romana, open to the public for the first time during Milan Design Week, the installation guides visitors through an immersive experience of a conceptual kitchen island. At the centre of the space, a large circular kitchen island, made of Caesarstone White Attica, explores the changing states of water – ice, liquid and steam – stations. Caesarstone surfaces are used in layers, referencing natural topography as a metaphor for nature.
Surrounding the main "arena" is an amphitheatre of over 250 Caesarstone and metal mesh pedestals using three different Caesarstone colours from their new industrial collection, Metropolitan: Cloudburst Concrete, Airy Concrete and Rugged Concrete to create a white to grey, monochromatic gradient, rising to emulate the appearance of a natural landscape.
Caesarstone South Africa (@CaesarstoneSA) will be reporting live from Milan Design Week via Instagram, so follow #CSMilan2018 to stay up to date on the latest trends and watch exclusive interviews.
When: April 17 – 21 2018, 10am – 7pm
For more information, please contact: megan@interslab.co.za
Business Essentials is Africa's premium networking and business directory.
Read more from our Press Room:
___
How to enable your organisation to deliver its strategy
___
The truth about digital: Part 2
___
Erindi Game Reserve: A place like no other
---
Related Articles:
How Long Does Debt Counselling Take?
0 comment(s)
---
The Willard® BLUE Battery Promotion Has a Winner!
0 comment(s)
---
The Development of a Solar Photovoltaic Market in Ghana
0 comment(s)
---
Businesses to be Verified Based on New B-BBEE Code Amendments from 01 December
0 comment(s)
---
SAP SuccessFactors & Skillsoft
0 comment(s)
---