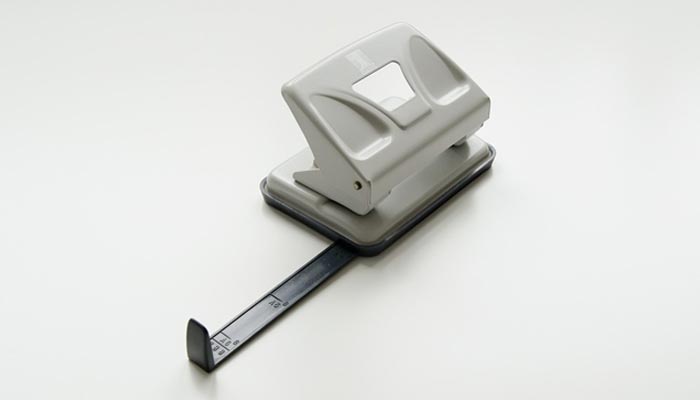 The Whiteboard Shop shares on a variety of hole punches
If you've been used to office stationary long enough, you'd know what a hole punch is. A hole punch is a tool that makes those perfect holes on paper. The holes themselves serve a range of functions. For instance, the holes make filing a lot easier.
We are going to discuss the many varieties of hole punches, so you know what to buy based on your specific needs.
Manual & Electric
As the name indicates, these hole punches are operated manually. All you have to do is place sheets of paper in the appropriate slot and simply apply pressure over the lever-like part of the punch. This "handle" will clamp down with enough force to create holes right through the entire layer of sheets you've placed.
The more modern version of a manual hole punch is the electric hole punch. These run on electricity and the main advantage is that they can take on some serious amount of work. So, if you need to punch in holes into volumes of paper, an electric hole punch is what you need.
Some of the more advanced models even offer jam clearing, which can be very useful. However, they're a bit expensive.
Numbered Hole Punches
There are hole punches that punch a specific number of holes. To begin with, we have 4-hole punches that, as the name makes it obvious, punch 4 holes. This is for paper documents that need to be placed in four-ring binders.
In fact, you can actually get extensions for two-hole or three-hole punches that can turn them into four-hole punches.
Now, that brings us to the other two main types of numbered hole punches.
The three-hole version is probably the most popular. It's used to punch three holes so that the punched documents can be filed within 3 ring binders.
Some versions of the three-hole punches have adjustable punch heads.
Finally, we have the two-hole punches. These are quite commonly used in the medical and legal professions. However, they aren't as common as the three-hole models. These are used mainly for punching holes into documents that need to be placed on clipboards.
They are also easy to operate because you don't need a lot of pressure to punch in just two holes.
As for the mode of operation, you can get all three of the above-mentioned punches in electric and manual versions.
Single Hole Punches
This type of hole punch is normally used for custom tasks and for punching single holes on the top corners of paper documents. Sometimes, you might see them being used in supermarkets for punching receipts. Even casinos use them to mark cards as useless, which is a fraud prevention tactic. It prevents players from substituting cards from older decks.
Single hole punches don't come as electric versions because they are mainly used for custom tasks, which also happen to be low-volume.
To get the best deals on hole punches, please visit The Whiteboard Shop.
Business Essentials is Africa's premium networking and business directory.
Read more from our Press Room:
___
Homeowners warned about insurance implications of drought
___
Important things to consider about your data backup
___
Just B announces a partnership with entrepreneurial business, African Dolls
---
Related Articles:
The 7 Best-Kept Secrets for Buying a Home in 2020
0 comment(s)
---
CRS Engage Platform Builds a More Engaged Workforce
0 comment(s)
---
Can Consuming Collagen Benefit Your Skin?
0 comment(s)
---
Working in Coffee Shops - Is it Safe?
0 comment(s)
---
Cloud Still Too Pricey in SA
0 comment(s)
---