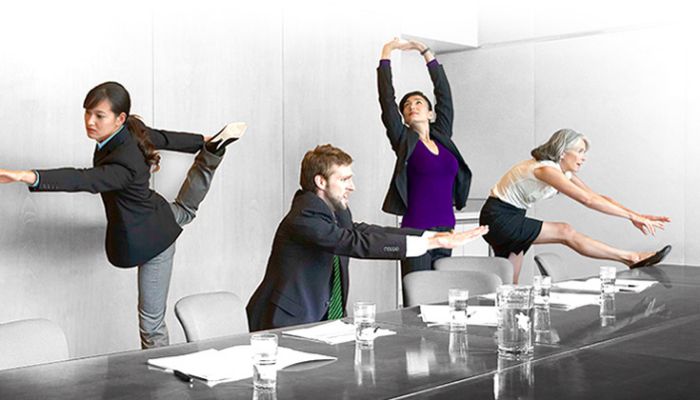 Curbing Absenteeism with Workplace Wellness
Assessing employee-potential has many recruiters learning the hard way how 'performance' and 'potential' are two very different things! An executive commanding a handsome paycheck may fail you, while an intermediate may take your enterprise to new heights.
GCC Insights report on the dynamics between average employee business cost (cost-to-company) and productivity. This can illustrate the contradiction with some clarity. The GCC report shows corporate employees, on average, contribute to three months of missed productivity each year. Yes, they can be found present at their desks, voicing an opinion in meetings, and have paychecks issued for maximum attendance, but the math in the productivity chart will elude you.
While it doesn't take an analyst to figure 100% productivity is a myth, the margin of lost yield for employees is fascinating! The symptoms of this anomaly are hauntingly relatable workplace clichés: sullen faces, negativity, frequent congregations at the water cooler, and grocery lists being penned over work reports. Such unproductive work days make you question your management tactics and wonder why and where motivation goes missing.
Welcome to the presenteeism conundrum of our corporate times.
Curbing Absenteeism with Workplace Wellness
From intuitive psychologist to hard-boiled HR personnel, everyone will agree not to address workplace productivity problems fragmentarily, but understand it as result of an overarching lack of wellness. It is not just an individual employee's fragile health, or another's rickety family situation or underdeveloped skills. It is simply not being able to tap into their full potential, healthily and sustainably so to convert potential into performance. Once management begins thinking in this manner, corporate wellness programs could be incorporated into the lives of workers, to achieve the following:
Maximum Engagement
Work; one must put his heart into it. There lies the secret of transforming its tedium into something else! While it's not easy to come by individuals who possess a consistent attention span, there are ways to culture it for the team.
Hold brief meditation sessions before the beginning of each day's work. Tutor the team to leash their minds to one task at a time, point out the snares of stress, how to activate calm, even in the toughest of situations, and thus escape the detrimental fight-or-flight impulses. There are a number of techniques to learn from, with implementations as simple as the regulation of breath.
No Health Excuses
What's better than furnishing your team with health insurances, you ask? Facilitate preventive health measures instead. A before or after-work office gym facility is not unheard of—a great way to build power and gear up for challenges. In addition, you can arrange for office yoga to dispel sedentary health issues like back pain. Don't forget to encourage organic eateries to ensure viable nutrition options on office days.
Dispelling Unwholesome Habits through Yoga
It's a valid claim that the reworking of inner engineering through yoga, and related holistic health disciplines can dispel unwholesome habits in individuals. Think a heavy cut down on smoke breaks, alcohol, drug dependence and junk food consumption. Orienting workforces towards yoga, Ayurvedic food, and naturopathic alternative therapy has many times, miraculously resulted in lower health care costs.
Good Vibrations and Harmony
A shared interest in health, sustainable development, and mental peace can bind workplace associations. If you believe a harmonious, healthily competent but non-vicious environment is necessary for growth, take the liberty to punctuate long hauls of hardworking days with wellness-based bonding activities. Think nature trips, spa therapy vouchers, yoga workshops, meditation and spiritual endeavours.
The Prerogative to Work Irrespective of Reward
In this day and age of blind competition, this concept is a tricky one to grasp. But, believe it or not, the key to wellbeing and maintaining consistency is the belief that well-being lies not in power-hunger or ruthless struggle of one against another, but in action without attachment. If you can plant karma at the heart of your work system, the system will run on self-motivation with zero vulnerability.
The rewards will be coming, as they come, to one and to all.
Author Bio: Manmohan Singh is a passionate Yogi, Yoga Teacher and a Traveller in India. He provides yoga teacher training in Rishikesh, India. He loves writing and reading the books related to yoga, health, nature and the Himalayas. For more information about him, visit his website.
Business Essentials is Africa's premium networking and business directory.
Read more from our Press Room:
___
BASF's award-winning Kid's Lab scoops top awards at Scifest Africa
___
Palace Donation to Segaetsho
___
10 Compelling Reasons Why You Need A Print Assessment
---
Related Articles:
How Long Does Debt Counselling Take?
0 comment(s)
---
The Willard® BLUE Battery Promotion Has a Winner!
0 comment(s)
---
The Development of a Solar Photovoltaic Market in Ghana
0 comment(s)
---
Businesses to be Verified Based on New B-BBEE Code Amendments from 01 December
0 comment(s)
---
SAP SuccessFactors & Skillsoft
0 comment(s)
---