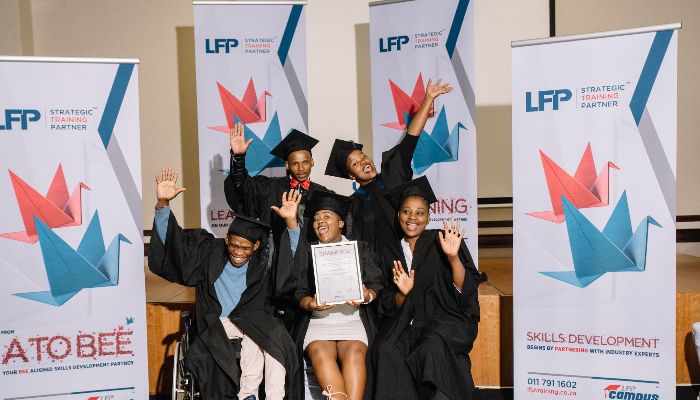 In April, 500 students were honoured during LFP Training's quarterly graduation ceremony
On 5 and 6 April 2018, 500 students have been honoured during LFP Training's quarterly graduation ceremony which took place at the Apollo Hotel in Randburg. The graduation ceremony is the company's biggest to date and recognises learners with full competencies who successfully completed their courses in 2017.
As the largest privately-owned FET college in South Africa, LFP trains up to 1, 500 learners weekly at its campus in Randburg and boasts a higher than industry pass rate. LFP works with together with corporates to provide Skills Development training for unemployed and disabled persons in-line with the BEE Codes of Good Conduct.
Immense growth
LFP's learnerships have grown and in February, more than 300 learners were signed up in just three days (50% more than in January). The company has outgrown its first premises which now operates solely as a training campus and opened a new head office in Randburg in January 2018. As of Mid-April, this year, an additional training campus in Randburg and an office in Cape Town will open to accommodate the high demand.
LFP's Group CEO, Louis Pulzone identified an opportunity for much-needed Skills Development in South Africa. Operating in the South African climate, the need for Skills Development had become increasingly critical as the country looked to the private sector to play a key role in upskilling and empowering, whilst bridging the gap in education.
By partnering with corporates, unemployed and disabled learners each receive learnerships and a stipend during their studies. Through education and mentorship, these learners can potentially find employment and enrich their standards of living. Not only for its clients, LFP has retained many of its learners who today form part of its 90-plus team members.
Many students have walked through LFP's doors, each with their own story, and LFP has become part of their history. While unemployment remains alarmingly high and inequality is still an issue that we face each day, there is no better feeling than knowing that LFP plays a part in making a difference.
Feelgood stories
A particularly touching story is one of a student who joined LFP Training in 2014. At the time, she arrived in a wheelchair and lacked hope, strength and confidence. Thanks to LFP's learnership and the mentorship received by our facilitators, she is now furthering her studies with LFP Training and is in fact, walking! A true testament to what belief, confidence and care can do!
LFP Training is proud of the difference that they together with our clients and associates have made in the lives of learners.
More about LFP Training:
LFP Training is a leader in the provision of BEE aligned Skills Development training in South Africa. Find out more about LFP Training.
Business Essentials is Africa's premium networking and business directory.
Read more from our Press Room:
___
Bali Should be on Everyone's Bucket List
___
4 Easy Steps to Rationalize and Refresh Your IT Infrastructure
___
Who has Potential?
---
Related Articles:
Why Millennials are Losing Their Hair
0 comment(s)
---
Removing Vulnerability in Residential and Commercial Estate Management
0 comment(s)
---
What Employers Need to Know About Hearsay Evidence
0 comment(s)
---
Unpacking the BEE Management Tool
0 comment(s)
---
IBA Group Opened a Digital Twin Laboratory
0 comment(s)
---