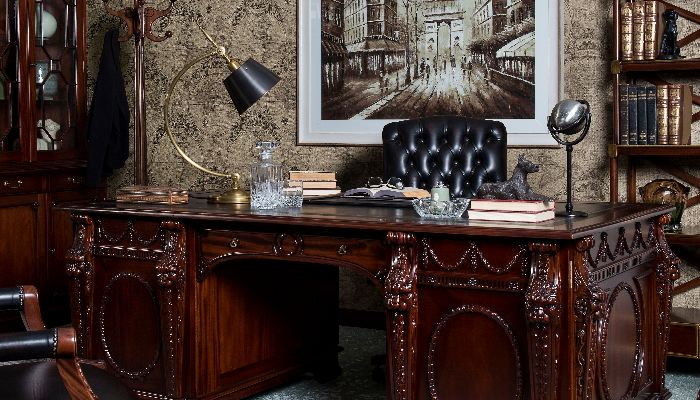 Do you work from a home office?
Griffiths & Griffiths offers classic investment furniture for a discerning clientele seeking to create a sophisticated yet functional home office. Griffiths provides a unique, tailor-made decorating service that can help you design the ideal office/study, reflecting the comfort and style of the rest of your home.
Some tips when decorating your home office
Choose the location of your office carefully
Make sure you have ample space to accommodate your desk, shelves and cupboards.
Invest in our leather diamond buttoned Gainsborough Tilt and Swivel chair, complimented by our elegant visitors' chairs.
Instead of painting your walls, think of using a wallpaper to make a real statement.
Add that extra bit of light with our elegant brass Desk Lamp.
Finish off the whole effect by choosing a special piece of framed art to hang behind your desk.

About Griffiths & Griffiths
Griffiths & Griffiths was founded in 1986 by Gladys Griffiths, later joined by her son Peter. The exquisite 2000m2 showroom located in Kramerville, Johannesburg (THE interiors and exterior design and décor destination of Johannesburg), is the ideal way to view the extensive range of solid Mahogany furniture – ranging from dining rooms, studies, bedrooms, occasional pieces through to lamps and accessories.
Griffiths & Griffiths are the premier suppliers of solid mahogany English Replica furniture in South Africa. The deluxe imported range is sourced from the Norman Adams Collection of 18th-century antiques, and optimises the very best of the Georgian and Regency periods. These are fine investment pieces, as quality replicas offer the perfect antique alternative for the corporate executive environment or the elegant home.
The solid mahogany furniture is hand-worked with traditional tools by master-craftsmen, replicating the exact proportions and carving details commissioned centuries ago. The techniques of antiquing, patina simulation and polishing, supervised by Gladys and Peter, make each piece of furniture virtually indistinguishable from the original.
Business Essentials is Africa's premium networking and business directory.
Read more from our Press Room:
___
A Unique Approach to IT Management
___
What Questions Should You Ask When Interviewing a Care Facility?
___
What I Have Learnt From 15 Years in the Office Printing Industry
---
Related Articles:
Embrace AI to Remain Competitive in the Digital Business Environment
0 comment(s)
---
Restless Leg Syndrome
0 comment(s)
---
How Can I Wipe My Credit Clean?
0 comment(s)
---
The Smart Money is on Local Tech, Especially for 4IR
0 comment(s)
---
TUHF Secures R700 Million Nod from Standard Bank
0 comment(s)
---