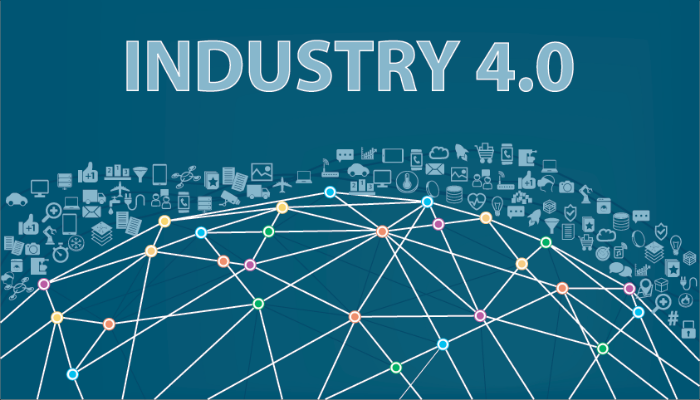 Industry 4.0 is characterised by increasing digitisation and interconnection of products
The complexity of today's robotic technologies, artificial intelligence, mass data and internet of things calls for specialisation and sustainable collaboration among organisations.
Consequently, organisational design, development and governance have entered a challenging new phase. Competitiveness no longer depends solely on optimisation of one's own resources, but total inter-organisational value chain innovativeness and supportive partner technologies, products, services and systems. The Fourth Industrial Revolution, or Industry 4.0 as it is also known, is characterised by increasing digitisation and interconnection of products, value chains and business models. With the aid of partners, organisations are co-creating innovative inter-organisational value and supply chains that operate in a local, regional and international collaborative business ecosystem.
In view of these emerging realities, strategic transformation and change of Industry 4.0 organisations become inevitable and demand the introduction of virtual horizontally shaped supply and value chain business models. Virtual value chains shape organisations into strategic, collaborative, value-driven entities where non-core activities are performed by carefully selected partners. The organisational value system guiding the preferred leadership behaviour is a crucial element. When choosing partners it is of paramount importance to select those that have the same or similar value systems as your own organisation to ensure synergy in culture and transformational leadership acumen.
Moreover, organisational competitiveness is now gained by collaboratively performing strategic activities more effectively and efficiently. This approach demands exceptional governance, supported by transformational leadership excellence and a systemic knowledge of applied programme management. Effective and efficient cross-functional and inter-organisational management of projects and programmes in virtual networks of partners is a critical enabling competency for entities operating in the Industry 4.0 economy. The latter is very much centred on people, collaboration and building relationships in order to create successful virtual networks of partners. This demands profound talents and well-educated human resources.
In the emerging Industry 4.0 economy, private and public organisations find it difficult to maintain and improve their levels of operational productivity and strategic benefit realisation. Transformational leadership creates a move away from the old motivations of bureaucratic powers, towards inspiring people to believe in a vision of a cause greater than themselves. With transformational leadership, people tend to abandon their own personal self-interests in favour of the organisation's interests. Transformational leaders balance their attention between actions that create progress and the motivation of virtual team members.
Transformational leaders possess unique qualities suited to the Industry 4.0 economic dispensation. They act as mentors and coaches to team members by listening to their concerns and needs. It encompasses the need to respect and celebrate the individual contribution that each member in a virtual network of partners makes to the team. A well-directed diversity of team members gives it true strength. Transformational leaders are visible and available to provide direction to a virtual network of partner teams. They are master listeners, focus on identifying the needs of people instead of dictating to them and empathise with others. This creates trust and support between the transformational leader and the virtual team members. Moreover, top transformational leaders have the capacity to inspire and keep people motivated despite the complexity and high risk associated with Industry 4.0.
The development and promotion of a vision for Industry 4.0 is critical in transformational leadership. The vision is key to the transformational leader being able to move human talent in a particular direction and must be developed with particular care. It must be a challenge that leaders and teams in virtual networks can fully believe in, and must excite and convert all members within a virtual network of inter-organisational partners towards higher performance. Transformational leaders must constantly sell the Industry 4.0 vision to partnering teams using every opportunity to persuade everyone about its benefits.
Business Essentials is Africa's premium networking and business directory.
Read more from our Press Room:
___
South Africans Are Preparing to Tighten Their Belts After Fuel Price Spike
___
Difference Between Corporate Gifts and Promotional Gifts
___
What Homeowners Need to Know About Gas Appliances and Their Insurance
---
Related Articles:
How Long Does Debt Counselling Take?
0 comment(s)
---
The Willard® BLUE Battery Promotion Has a Winner!
0 comment(s)
---
The Development of a Solar Photovoltaic Market in Ghana
0 comment(s)
---
Businesses to be Verified Based on New B-BBEE Code Amendments from 01 December
0 comment(s)
---
SAP SuccessFactors & Skillsoft
0 comment(s)
---