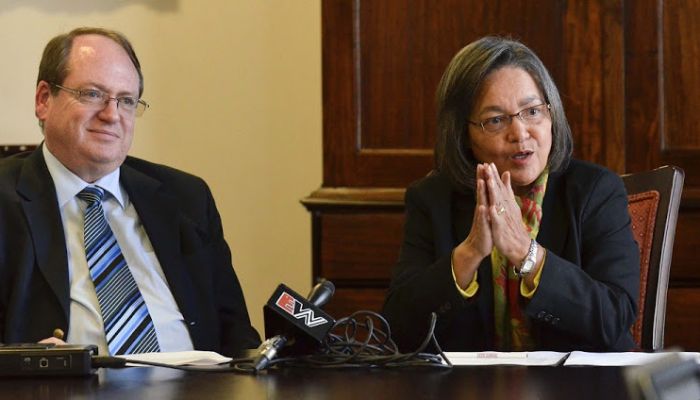 The political 'Cape Storm' has ended
The Saga between de Lille and The DA has come to an end, with the former Executive Mayor being forced out of office on Tuesday, 8 May 2018. Ian Neilson has been chosen to fill the void as Cape Town's acting mayor until a full-time replacement is officially installed.
During the ongoing fight between de Lille and the DA, Neilson has not done anything to add fuel to the fire. But what should we know about Cape Town's acting mayor?
Neilson has served as de Lille's deputy for the last seven years, after assuming his role as 'right-hand man' under Helen Zille's leadership in 2009. But let's dig a little deeper.
No place like the Mother City
Born in Boksburg in 1954, Ian Neilson went on to spend his student days in Cape Town. He returned to Gauteng briefly, but the Mother City drew him back in by 1990.
He was elected as a Proportional List Councillor to the Council of the Blaauwberg Municipality, in 1996, as the Democratic Party's sole representative. This was the beginning of 22-years of loyal service to the Western Cape government.
Neilson played an integral role in Cape Town having a World Cup stadium
If we should go back to 2010 and experience the FIFA World Cup all over again, but this time without Cape Town hosting matches – it just wouldn't be the same. But nevertheless, as chairperson of the City's 2010 World Cup Committee, he was ultimately responsible for getting the venue up and running against a tight deadline.
Progressive Policies steers the City in the right direction
Neilson could definitely be considered something of an innovator in his field. He over the City's first Air Pollution Bylaw and then rolled out the mother-to-child antiretroviral program, a revolutionary treatment for HIV patients.
A voice note dropped him in some hot water
The world of politics is never a smooth road, with many politicians landing themselves in some hot water. This was the case when Neilson received a birthday message from ward councillor Joy McCarthy. McCarthy's message was cheeky and proved to be a slant at Patricia de Lille, making it quite awkward for the acting mayor. The voice note said: "Happy, happy birthday Ian. May this be the best year ever. May we achieve all our objectives and you know exactly what I mean. And may you be in the hot seat".
De Lille claimed the remarks were 'defamatory', but Neilson maintained his reluctance to speak about the whole affair.
"Don't ask me about day zero"
Cape Town faces an ongoing battle to ensure the dams, supplying residents with drinking water, does not run dry. And one thing that will keep the calm among Capetonians is assurance that a plan is in place. But that wasn't the case with Neilson.
Back in January, he was appointed to head a team dedicated to stopping day zero. And with a background in water infrastructure, Neilson seemed like he was the literal fountain of knowledge. However, when asked about day zero at the start of 2018, he replied with, "anything to do with day zero was the wrong time to ask", as he conceded he hadn't been given information on all the details.
Business Essentials is Africa's premium networking and business directory.
Read more from our Press Room:
___
South Africans Are Preparing to Tighten Their Belts After Fuel Price Spike
___
Difference Between Corporate Gifts and Promotional Gifts
___
What Homeowners Need to Know About Gas Appliances and Their Insurance
---
Related Articles:
Why Millennials are Losing Their Hair
0 comment(s)
---
Removing Vulnerability in Residential and Commercial Estate Management
0 comment(s)
---
What Employers Need to Know About Hearsay Evidence
0 comment(s)
---
Unpacking the BEE Management Tool
0 comment(s)
---
IBA Group Opened a Digital Twin Laboratory
0 comment(s)
---