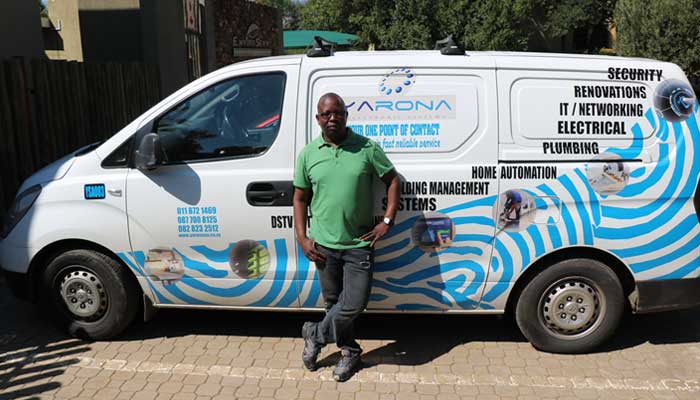 Yarona Electronic Systems and EnviroServ team up for a successful business friendship
Prince Makatu started a small business in 1996, with minimum resources, a bakkie, one member of staff and the will to innovate and succeed.
When Sean Wilcocks, Group Facilities Manager at EnviroServ met Prince, he was impressed with the man's work ethic and ability to think creatively. In talking the two men ascertained that Prince had bigger dreams for his business and a business friendship grew between Sean and Prince.
"He was providing security fencing, gate motors and general security installations for us, but he wanted to branch out," says Wilcocks.
By 2013 Prince was employing eight staff members and covering electrical work, plumbing, security installation work, and a new venture into gates and carports.
Wilcocks chuckles as he remembers a time when the man who had come to him for advice was the one with a solution. "We were struggling to seal a skylight and Prince came up with the perfect solution.
"He handles all our Gauteng building and security maintenance and has really grown into his business. He's also always available, you can phone him in the middle of the night and he will be there."
A great symbiotic relationship between Prince Makatu and EnviroServ has grown into a mutually beneficial combination – making things happen.
Contact us on 011 872 1469 or visit us on www.yarona.co.za
Business Essentials is Africa's premium networking and business directory.
Read more from our Press Room:
___
Tips for First Time Travellers to Dubrovnik, Croatia
___
The Kitchen Trends of Your Dreams + New Colours
___
IBA Group Participates in SAP Conference in South Africa
---
Related Articles:
How Long Does Debt Counselling Take?
0 comment(s)
---
The Willard® BLUE Battery Promotion Has a Winner!
0 comment(s)
---
The Development of a Solar Photovoltaic Market in Ghana
0 comment(s)
---
Businesses to be Verified Based on New B-BBEE Code Amendments from 01 December
0 comment(s)
---
SAP SuccessFactors & Skillsoft
0 comment(s)
---