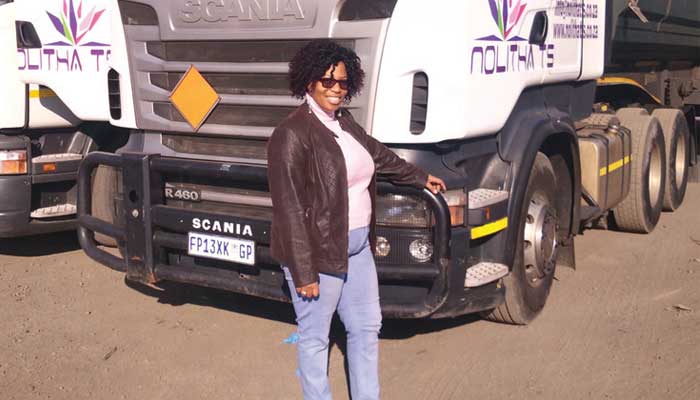 Read about Nolitha's success story through Enviroserv's commitment to Enterprise and Supplier Development
Nolitha Nkosi had a secure job as the Private Assistant to the CEO of EnviroServ, when she put up her hand and changed her future. As part of EnviroServ's commitment to Enterprise and Supplier Development that focusses on the development of black female owners of businesses in their supply chain, staff were asked to raise their hands if they wanted to be included on the company's supply database.
Nolitha says she "raised my hand high" and began a new journey with EnviroServ. It meant she had to resign her job, so that there was no conflict of interest, a risky step from having a steady job. "But EnviroServ really helped me work out a plan for my business. They told me I had to buy a truck, but they supported me in the process through contacts and lent me a trailer at no cost.
In December 2016 Nolitha TS started operations with one truck, a driver, and a trailer. The small company with a big heart started out working at the Holtfontein site and then grew as EnviroServ started asking her to collect waste from other customers.
Nolitha's husband supported her venture all the way, "even if he thought I was a bit mad," she laughs. His support was not misplaced as within six months Nolitha had bought another truck, and again EnviroServ lent her a trailer – with the proviso that she works towards buying a trailer of her own. "They helped me with regulatory details and compliance, and gave me a good payment deal, knowing that as a black small business owner access to credit could be a problem." She now has her own tipper trailer and a tank trailer on loan from EnviroServ.
The company employs two drivers and an administrator, with Nolitha and her husband very hands-on, the business looks set to flourish.
"I simply could not have done it without EnviroServ," says Nolitha.
Business Essentials is Africa's premium networking and business directory.
Read more from our Press Room:
___
Behold This Majestic Architectural Masterpiece in the Sandton Country Club Estate
___
2018 FIFA World Cup: What You Need To Know
___
Is Being Intelligent The Same As Being Comfortable Operating In A VUCA World?
---
Related Articles:
How Long Does Debt Counselling Take?
0 comment(s)
---
The Willard® BLUE Battery Promotion Has a Winner!
0 comment(s)
---
The Development of a Solar Photovoltaic Market in Ghana
0 comment(s)
---
Businesses to be Verified Based on New B-BBEE Code Amendments from 01 December
0 comment(s)
---
SAP SuccessFactors & Skillsoft
0 comment(s)
---