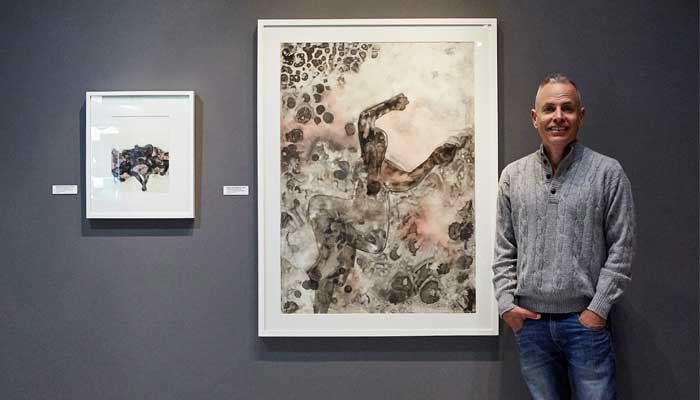 Interior designer Mullerie Rabe-Taljaard and gallerist Michael Obert join forces
Conceptual and interior designer Mullerie Rabe-Taljaard has added another level of expertise to her client offering thanks to a partnership with renowned gallerist Michael Obert.
With a brand new showroom now open in The Square at the Cape Quarter in Cape Town's trendy De Waterkant as well as a new partnership with art expert Michael Obert, Mullerie Rabe-Taljaard has really lived up to her aim to offer her client base a more holistic service, "including truly excellent art in line with the international trend to offer clients a full lifestyle consultancy service."
The duo met while Mullerie was lead designer on the residential side of the Melrose Arch development in Johannesburg. "We worked together on several arts-related collaborations and I recently reconnected with her in Cape Town. We are both at phases in our careers where we take on only projects we are passionate about. To my knowledge, she is the only interior designer in the country with a dedicated in-house art consultant and a curated gallery space. That alone reflects our shared passions and commitment to client service," says Michael.
From their new space at The Square, Mullerie and Michael will offer a full range of procurement, research and valuation services that include artist studio visits. They want to make informed decisions and initiate art collections that may appreciate over time.
"I have strong relations with many major galleries and source works from both the primary and secondary markets. The most important service will be on-site consultations with Mullerie to help clients build personalized collections over the long-term. I am also an avid collector, and I will be featuring both emerging and established works from my private collection for sale," says Michael.
Mullerie's design clients tend to be discerning, and they are looking for holistic solutions where art is an integral component. "They want to make informed decisions with the aim of building sustainable collections that may appreciate over time. This includes the ability to trade out of artworks that no longer fit their needs. The white cube gallery format can be an intimidating place for clients to begin to learn about art. Our approach will remain bespoke, one-to-one, and will often take place in the privacy of clients' homes," says Michael.
Michael and Mullerie can be reached via the website, mullerieR.com, and the studio at the Square of Cape Quarter (entrance corner Jarvis & Dixon streets), De Waterkant, Greenpoint, Cape Town, 8001 as well as The Gatehouse in Franschhoek. Alternatively you can email Michael at michael@mullerieR.com or call Mullerie on 083 276 3475.
3 Questions for Michael Obert
Who are some of the emerging local artists whose careers you helped launch?
Nelson Makamo staged his first solo show at my small gallery at Melrose Arch as part of a programme I initiated with Artist Proof Studio. I also believed in Kudzanai Chiurai from the start and represented him for the first several years of his career.
Who are your favourite local artists?
Robert Hodgins is my all-time favourite artist and he was a close friend. I also love Peter Clarke, Kudzanai Chiurai and Conrad Botes.
What is your most-loved (owned) piece?
I am lucky to own the seminal "Lost in Translation" triptych by Kudzanai Chiurai that was recently exhibited at Zeitz MOCAA in Cape Town.
Business Essentials is Africa's premium networking and business directory.
Read more from our Press Room:
___
Marked Rise in B-BBEE M&A Deals Reflects Steady Policy Execution
___
Join us for our Public Speaking & Presentation Skills Training Course!
___
Insights: Proposed Changes to Amended B-BBEE Codes
---
Related Articles:
How Long Does Debt Counselling Take?
0 comment(s)
---
The Willard® BLUE Battery Promotion Has a Winner!
0 comment(s)
---
The Development of a Solar Photovoltaic Market in Ghana
0 comment(s)
---
Businesses to be Verified Based on New B-BBEE Code Amendments from 01 December
0 comment(s)
---
SAP SuccessFactors & Skillsoft
0 comment(s)
---