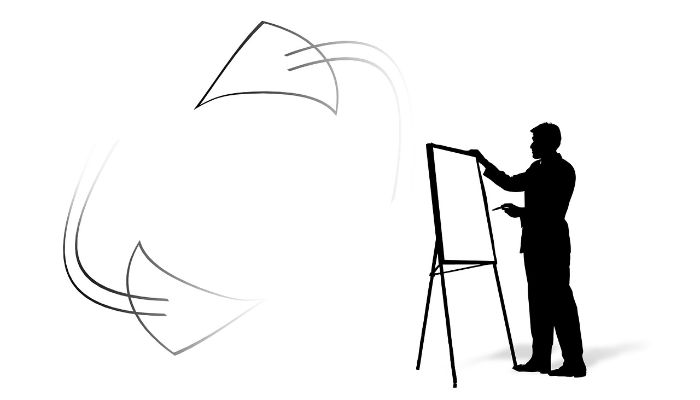 Flipcharts are dynamic and innovative tools which are fantastic for static presentations
Use flipcharts to display pertinent information and ideas you wish to present when delivering seminars or conducting a brainstorming session with your staff. Using flipcharts allows you to incorporate multiple training techniques in both classroom and corporate settings. Making use of a flipchart in an impactful way is a basic skill that you should indeed possess and more importantly, practice if you wish to deliver seamless presentations as a public speaker in your organization or particular environment.
To be impactful when speaking publicly, the most important thing to remember, is always prepare
Almost anyone can deliver a stimulating presentation if they are fully prepared. This means that before you leave for your destination on the day of the presentation you must know your content completely and be familiar enough with your display tools so that you don't fumble at any point during a presentation. Rehearse the details of your presentation thoroughly and often before the time. The night before you must make sure that your flipchart has enough paper to last throughout the presentation, including extra pages in case of mistakes.
Check that all your markers are working and be sure to seal the lids tightly
Visibility is one of, if not the most important aspect of a quality presentation. Always use bright and bold shades and try to use black markers between red and green, as using red and green directly next to each other is garish and tends to irritate the eyes. Black marker breaks the colours well and will look more attractive. This, along with writing clearly and neatly will make the content easy to see from the back rows of the room. Stay away from pastel or neon shades such as fluorescents or yellows that might not stand out against the white background of the flipchart.
Be consistent with your colours.
For instance, if you decide to use blacks for your base text then use a different colour for keywords or other words you wish to draw attention to, like when you want to annotate your text, or highlight or underline your keywords in different colours.
Ensure maximum visibility of your flipchart
Before you deliver your presentation it would help a lot to know the area you will be working in. If possible, familiarise yourself with the area and get a feel for the size of the room. Decide exactly where the best spot for the flipchart will be. You may want to walk around and talk during your presentation so don't put the flipchart somewhere where you could trip over it or where it will restrict your movement. You don't want to stumble around and make yourself anxious if you can help it.
When incorporating more than one presentation technique, be sure to familiarize yourself with all the tools and know where and when to use them effectively. Know your subject matter, your subject materials and your target audience and you'll be a great success.
Contact The Whiteboard Shop for more details.
Business Essentials is Africa's premium networking and business directory.
Read more from our Press Room:
___
Being Savvy about Office Politics
___
Gondwana Places The Focus On Namibia's Beauty
___
Supplier Development – It's about More than Money
---
Related Articles:
The Fourth Industrial Revolution
0 comment(s)
---
The Sun Always Shines on the Sonique Side of Life!
0 comment(s)
---
ContinuitySA Partnership Programme Officially Launches
0 comment(s)
---
Intuition as a Leadership Tool – It's Like Having the World Wide Web in Your Head
0 comment(s)
---
Do You Really Know How Much It Costs to Manage Your Company Travel Manually?
0 comment(s)
---