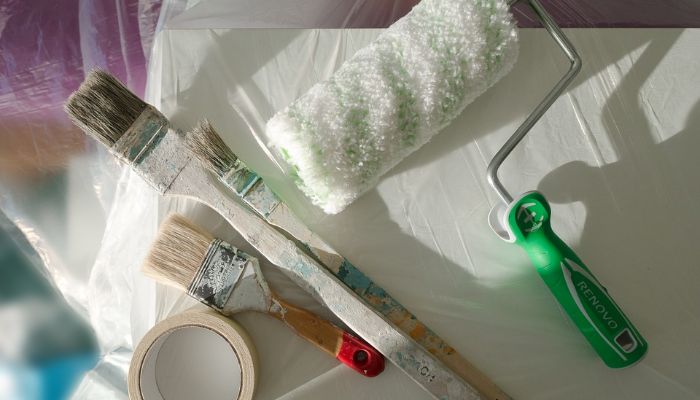 The new look brings life to the office
The successful upgrade of the Research Library at the NRF Head Office in Pretoria led to Nuclei Lifestyle Design being awarded the tender on the interior upgrade of the NRF Head Office Building, next to the CSIR in Pretoria.
The project encompassed a complete interior upgrade and renovation of the main entrance foyer and reception area, the auditorium entrance foyer, all corridors and stairwells as well as the four main boardrooms and auxiliary entertainment areas.

The old staircase

The new staircase
The main objective was to align the office environment with their restructured corporate identity then visually express their branding effectively.
As a first point of access, the existing entrance foyer desperately needed to be reconfigured, to allow a more practical and sensible flow – a modernized, corporate look to be brought in line with the NRF's new brand messaging.

The reception area before the new design

The new reception
The existing planters and various tile options, as well as non-corporate seating had to be replaced with a clean, professional and functional layout. Pendant lighting forms an accent that connects the high ceiling with the human form.
Seating groupings were formed, allowing for personal yet professional contact with visitor's while waiting to be received by NRF personnel.
A key prerequisite from management was to brighten up the dull office areas and corridors by adding more colour whilst ensuring uniformity. We met with various department heads to obtain their input, goals and vision. A design proposal was then submitted to confirm pre-approval.
The existing four Boardrooms were dark and dull, and although budget was restricted, we successfully redesigned and upgraded each area into a stylish and modern meeting space.

Old boardroom – before the new look
The boardrooms are named after prestigious Nobel Prize Winners and echoed using signatures on the walls and extraordinary artwork to give each of the four spaces their own unique identity.

New boardroom – Improved atmosphere
The NRF is a non-profit parastatal and therefore rely on donations. We are proud to mention that budget constraints did not limit our ability to successfully produce an upgrade that will stand the test of time.
Business Essentials is Africa's premium networking and business directory.
Read more from our Press Room:
___
Supplier Development Initiative 2018 Thought Leadership
___
Understanding the Cloud's Value for South Africa
___
GDPR is Here, But Should You Care?
---
Related Articles:
WORLD ENVIRONMENT DAY - Are you making this mistake in your home?
0 comment(s)
---
Henley Business School is top in Southern Africa for Executive Education
0 comment(s)
---
UFS Research Impacts Food Security Across Borders
0 comment(s)
---
Medicinal Mushrooms
0 comment(s)
---
CloudSmiths Proudly Announces the Launch of their Salesforce Field Service Centre of Excellence in South Africa
0 comment(s)
---