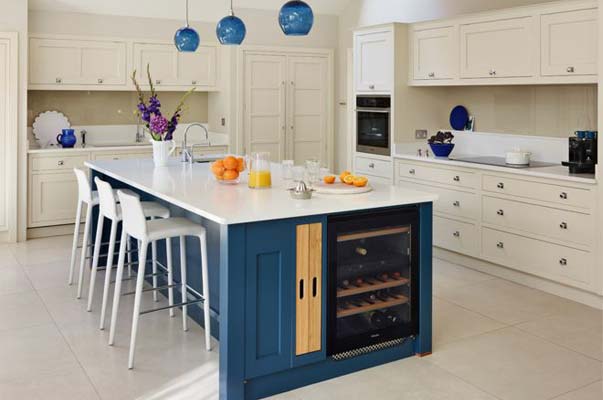 Cream cabinets give a kitchen a warm and inviting feel, and the shade is soft enough to complement many colours, from ravishing red to bold blue. Just take a look at these combinations.
– Adapted from 7 Colours That Enhance Cream Kitchen Cabinets
1. Blue
If you want your cream cabinets to have a fun contemporary vibe, blue is the ideal colon. The neutral units around the perimeter of this kitchen are pared-back and elegant, and would have worked alone as a chic, sophisticated design. However, the designers decided to give the room a bold modern twist with their choice of bright blue for the island.
Blue is on the cool end of the colour spectrum, so it complements the warm tones of the cream.

2. Red
Bring out the warm tones in cream by pairing it with bright red. The two colours work well together because red lends zing to cream surfaces, while ivory hues give a mellow warmth to bright red. This bold backsplash adds interest to the sleek contemporary cabinets and gives the space a cosy look. The addition of wood-effect units and a solid wood table also boosts the earthy feel.
3. Black and white
Give a warmer feel to a black-and-white palette by mixing in some cream. These traditional Shaker-style cabinets frame the jet black countertop and the marble backsplash. The slick combination of black and white looks contemporary and minimal, but the cream colour changes the feel completely. If you want a clean, fresh look, don't be afraid to keep your colour scheme neutral. These cream cabinets team with walls painted and tiled in crisp white.
5. Bright green
Soft cream is the perfect backdrop to tone down bold shades. The green in this kitchen, for example, is wonderfully vivid but could be too much for some. The cream cabinets help mute the bold tones slightly for a space that feels warm, natural and fresh.
6. Orange
These cream kitchen cabinets have a gentle tone that feels soft and minimalist. To energize the space, the designers selected a few striking orange accents. The plastic stool and the citrus-coloured pendant light look vivid against the mellow hues elsewhere.
7. Sage
For a colour that's as soft and gentle as your cream cabinets, you can't go wrong with sage green. This beautiful kitchen's calmness comes from its mix of ivory wall units and pale green island. The warm tones in both colours work well together to create a tranquil, elegant space.
Salvocorp has a range of colours that would work well with cream cabinets in a guesthouse or restaurant kitchen. Even if you're installing cream coloured cabinets in a clothing boutique or educational space, Salvocorp's colours like Staron Powder Blue or FunderMax's Intensive Red will work well with a modern brand and cream cabinets or shelving.
Business Essentials is Africa's premium networking and business directory.
Read more from our Press Room:
___
A Constitutional Endorsement For Direct Democracy In Customary Law
___
8 Reasons We All Hate Our Office Printer
___
Staying Ahead of The Game – The Role of Technology in Business
---
Related Articles:
The 7 Best-Kept Secrets for Buying a Home in 2020
0 comment(s)
---
CRS Engage Platform Builds a More Engaged Workforce
0 comment(s)
---
Can Consuming Collagen Benefit Your Skin?
0 comment(s)
---
Working in Coffee Shops - Is it Safe?
0 comment(s)
---
Cloud Still Too Pricey in SA
0 comment(s)
---