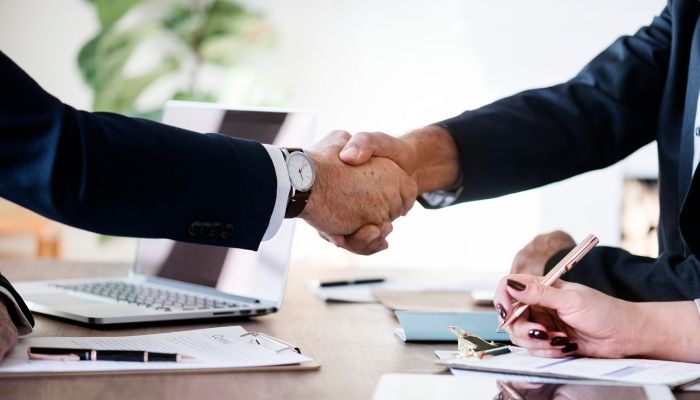 Having business insurance is essential for any organisation
We broke the insurance industry in 2012 when we introduced the first-ever decreasing car insurance premiums. We thought it was ridiculous that you had to pay premiums that only ever increased, which is why your comprehensive car insurance premium reduces in line with the depreciating value of your car every month when you join our happy kingdom.
And then we did it again. We revolutionised how businesses can get insurance with our affordable business insurance products. Our comprehensive options are exclusively available through brokers and are suitable for small-to-medium ventures and larger corporations, across a wide range of industries.
This way, all businesses in South Africa can find affordable cover that suits their specific needs.
Cover that's unique to your business
There are no 2 businesses that are exactly the same or face the same risks, even if they share the same industry. With this in mind, the king created a business insurance model that allows you to choose cover for the challenges, risks, and threats that are unique to your business. Apart from the satisfaction of being able to get personalised cover, you're also only going to pay for what's necessary. That's more ka-ching for your money-maker.
We're also super conscious of your and your business' financial safety, which is why our specialised business insurance division will work with your broker to adapt your cover to be relevant to your needs. Once your policy is set up, our team gives you its undivided attention and support, 24/7. And if you don't have a broker, we'll connect you with 1 who is best suited to your business.
Perhaps the most important thing to know about our offering is that, as a business insurance client, you'll benefit from the same affordable cover, award-winning royal service, and peace of mind that our personal clients love us for.
What's covered with our business insurance
We offer cover for a comprehensive range of risks and threats that your business may be vulnerable to. Through the advice of our specialised business insurance team and your broker, you'll be able to choose from these sections of cover and tailor your very own business insurance policy.
• Accidental damage
• Accounts receivable
• Buildings combined
• Business all risk
• Business interruptions
• Business vehicle
• Electronic equipment
• Fidelity
• Fire
• Glass
• Goods in transit
• Machinery breakdown
• Machinery breakdown: Business interruption
• Machinery breakdown: Deterioration of stock
• Money
• Motor traders: Internal insurance
• Motor traders: External insurance
• Office contents insurance
• Public & employer's liability insurance
• Stated benefits & group personal accident
• Theft
Engineering insurance
Anyone in this industry will tell you that the risks faced by an engineering business are entirely different to those that most other businesses encounter. That's why they need their own specific type of business insurance.
Our engineering insurance product is serviced by our specialist engineering division, which understands the unique challenges and threats that you face, making us the ideal support to help you through any incidents that you need to handle and claim for.
Our dedicated team will work exclusively with your broker to tailor a policy that suits your business, and if you don't have a broker, we'll connect you with 1 who 'gets you' and your business.
What's covered with our engineering insurance
We offer cover for different situations and concerns, including 8 sections of engineering risks and third party liability. There are also numerous optional extras so that you can increase your cover for maximum protection. With the help of your broker and our expert team, you can choose the cover you want and avoid paying for something that you don't need.
• Contract works insurance, with public liability cover.
• Plant all risks insurance, with cover for hired items, and public and road risk liability cover.
• Advance loss of profit insurance.
• Electronic equipment insurance, with optional extra cover for re-instatement of data and business interruption.
• Machinery breakdown insurance, including consequential loss, with optional extra cover for deterioration of stock.
• Machinery movement insurance, with optional extra cover for removal of support and public liability.
• Transit and erection insurance, with public liability cover.
• Works damage insurance.
Cybersure
While sharing is how you provide clients and staff with ideas and resources, it's no laughing matter when cybercriminals take advantage of the info that your business stores and uses. Cybercrime is a real threat to South African businesses and can be devastating to your finances and reputation.
Cybersure is 1 a comprehensive addition to our business insurance offering and has specifically been designed to cover your business' computer systems, software, and data, as well as protecting your business against liability arising from cyber-attacks.
What's covered with our cybersure
We'll work with your broker so that you can get comprehensive, affordable cyber protection for your business.
• Data privacy, including the costs for hiring legal and forensic IT pros to help you recover from your data becoming public and the cost of keeping everyone in the loop.
• Damage and defence costs, for example if you accidentally breach your clients' privacy rights or send them a virus and are taken to court.
• Damage to your computer system and data.
• Disruption following a cyber attack that brings your business to a halt.
• Financial loss and proving fraud, including cover for financial losses resulting from fraudulent inputs into insured computer systems which have led to dishonest transactions.
• Loss of business income.
• Specialist support, such as cover for the cost of professionals to check if a cyber threat is real.
The nitty gritty about us
We're a privately held insurance company, with head offices in Waterkloof Glen, Pretoria. We're reinsured by the world's largest reinsurer, Munich RE and are a registered member of the South African Insurance Crime Bureau (SAICB).
It's also important to know that each of our specialist teams are experts in the community, cyber, engineering and general business insurance arenas. This means that you'll receive knowledgeable support and service every step of the way.
So, if it makes you money, cover it with our super affordable business insurance. Get a quote today from our dedicated business insurance team.
Get in touch
Tel: 0860 21 00 00
kingprice.co.za
King Price Insurance Company Limited is an authorised financial services provider | FSP no. 43862.
Business Essentials is Africa's premium networking and business directory.
Read more from our Press Room:
___
A Gallery of Mirrors Presented by Griffiths & Griffiths
___
Petrol Increase and Tourism – How Much Trouble are We in?
___
Legal Representation at the CCMA
---
Related Articles:
The Africa Continental Free Trade Area Protocol on Investment: A Prickly Pear for SADC and other Regional Economic Communities
0 comment(s)
---
In a Post Covid-World, the Africa Continental Free Trade Area could not come soon enough
0 comment(s)
---
How the Environment Affects Your Health, and What You can do About It
0 comment(s)
---
Resilience is Critical for Business Success in Our Post-COVID-19 Future
0 comment(s)
---
Are You Ready for the 4IR?
0 comment(s)
---