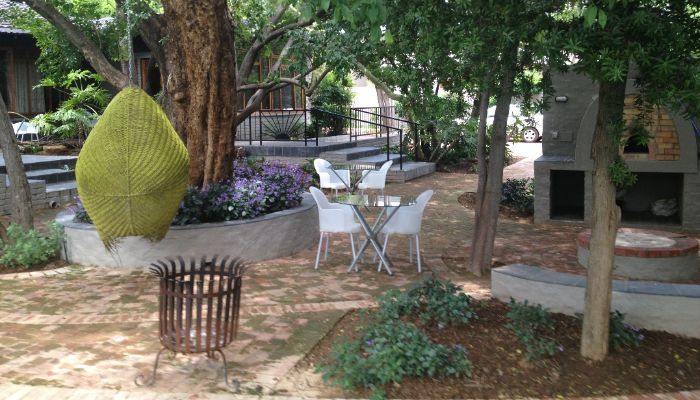 The renovation of an old Menlo Park house in Pretoria, into a modern-day health hospitality facility
"People think that the most appropriate building is a rectangle, because that's typically the best way of using space. But is that to say that landscape is a waste? The world is not rectangle." – Zaha Hadid –
We were excited to assist in the renovation of an old Menlo Park house in Pretoria, into a modern-day health hospitality facility.
A well-known dietician bought the property with the dual purpose of creating consulting rooms for her practice, as well as branching it out into the hospitality industry, where clients could stay over and receive dietary treatments at the same time.
The upgrade
For all of this to happen, we had to upgrade the exterior of the house into a modern facility that's showing off its true potential, with its phenomenal garden that would fit hand in hand with the purpose of the upgrade of the dietary practice.
Nuclei Lifestyle Design in association with Muto Interior Design had to incorporate the following factors into their design:
A new functional and welcoming reception area (which was designed by MID) (figure 1), a multi-functional space to entertain guests and small conference groups, a small yet practical kitchen for preparation of specialised meals and snacks, consulting rooms, new bathrooms (figure 2), a gym and adequate parking.
From the onset of the project, it was clear that the garden with the well-established trees and plants as well as the old character of the house should be retained (figure 3).
Therefore we revamped the house in such a way that we kept the old look but gave it a new feel with a modern touch adding darker colours that would form a contrast with the garden (figure 4).
Business Essentials is Africa's premium networking and business directory.
Read more from our Press Room:
___
What are the Effects of Stress on our Bodies?
___
What Homeowners Need to Know About Electricity and Their Homes
___
Help your Employees Manage Asthma at Work
---
Related Articles:
WORLD ENVIRONMENT DAY - Are you making this mistake in your home?
0 comment(s)
---
Henley Business School is top in Southern Africa for Executive Education
0 comment(s)
---
UFS Research Impacts Food Security Across Borders
0 comment(s)
---
Medicinal Mushrooms
0 comment(s)
---
CloudSmiths Proudly Announces the Launch of their Salesforce Field Service Centre of Excellence in South Africa
0 comment(s)
---