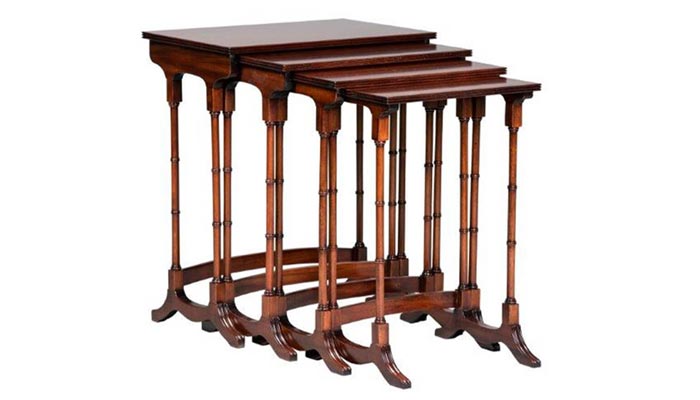 Read about the interesting history of nest tables
The Nest Tables were first made in the late 18th Century by Thomas Sheraton, the English cabinetmaker. The first ones were made of satinwood or mahogany, later ones of papier-mache, Chinese-style lacquer and other types of finishes. Our Nest Of Tables is made in sets of four tables. They are designed to fit one under the other.
These sets were designed to take up as little space as possible in the much smaller houses in the UK. Griffiths & Griffiths solid mahogany nest of 4 tables has to be one of Gladys Griffiths' most popular designs, and have now become very trendy especially as homes have become smaller, and we struggle with available space. They are very versatile, and can be used as individual tables for guests when entertaining, card games, and are the perfect size for your little ones when drawing or colouring-in. Griffiths & Griffiths also have a wide range of exquisite solid mahogany lamp tables to finish off any lounge setting. Have a look on our website: www.griffithsandsgriffiths.co.za.
Griffiths & Griffiths are the premier supplier of solid mahogany English Replica furniture in South Africa. The deluxe imported range is sourced from the Norman Adams Collection of 18th century antiques, and optimises the very best of the Georgian and Regency periods. These are fine investment pieces, as quality replicas offer the perfect antique alternative for the corporate executive environment or the elegant home.
The solid mahogany furniture is hand-worked with traditional tools by master-craftsmen, replicating the exact proportions and carving details commissioned centuries ago. The techniques of antiquing, patina simulation and polishing, supervised by Gladys and Peter, make each piece of furniture virtually indistinguishable from the original.
Tel : (011) 444 5744
Kramerville Corner, Cnr Desmond & Kramer Roads, KRAMERVILLE, Johannesburg, Gauteng
www.griffithsandgriffiths.co.za
Business Essentials is Africa's premium networking and business directory.
Read more from our Press Room:
___
Better Healing from Better Hospital Design
___
On Mandela Day, Gallagher is Paying it Forward
___
African Leaders in Artificial Intelligence to Gather at Largest Pan-African AI Community Expo
---
Related Articles:
TSIBA Helps Entrepreneurs Leap Forward in the Business World
0 comment(s)
---
Zoom Fatigue - Five Reasons Why You Want to Step onto a Plane Again
0 comment(s)
---
Supporting Small Business Through Ecosystem Boost
0 comment(s)
---
The Africa Continental Free Trade Area Protocol on Investment: A Prickly Pear for SADC and other Regional Economic Communities
0 comment(s)
---
#TakeControl Over Your Debt!
0 comment(s)
---