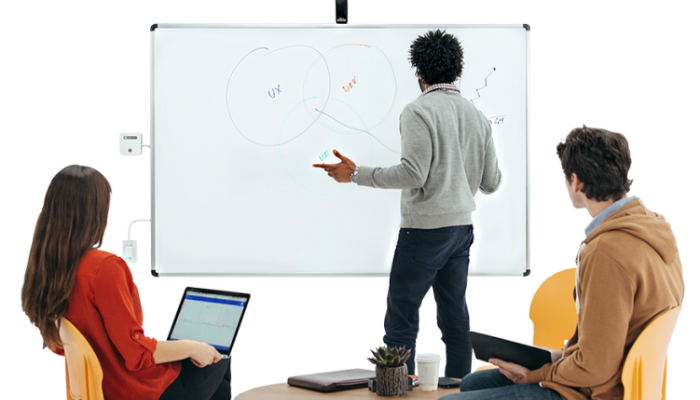 Everybody loves whiteboards. They encourage collaboration and increase productivity
But it is hard to record your presentation simply and share the ever-changing ideas and content of your whiteboard with remote locations. Now there is a solution – Kaptivo!
Kaptivo makes that pesky sharing issue a thing of the past. You can share what's on your whiteboard quickly and easily by integrating Kaptivo with any other video conference system. Kaptivo uses a mounted camera over the whiteboard and very clever hardware and software to capture only what is written on the whiteboard, while erasing the presenter and tidying up the image from glare.
This product is ideal for anybody who needs to share the content of their whiteboard and save it. No need to take out your mobile phone camera to take photographs of the whiteboard. Kaptivo saves the entire presentation, step-by-step, onto your connected device. And it sells for a fraction of the cost of an interactive whiteboard.
Essentially, your whiteboard presentation is stored in the cloud and saved securely so that your presentation is accessible to all necessary participants. When you need to erase the whiteboard for your next portion of the presentation, everything preceding that is already saved and stored and shared with participants. Just as your whiteboard now starts with a clean sheet, so too, a new page will start and be saved for participants.
Easy and uncomplicated
Kaptivo is easy to use and uncomplicated. Once you install it you can immediately utilize any web browser to take part in and view what is being presented on the whiteboard, no matter where you are in the world, as long as you have an internet connection.
It will work with all other video conference platforms that support screen sharing. This allows you to invite anyone, no matter where they are, to view what you're drawing on your whiteboard. They will be able to see exactly what you do, as you do it. Kaptivo automatically captures and archives your changes. You can also download your entire completed session and present it as a multi-page shared presentation.
The Kaptivo camera is easily installed to take the cleanest, crispest, and clearest images of whiteboards up to 1.8mx1.2m. The intuitive control pad is uncomplicated. You can direct new users to online sessions by lighted "call-to-action" buttons. Due to its advanced image processing software, you can easily identify and extract the content you want from an entire Kaptivo session. If you wish to omit or edit certain information in a presentation, you can search for text or images as they appear on the whiteboard.
Image processing
Another feature of Kaptivo's advanced image processing is that it removes board background as well as the users' bodies when they obscure the whiteboard. There's no way the person writing on the board will obscure the view. There also won't be any shadows or other annoying glare spots that are often an issue when conventionally filming or photographing a presentation. However, Kaptivo can take individual snapshots of participants & presenters when needed. Kaptivo achieves all this while automatically enhancing the contrast between the marker ink and the board, AND streaming the images in real time.
Download the archived and perfected presentation at your leisure! Kaptivo is very easy to install. Once the mounting bracket is in place, you can use it with a simple single button press. It is Wi-Fi compatible. There is no extra software, no added downloads or plugin installation, and you may use any computer or mobile device. It has top-notch security utilizing SSL data encryption. You set meeting access approval requirements. Because it is cloud-based, there are no removable storage media to lose or track once your session is complete. Nothing remains behind of your presentation once completed and the whiteboard erased. This makes it excellent for strategic or planning sessions that need to remain private.
Once you purchase Kaptivo you will receive: The Kaptivo main unit with hardwired cable (1.8m) to control pad. A control pad. A USB Power adaptor and cable (2.45m). Wall mounting plates and screws. The quick start guide will assist you on your way to performance and presentation excellence.
Business Essentials is Africa's premium networking and business directory.
---
Related Articles:
The Fourth Industrial Revolution
0 comment(s)
---
The Sun Always Shines on the Sonique Side of Life!
0 comment(s)
---
ContinuitySA Partnership Programme Officially Launches
0 comment(s)
---
Intuition as a Leadership Tool – It's Like Having the World Wide Web in Your Head
0 comment(s)
---
Do You Really Know How Much It Costs to Manage Your Company Travel Manually?
0 comment(s)
---