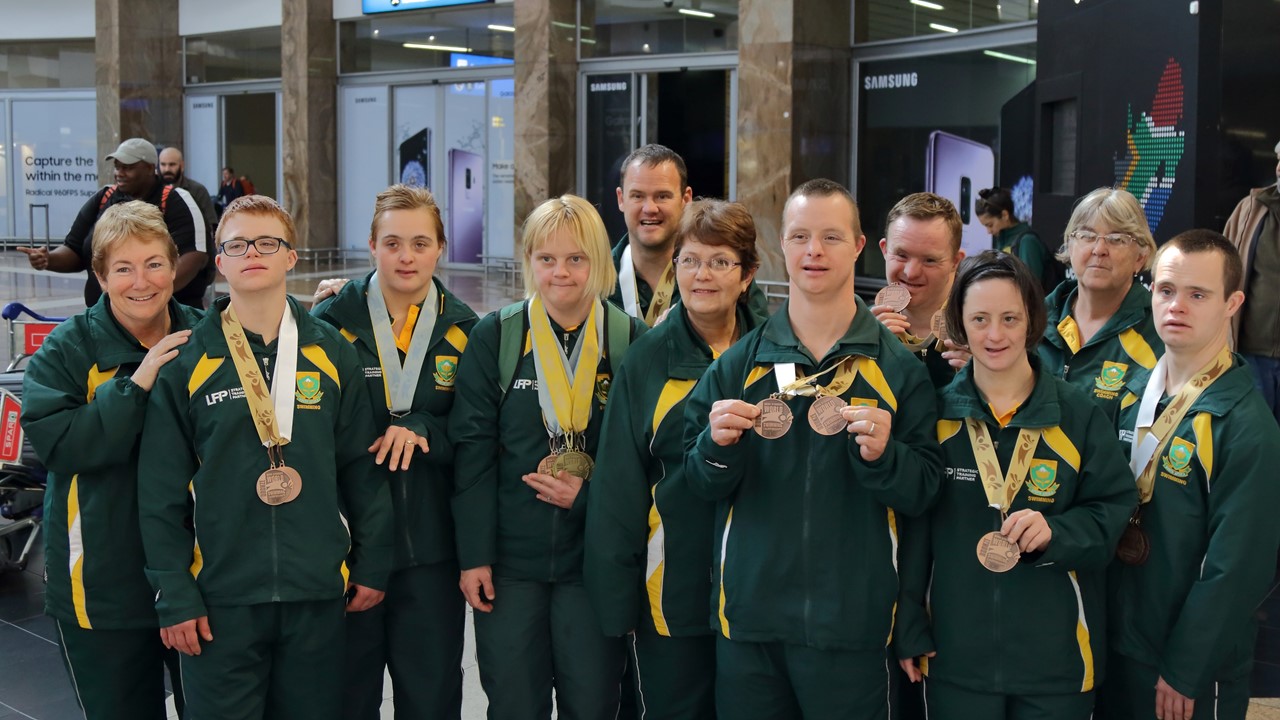 Each of our swimmers received a medal and a new Africa record!
The team has made history at the 9th edition of the Down Syndrome World Swim Champs – bringing home 3 gold, 8 silvers and 7 bronze medals. What's more, our talented team of nine swimmers each broke an African record and have beaten one junior world record and 1 masters world record! SA's team placed 7th overall.
Ina Fowler National Swimming Convener for SASA II says: "The hard work that the team has put in translated into some excellent results. Behind the scenes, there is so much time and effort put in by our athletes, their parents, the coaches and the organisers to ensure a winning team. We are so immensely proud."
Melissa O' Neill was the overall female winner for SA, earning 3 golds and 4 silvers. 13 year old, Minke Janse van Rensburg was the youngest swimmer at the event and scooped up 2 silvers and 1 bronze while Rentia Oosthuizen won 2 silvers.
Our 4x 50m female relay team won silver whilst Hannes-Walt de Klerk received 2 bronze medals and Hilton Heggie received one. The men's relay team comprising of Hylton Heggie, Karl Hebbelman, Sean O' Neill, Hannes-Walt de Klerk and Jan-Herman Els won bronze for both the 4x50m freestyle and 4x100m freestyle.
Records
Most importantly, each of our swimmers received a medal and a new Africa record. The men's and ladies teams both broke Africa records while Melissa O' Neill broke six Africa records and equalled the 400lM world record. Minke Janse van Rensburg set a new junior world record and two Africa records, and Hannes-Walt de Klerk set two new world records.
Official sponsor, LFP Training's Marketing and Advertising Manager, Jacolien Botha says: "It's an honour for us as a company to back this swimming team. We are very proud of each of these athletes and recognise the obstacles that they have had to overcome. It really goes to show that anything is possible if you believe in yourself."
Business Essentials is Africa's premium networking and business directory.
Read more from our Press Room:
___
The Dark Side of Female Leadership
___
Rosslyn Landfill Brings Relief in Pretoria Waste Crunch
___
Green Point – Trendy Cottage Sells for R6,2m
---
Related Articles:
TSIBA Helps Entrepreneurs Leap Forward in the Business World
0 comment(s)
---
Zoom Fatigue - Five Reasons Why You Want to Step onto a Plane Again
0 comment(s)
---
Supporting Small Business Through Ecosystem Boost
0 comment(s)
---
The Africa Continental Free Trade Area Protocol on Investment: A Prickly Pear for SADC and other Regional Economic Communities
0 comment(s)
---
#TakeControl Over Your Debt!
0 comment(s)
---