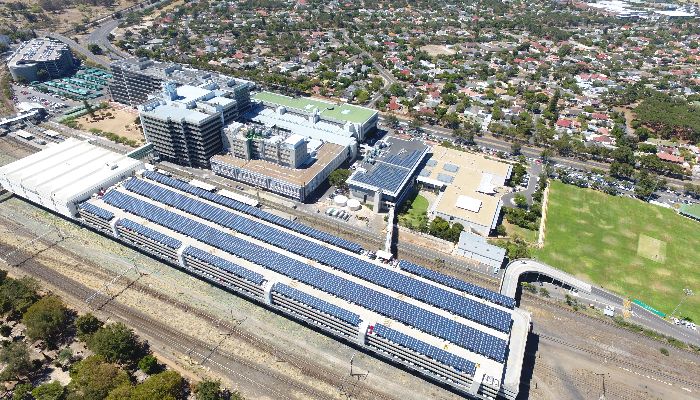 The initiative adds significant relief to the water demand on Cape Town
Old Mutual's Mutual Park office in Pinelands, Cape Town, one of the largest corporate offices in South Africa, officially launched the very first corporate based waste-to-drinking Water Filtration Plant in South Africa.  This means the 166 000m² office, currently accommodating more than 9 000 employees and contractors, is now operating off the water grid.
Relief to the overall water demand
This environmental intervention will provide significant relief to the overall water demand on the City of Cape Town.
Old Mutual Limited's Chief Operating Officer, Iain Williamson welcomed representatives from the City of Cape Town, Department of Water and Sanitation, Western Cape Government, The Green Building Council of South Africa and GreenCape; as well as members of the media and Old Mutual executives and employees.
Williamson said, "As a Responsible Business, Old Mutual continues to positively impact the socio-economic and environmental development of the continent and its people.  By driving mutually beneficial projects, Old Mutual creates shared value. A project like this which is both cost-effective and responsibly geared to ensuring a sustainable future is a win-win for all."

Source Credit: Old Mutual, Pinelands
"This is another proud moment for us," agreed Heloise Van Der Mescht, Executive General Manager, Old Mutual Customer Services.  "The launch of this waste-to-drinking Water Filtration Plant is providing a potential water-saving for the City of approximately 10 to 15 000 kilolitres a month.
"Our Water Filtration Plant, which has undergone rigorous testing was certified SANS 241 compliant by the national and local governments making the filtered water drinkable and is earmarked to be Mutual Park's main source of water.  It has the capacity to produce between 650 000 and 800 000 litres a day! Mutual Park's average consumption is about 450 000 litres of water a day," said Khiyam Fredericks, National Technical Manager, Old Mutual Limited.
"We have been piloting the plant since July 2018 and the results have been impressive.  Not only is it contributing towards essential water conservation in the drought-stricken Western Cape, it has also encouraged a wonderful uptake in community involvement and participation in some of our water-saving initiatives," Fredericks concluded.
Water saving initiatives
Through a range of effective water saving initiatives introduced since the beginning of 2016, water consumption at Mutual Park was reduced by 30% before the launch of the Water Filtration Plant.
Peter Moyo, Old Mutual Limited's Chief  Executive Officer opened the milestone event saying, "Our Responsible Business strategy and philosophy is based on our corporate purpose, our responsibility to inspire a shared-value proposition for our customers to help them achieve their lifetime financial goals while at the same time creating a mutually beneficial and sustainable future for all."
These practical water conservation initiatives implemented by Old Mutual include:
Employee #WaterWise awareness campaign
A comprehensive communication campaign was launched to increase awareness of the water crisis to urge employees to support the efforts to conserve water at work and at home. Keeping employees aware is critical to encouraging action.
Display screens are updated daily with dam levels, water usage and water savings targets. These screens also relay the latest information and water-saving tips from the City of Cape Town.
Electronic meters were installed in critical water use areas to track misuse and trends, and also proactively manage any leaks.
Ablution, cleaning and washing facilities as well as air-conditioning
Aerators were installed on taps and showerheads to reduce usage, ultimately reducing water consumption.
Water pressure was optimised to reduce the length of flush time for all toilets.
Additional waterless hand sanitisers were installed in all bathrooms.
A greywater system to flush toilets was installed at the onsite crèche at Mutualpark, Greens'cool.
Their air-conditioning system was upgraded so that its wastewater flushes the toilets.  This will eventually mean savings of about 40% (approximately 20 000 litres) of water per day in the heat of summer.
The upgrade of the air-conditioning units in the Data Centre to be air based and not water based.
Buckets have been placed in showers and the water reused for cleaning floors.
A waterless carwash was introduced and the water-based carwash upgraded with a water recycling plant that has reduced its water consumption by 80%.
Mutualpark irrigation
A treated effluent water feed was introduced for irrigation of the sports fields and gardens.
All the fountains at Mutualpark have been turned off temporarily (the main one will be switched on again shortly thanks to the water plant).
Locks installed on external taps.
Western Cape communities
Various disadvantaged Western Cape communities continue to be beneficiaries of water-wise solutions through the company's volunteerism employee activation programme.  Called Purposeful Friday, it involves Old Mutual employees and the Old Mutual Foundation joining hands to raise funds for worthy causes.
"We are here to make a difference by doing our exceptional best and acting responsibly to conserve and protect our natural resources," concluded Van Der Mescht.
Business Essentials is Africa's premium networking and business directory.
Read more from our Press Room:
___
Are You On The Road To Burnout?
___
A guide to Special Cargo: White Lions visit Prague
___
The Best of Business in South Africa: Fezile Dhlamini of Green Scooter
---
Related Articles:
TSIBA Helps Entrepreneurs Leap Forward in the Business World
0 comment(s)
---
Zoom Fatigue - Five Reasons Why You Want to Step onto a Plane Again
0 comment(s)
---
Supporting Small Business Through Ecosystem Boost
0 comment(s)
---
The Africa Continental Free Trade Area Protocol on Investment: A Prickly Pear for SADC and other Regional Economic Communities
0 comment(s)
---
#TakeControl Over Your Debt!
0 comment(s)
---