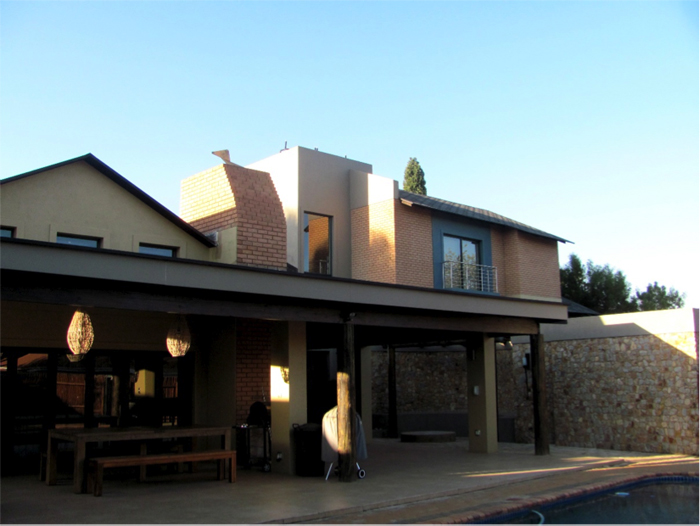 A South African contemporary residential design for a young family of 4 in an old well-established Pretoria Suburb.
The home shares the site with an existing residence turned office, restricting the amount of space available on the property.
Multiple levels were necessary in order to accommodate the client's comprehensive wish list, without sacrificing too much of the site (figure 1). This ensured that a fair amount of the garden was retained to complement the home and allowing enough space for the children and grownups to play.
Special care was taken during the design process to ensure that ample shading was achieved during the summer months, while still allowing sufficient sunshine to flow into the home during colder winter months (figure 2).
Materials choices were selected to accommodate client brief of low to minimum maintenance and still maintain a contemporary/modern feel (figure 3).
The public areas of the home open up onto spacious covered and open outdoor areas where the family can entertain their guests in comfort (figure 4).
The main feature of the house interior is the open staircase forming a strong visual vertical element linking the various section of the house, while constantly staying connected to the different spaces and functions of the residence (figure 5 & 6).
Business Essentials is Africa's premium networking and business directory.
Read more from our Press Room:
____
Welcome to the first Pilatus PC-24 in Africa
____
What are the Basic Requirements for Participants in B-BBEE Trusts
____
Probation Guidelines to Follow in the Workplace
---
Related Articles:
WORLD ENVIRONMENT DAY - Are you making this mistake in your home?
0 comment(s)
---
Henley Business School is top in Southern Africa for Executive Education
0 comment(s)
---
UFS Research Impacts Food Security Across Borders
0 comment(s)
---
Medicinal Mushrooms
0 comment(s)
---
CloudSmiths Proudly Announces the Launch of their Salesforce Field Service Centre of Excellence in South Africa
0 comment(s)
---