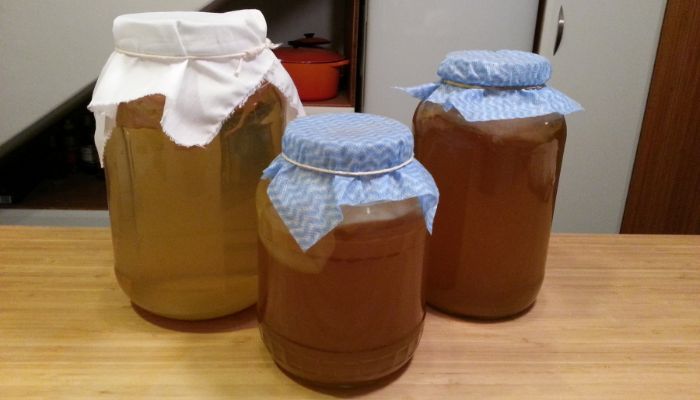 Fermented foods are great for your health, and home-brewed kombucha is a great way to get your daily dose!
Kombucha (kom-BOO-cha) is a type of fermented, tea-based drink with a refreshing flavour and slight effervescence. Fermented foods and probiotics could be the key to good gut health, and this is a great way to add more to your diet.
Kombucha has become popular in South Africa amongst the growing community of wellness lovers. You can buy it at most health food stores, some food markets, and even some trendy restaurants. At ±R30 for 340 ml, store-bought kombucha doesn't come cheap. It's really easy to brew at home, for a fraction of the cost.
You will need some starter kombucha and a SCOBY (Symbiotic Colony of Bacteria and Yeast). It looks a bit like a jellyfish. You can buy a SCOBY as part of a kombucha starter kit. Because SCOBY multiplies after every brew, a brewer friend would probably be happy to gift you one.
How to brew kombucha in a three-litre jar
You will need
3-litre glass jar
Rubber band or piece of string
A 20×20 cm square of cloth (cloth that will allow air in, but keep bugs out)
A drinking straw
Funnel
Cloth to filter the tea
Plastic or glass bottles with lids in which to store the tea
Large jug for pouring (optional)
Ingredients
Tea (± 6 good quality teabags)
Sugar (± 200g brown sugar)
Purified water (± 2.75 litres)
Starter kombucha (± 200 ml)
SCOBY
Method
In a clean 3-litre glass jar, add the sugar and tea bags. Add only a little boiling water at a time to avoid cracking the glass jar. Steep the tea for ±20 minutes and dissolve the sugar. Remove the teabags and top up the jar with cold purified water until ±three-quarters full. When the mixture is quite cool, add the starter kombucha. High temperatures could kill the required bacteria. Lower in the SCOBY. Don't worry if it sinks, floats, or looks a bit lopsided. Over time, the SCOBY will spread out across the surface of the liquid to create an air-tight brew environment.
Secure a square of breathable cloth on top with string or rubber band. Stand it in a dark area away from sunlight. Do not move it as this could disturb the brewing process. Let it rest for ±10–14 days.
Testing
Lower a drinking straw into the tea; hold a finger over the top and lift it out to taste without contaminating the brew.
Harvesting your kombucha
When it tastes slightly effervescent and pleasantly fermented, remove the SCOBY. Line a funnel with a filter/cloth. Strain the kombucha through the funnel into your bottle/s.
While straining, you'll notice sediment at the bottom of the jar. This sediment is rich in probiotics. Swish the kombucha around the jar to pick up all the sediment. Retain ±200 ml kombucha as the starter tea for your next brew.
While sealed and bottled, it should undergo a secondary fermentation which will lead to a pleasant fizz.
Notes
Interestingly, it's not possible for kombucha to be sugar-free. The fermentation process relies on sugar to occur, and the resulting product is less sweet. Loaded with probiotics, kombucha is totally worth the remaining calories!
Any contact with metal might damage the SCOBY.
If storing in glass, be aware that pressure will build up and the bottle may explode if you forget about it.
Don't be alarmed if your SCOBY grows brown strands.You can rinse it in clean water between brews if you wish.
Almost any type of tea will work but beware of herbal teas that are made with essential oils as it may damage the SCOBY.
Document your kombucha experiments on a chart, as follows, to uncover your ultimate recipe:
Happy brewing!
Business Essentials is Africa's premium networking and business directory.
Read more from our Press Room.
---
Related Articles:
Zoom Fatigue - Five Reasons Why You Want to Step onto a Plane Again
0 comment(s)
---
Supporting Small Business Through Ecosystem Boost
0 comment(s)
---
The Africa Continental Free Trade Area Protocol on Investment: A Prickly Pear for SADC and other Regional Economic Communities
0 comment(s)
---
#TakeControl Over Your Debt!
0 comment(s)
---
In a Post Covid-World, the Africa Continental Free Trade Area could not come soon enough
0 comment(s)
---