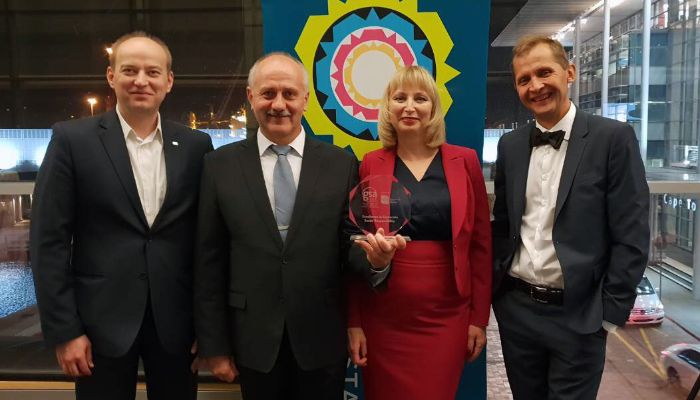 And the winner is…
On October 2, the Global Sourcing Association (GSA) in cooperation with Business Process Enabling South Africa (BPESA) announced the winners of the 2018 GSA Global Sourcing Awards. IBA Group was selected the winner in the category Excellence in Corporate Social Responsibility.
The following IBA Group's projects qualified for the final of the GSA Awards: a series of SAP solutions that automated financial and property asset management, and production performance management at Gazprom Transgaz Belarus (GTB), RPA projects that automated debt recovery and fraud investigation at a leading South African bank, and projects that foster personal and professional empowerment of disabled people in Belarus. Of these, the project on empowerment of disabled people in Belarus was announced a winner.
In 2016, IBA Group received a GSA award in the same category Award for Corporate Social Responsibility (CSR) for the project entitled Promotion of IT among People with Disabilities, the first IT education project for disabled people in Belarus. The project Personal and Professional Empowerment of Disabled People in Belarus continued the initiative of IBA Group to integrate people with disabilities in the labour market through training and support in employment. The project included the following free training courses for people with disabilities:
    Development of soft skills for successful career building
    Fundamentals of entrepreneurship. How to turn a hobby into a profession?
Sergei Levteev, IBA Group Chairman, said: "CSR plays a very important role in the company's strategy and operations. We adopted a CSR program in 2008 and joined the United Nations Global Compact, the world's leading voluntary CSR initiative in May of this year. It is a great honor to receive this GSA award on a global scale and we will maintain our commitment to social responsibility in the years to come".    
The awards ceremony was a part of the GSA Global Sourcing Summit 2018 held from October 1 to October 3 in Cape Town, South Africa. Greetings by Patricia De Lille, Executive Mayor of Cape Town, Kerry Hallard, CEO of GSA Global, and Zondwa Mandela of the Mandela Legacy Foundation opened the summit. The global sourcing elite that gathered at the event discussed the global sourcing landscape and the trends that affect organizations, the Global Sourcing Standard v2, and AI, RPA, and other new technologies.
Business Essentials is Africa's premium networking and business directory.
Read more from our Press Room:
____
____
Recent building Fires in Johannesburg a Wake-Up Call For Business and Government
____
---
Related Articles:
The Africa Continental Free Trade Area Protocol on Investment: A Prickly Pear for SADC and other Regional Economic Communities
0 comment(s)
---
In a Post Covid-World, the Africa Continental Free Trade Area could not come soon enough
0 comment(s)
---
How the Environment Affects Your Health, and What You can do About It
0 comment(s)
---
Resilience is Critical for Business Success in Our Post-COVID-19 Future
0 comment(s)
---
Are You Ready for the 4IR?
0 comment(s)
---