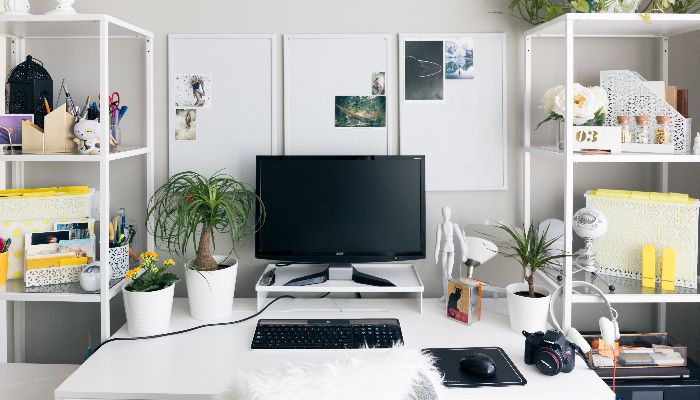 Increasingly companies are implementing systems that allow employees to work from home, at least some of the time. With major traffic congestion in nearly all the major metropoles around the country, it's become almost essential for employers to be open to this way of working if the nature of the work allows for it. And with the proliferation of the internet, it's easier than ever to remain connected to employees and colleagues around the world – and in their own homes.
"At Leapfrog we're great proponents of the work-from-home philosophy. The nature of work in the property industry lends itself ideally to this kind of flexibility. Even in our support office we're happy to let people work remotely, as we believe it enhances their quality of life by allowing them to determine when they want to work, to save on commuting time and costs, and to manage their work schedules around the needs of their families," says Bruce Swain, CEO of Leapfrog Property Group.
But will it work at home
That's great, but not all homes are designed or built for working. "To get the most out of working from home it's important to organise and arrange the space such to optimise concentration and productivity," says Michelle Cohen, Principal at Leapfrog Johannesburg North East. She adds that this may mean making structural, design and organisational adjustments to your residential property.
Before you bash down walls or break the budget building on a home office, consider some of the factors discussed below. "Our trusted property advisors will also be able to advise and guide you to only invest in changes and improvements that will raise the value of your property, which is why it's a good idea to consult one," Cohen explains.
This doesn't mean that you shouldn't make the changes needed to create the optimal working space, rather it's about working cleverly with what you've got – with the value of your property investment as your main focus.
The magic of multipurpose
Properties that demonstrate a multitude of functions are generally valued higher than those that don't, Cohen reckons. "Space and budget constraints across the various sectors of the market mean we need to be smarter and more efficient in our appropriation of space in residential properties."
Rather than see this as a limitation, consider it a challenge and an opportunity to think more creatively about the notion of a home office of study.
Often a home office can be been made to work in a neglected area of a large property or cleverly designed to fit within an existing space like a bedroom or living room. In fact, modern format design allows for even the smallest space to be adapted.
With efficient space planning, clever storage solutions and the agreement of all who share the property, a home office can be made to work nearly anywhere in a home (except maybe the bathroom!).
"We've seen people convert everything from entrance halls to landings to a part of the master bedroom into a stylish, ergonomic home office. Of course, the nature of the work determines the kind of space that is needed, but if it is mostly computer-based work, there is almost no limit to the kind of spaces in the home that can be made to work," Cohen says.
Consider the neighbours
Working from home is convenient and well until the neighbours complain. Consider whether what you're doing will affect the community around you in any way and make a contingency plan around that. For example, a consultant might be seeing lots of clients, which may result in parking issues in the street, which could bother others. Similarly, somebody like a redistributor has lots of packages delivered, which means the delivery vehicles could be disruptive to others in a quiet street. "One of the neighbours in our complex was running a car servicing business from his garage, which meant there was also a string of cars parked in front of his house, oil spills in the road and irritating noises emanating from the machinery he used. We specifically chose to live in the complex for the peace and quiet," says Cohen.
This sort of behaviour can negatively affect the value of all the properties in the street and/or complex, which is inconsiderate and irresponsible.
The latter is an extreme example, but even if your work just involves people coming and going (quietly) the considerate thing to do is to inform your neighbours of your activities and to ensure them that they're welcome to speak to you if it does cause a hassle for any reason.
"The bottom line is that working from home must not breach any by-laws regarding trading in a residential area," Cohen emphasises.
Functionality first
Working from home tends to only work if the space dedicated to that purpose is suitable, inviting and a pleasure to be in. "My best advice is to not neglect the look and feel of your home office. Pay attention to things like the flow, the ventilation, and the lighting," Cohen advises.
She adds that personalising your workspace with things like plants, framed photographs, and special ornaments and objects can make a great difference to your mood when you sit down to work.
Being properly organised is also very important. Make sure you have the right tools, in terms of stationery and storage, that there are enough plugs and the right internet package and connection.
It's about understanding that an attractive, organised and well-ventilated space goes a long way in enhancing productivity and elevating the appeal of your property.
Business Essentials is Africa's premium networking and business directory.
Read more from our Press Room:
____
What You Need To Know Before The Medium-Term Budget Is Presented
____
The Fight Against Breast Cancer Continues During October
____
Why Incentive Travel is Still the Ultimate Reward
---
Related Articles:
Why Millennials are Losing Their Hair
0 comment(s)
---
Removing Vulnerability in Residential and Commercial Estate Management
0 comment(s)
---
What Employers Need to Know About Hearsay Evidence
0 comment(s)
---
Unpacking the BEE Management Tool
0 comment(s)
---
IBA Group Opened a Digital Twin Laboratory
0 comment(s)
---