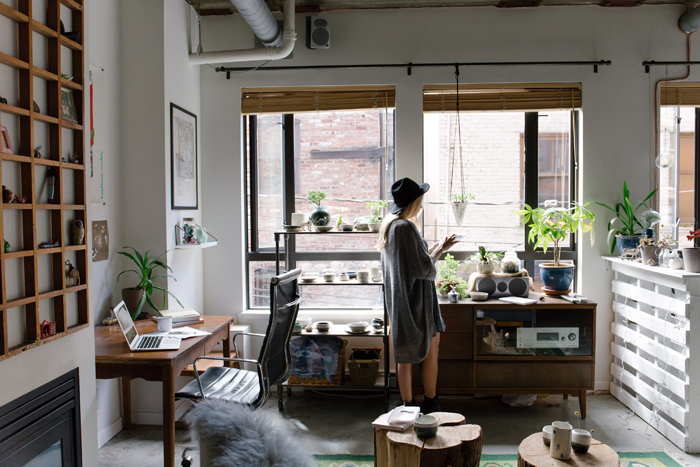 So, you happen to find yourself living in the city
The views are grand, the access to the CBD is great, but you want to bring some life to your world. Not easy when you are limited to a small balcony or no outside space at all.
Don't fret, you might not be digging up dirt outside, but at PropertyFox we have a solution for you; indoor gardening.
Not only do plants help detoxify the air, but they'll also add to the aesthetics. And, if you do it right, you might even be able to grow some edibles.
City dwellers, or those without a good gardening spot in the yard, may find growing indoors especially useful. Plants do not need to take up much space — a windowsill is fine if that is all you have.
At PropertyFox, we have put together a list of things for the perfect indoor gardening conditions in your home.
Focus on the lighting
Lighting is important for indoor gardening, whether it be natural or artificial light. Without adequate lighting, plants become 'leggy' (e.g. tall, thin and weak), that is if they grow at all.
Placement is everything. Aim for a windowsill that's exposed to regular sunlight. If this is not possible, you might have to consider grow lights.  Running your lights for at least 14 hours a day should yield good results. But you can experiment with longer durations, as long as your plants still get at least six hours of darkness.
All about the timing
While an automatic timer is not necessarily required, keeping track of when you water and when you run the lights will help you get the best results.
Let the air circulate
To make sure that enough air circulates around your plants, a small fan could help.  It is paramount that you facilitate air circulation around your plants, as the moving air will help prevent problems such as leaf fungi and garden pests.
Set the temperature
There are varieties of plants that grow best at 25.5°C indoors, for others a warmer temperature of 28.8°C is preferred. Beginner growers and those without an air-conditioning system should look at investing in a thermostat controller and fan to get the garden close to the 21.1-26.6°C mark.
Best plants to grow indoors
For most indoor gardening setups; greens, herbs, and other leafy plants grow best. You could even consider growing your own edibles.
Here is a look at some herbs or vegetables you could grow inside your home:
Broccoli
Brussel Sprouts
Cabbage
Spinach
Cauliflower
Mint
Thyme
Cumin
Chives
Sage
Succulents are the best
If you are looking to avoid all the intricate steps to making sure that your plants grow under healthy conditions indoors you could opt for succulents. They make great indoor plants because they are adapted to survive dry and harsh conditions. Low relative humidity is not a houseplant's friend. Succulents, though, with their water-storing ways, endure dry air without ugly side effects.
Top tip, though, some of them will not be happy in a bathroom with the extra moisture. Make sure you research your plant for optimal placing.
Here is a look at some succulents you could grow inside your home:
Aloe Vera
Jade Plant
Burro's Tail
Snake Plant
Roseum
Pincushion Cactus
Panda Plant
Flaming Katy
Crown of Thorns
Asparagus
Conclusion
Remember that growing plants inside could be as good as good as outside, if you optimise conditions.
Whether you are craving freshly grown harvests or just want to add some life in the form of flowers or succulents,  we hope this gives you some encouragement to start growing some greenery in your own indoor garden.
At PropertyFox you can invest in the home of your dreams or get started in the property market, contact us today and we will take it from there.
Business Essentials is Africa's premium networking and business directory.
Read more from our Press Room:
____
RIO LARGO Continuing to Bring Home GOLD, This Time from Italy!
____
Innovative Ways To Approach Enterprise and Supplier Development and BEE
____
AB Inbev Focuses On Local Retailer Business Growth
---
Related Articles:
How Long Does Debt Counselling Take?
0 comment(s)
---
The Willard® BLUE Battery Promotion Has a Winner!
0 comment(s)
---
The Development of a Solar Photovoltaic Market in Ghana
0 comment(s)
---
Businesses to be Verified Based on New B-BBEE Code Amendments from 01 December
0 comment(s)
---
SAP SuccessFactors & Skillsoft
0 comment(s)
---