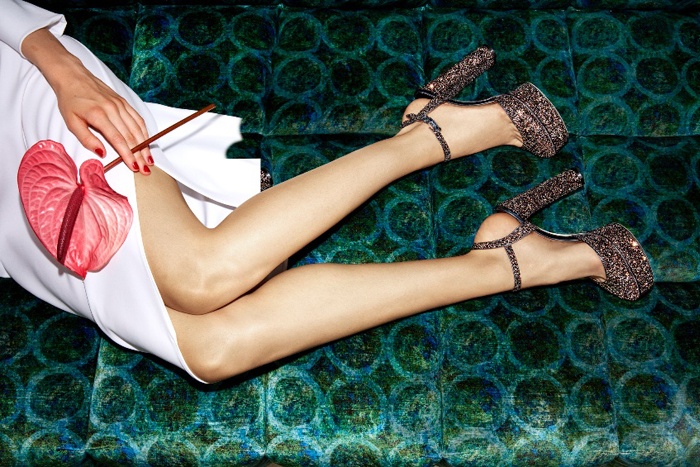 For Cruise 2019 Jimmy Choo's Creative Director Sandra Choi has conjured a collection that is lavish, enchanting, thrilling, seductive and surprising
The inspiration was ignited from a portfolio of photographs taken at the 1972 Surrealist Ball hosted by Marie-Hélène de Rothschild. The extravagant attire and exceptional poise of Rothschild's guests that spanned Salvador Dali to Brigitte Bardot, sparked a collection whose richness of detail is matched by its inventiveness.
"The Surrealist Ball was attended by the greatest names in contemporary French society, all of whom seem to be competing as to who could look the most strikingly surprising and elegant. I've worked to transmit that essence of beautiful surprise into a collection that I'm really proud of. It stars many of the Choo codes we have worked so carefully to build over the years but uses them in unexpected newways." Sandra Choi, Creative Director
The brand's signature star is presented as a dazzling constellation of appliqué crystals in a design entitled Supernova that shines from a midnight sky of navy suede. Another hero fabrication is a playful reinterpretation of a Prince of Wales check, Prince of Stars lending brilliant sparkle to city chic check. Plumes of ceremonial feathers stand to attention encased in star detailed jewels on timeless evening pumps and structured clutches.
The Cruise collection heralds the arrival of AVA, a future classic pump whose proportions have been sensitively redesigned giving birth to a shoe that feels at once familiar and refreshingly new. Cut high at the front, low on the back with a delicately extended toe, the AVA and the LOVE pump are signature desk to dance floor heels.
The BING, in three heel heights, is a mule with a sharp silhouette and jewelled diamanté crystal Mary Jane strap, the shoe equivalent of a tuxedo with added sparkle.
Volumes are pumped with the return of the platform. PEACHY is a modern party- girl high volume style that echos the key fabrications of the season from satin and crystal to monochromatic patents.
Bags play with the new Choo logo motif in relief.
The Jimmy Choo CR19 Press Kit can be found here.
The Jimmy Choo Boutique is located at Shop U21A, Diamond Walk, Sandton City, Johannesburg. Tel: +27 (0) 11 326 6658.
For more information or to schedule collection of press samples for briefs, contact Brand Ambassadors: info@brandambassadors.co.za
Business Essentials is Africa's premium networking and business directory.
Read more from our Press Room:
____
Affirmative Action, Broad-Based Black Economic Employment and Employment Equity
____
____
How Government can Work with the Tourism Sector to Create Jobs
---
Related Articles:
TSIBA Helps Entrepreneurs Leap Forward in the Business World
0 comment(s)
---
Zoom Fatigue - Five Reasons Why You Want to Step onto a Plane Again
0 comment(s)
---
Supporting Small Business Through Ecosystem Boost
0 comment(s)
---
The Africa Continental Free Trade Area Protocol on Investment: A Prickly Pear for SADC and other Regional Economic Communities
0 comment(s)
---
#TakeControl Over Your Debt!
0 comment(s)
---