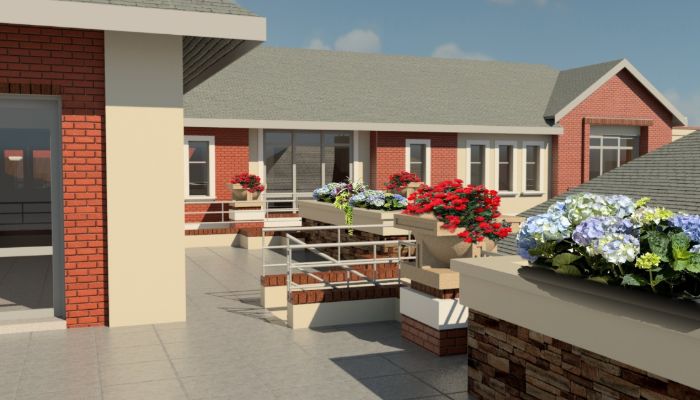 Due to the extent and complexity of the excavations that allowed compliance to height regulations and restrictions, space is quite restricted and hampers the progress of construction. Despite this, the lower section of the house is taking shape and preparation is in place to commence with the roof construction, as soon as the upper levels are at wall plate height.
The sprawling layout is a direct result of the single-storey restriction on 50% of the site and combined with the specific space and accommodation requirements of the client. This created smaller courtyard areas that allow natural light and privacy to various part of the residence.
With most part of the living and bedrooms facing due North, the house will be well lit and have maximum views over the greenbelt area. Sufficient lawn space is being envisaged for the kids to play, while they are growing up.
Construction is progressing well as can be viewed on below aerial photographs.
Business Essentials is Africa's premium networking and business directory.
Read more from our Press Room:
____
Employment Rates Contributing to the Increase of Employment
____
Changing Lives Sustainably Through Skills Development
____
---
Related Articles:
WORLD ENVIRONMENT DAY - Are you making this mistake in your home?
0 comment(s)
---
Henley Business School is top in Southern Africa for Executive Education
0 comment(s)
---
UFS Research Impacts Food Security Across Borders
0 comment(s)
---
Medicinal Mushrooms
0 comment(s)
---
CloudSmiths Proudly Announces the Launch of their Salesforce Field Service Centre of Excellence in South Africa
0 comment(s)
---