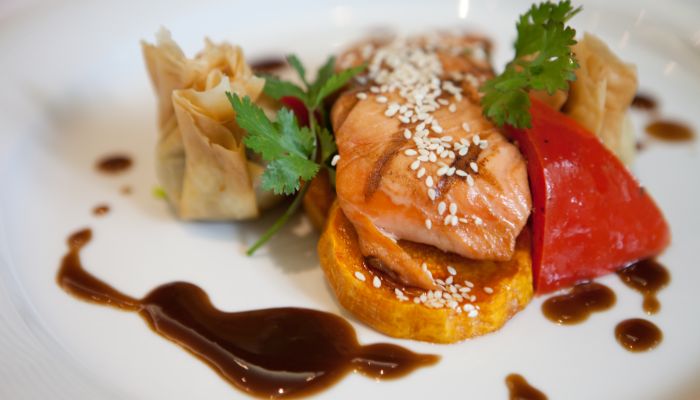 What's cooking?
Gallagher Convention Centre Catering (GCCC) is the preferred on-site supplier to Gallagher Convention Centre for all the venue's culinary requirements.
The dynamic Gallagher Convention Centre Catering (GCCC) team is led by Head Chef Gordon Fraser. Gordon has been associated with Gallagher Convention Centre since 1996.  During his twenty-three year relationship with Gallagher Convention Centre, Chef Gordon has been at the helm of the catering for many different event types- speaking to his capabilities.
Chef Gordon's and his team's many years of experience ensures that only the highest quality food is served at Gallagher Convention Centre.
Guests to Gallagher Convention Centre can look forward to creative and innovative new menus from Gallagher Convention Centre Catering (GCCC) in 2019. This specialist team prides itself on offering the finest catering, tailored to the requirements of clients.
Known for our NIHT certified Halaal catering, Gallagher Convention Centre will look to further expand on our culinary offerings in 2019. This will be reflected in more menu options for our guests to select from as well as a carefully crafted medley of flavours created by the Gallagher Convention Centre Catering (GCCC) team.
Business Essentials is Africa's premium networking and business directory.
Read more from Pressroom:
____
ContinuitySA Completes International Business Continuity Management Project in Record Time
____
Insurance Do's And Don'ts For Landlords
____
Making Fresh Cut Flowers Last Longer
---
Related Articles:
Avoiding Fish? You'll Want To Take an Omega-3 Supplement
0 comment(s)
---
Building Agile Teams For Company Success
0 comment(s)
---
The Art Of Raising a Reader!
0 comment(s)
---
Summer Festivals Are Made in Winter!
0 comment(s)
---
Marijuana, The Grateful Dead and the Constitutional Court: A Curious Intersect
0 comment(s)
---