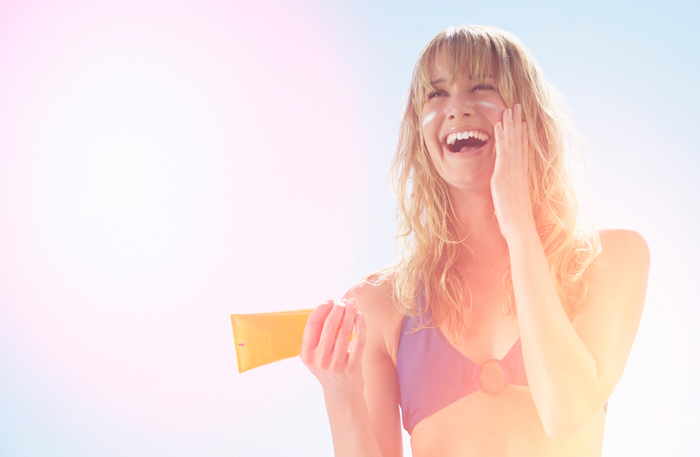 Back in the day, applying sunscreen was always a bit of a chore
It was gloopy and difficult to spread. It took forever to absorb. Sometimes it created a white caste and most of the time it left you feeling sticky. Today, however, sunscreen has come a long way. Now, you can take your pick from an array of brilliant formulations that, despite having a very high sun protection factor, feel no different to your daily moisturiser.

Better yet, if you're picking one of the "next generation" sunscreens you'll find at Skin Renewal, you're getting a product that does a whole lot more than just protect you from the sun. Here are just a few of our favourite super sophisticated SPFs that you'll find in our Online Skin Shop.

Lamelle Helase Photo-Repair Cream SPF 50

Lamelle's latest and greatest sunscreen contains photolase enzymes that have the ability to repair DNA. Found naturally in many plants and animals, photolase can "search" your skin for recent sun-induced DNA damage and correct it. Another brilliant ingredient in the mix is the potent antioxidant Pcynogenol. Derived from French maritime pine bark, it fights inflammation and protects your skin's collagen, elastin and hyaluronic acid in a way that preserves its elasticity and hydration levels.

Neoretin Gel Cream SPF 50

Those struggling with pigmentation and oily-skin are going to appreciate Neoretin's innovative two in one. It serves up a high protection factor in a feature-light gel formula and diminishes dark marks thanks to a Whitening Booster system. The latter involves using kojic acid and peptides that can inhibit the formation of excess melanin. It also contains wrinkle-busting retinol that also plays a role in skin brightening. If you've got sensitive skin, you'll know that too much retinol can be a source of irritation but, as Neoretin's cleverly encased it in a glycosphere, it's delivered in a way that's not going to cause redness or flaking.

NeoStrata Skin Active Matrix Support SPF 30

Have a drier skin type and also battling with pigmentation? NeoStrata's Active Matrix Support is a good choice for more mature, sun damaged skin. It offers sun protection as well as hydration thanks to nourishing Shea butter and can help turn back the hands of time thanks to collagen-encouraging actives that include the peptide complex Matrixyl 3000 and retinol. It also contains a nice mix of antioxidants like vitamin E and coffee bush berry extract and, thanks to gently exfoliating NeoGlucosamine, it can buff away mild pigmentation.

Heliocare 360 MD AK fluid SPF 100+

If you're at risk of developing skin cancer or undergoing treatment for actinic keratosis (AK), a rough scaly patch of skin that develops after years of unprotected sun exposure, then Heliocare's newbie will be right up your street. It contains a GenoRepair complex that helps to repair the actinic damage and a vederine, a botanical extract derived from chicory root, to repair your skin's barrier function. The good news doesn't stop there. It also makes use of two plant-powered, mega antioxidants, Fernblock and Roxisomes, to fend off free radicals and repair damaged DNA. Last but not least, it uses biomimetic melanin to mimic your own natural melanin in a way that doubles your own natural sun protection.
Business Essentials is Africa's premium networking and business directory.
Read more from our Pressroom:
____
Eskilz College – Top Empowerment Awards finalist
____
New e-Waste Service Offering for Leading Waste Management Company Enviroserv
____
The Skills Development Corporation – Top Empowerment Awards Finalist
---
Related Articles:
TSIBA Helps Entrepreneurs Leap Forward in the Business World
0 comment(s)
---
Zoom Fatigue - Five Reasons Why You Want to Step onto a Plane Again
0 comment(s)
---
Supporting Small Business Through Ecosystem Boost
0 comment(s)
---
The Africa Continental Free Trade Area Protocol on Investment: A Prickly Pear for SADC and other Regional Economic Communities
0 comment(s)
---
#TakeControl Over Your Debt!
0 comment(s)
---