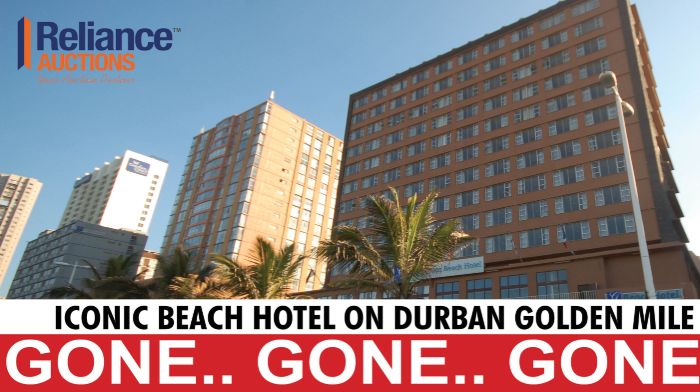 Between 1906 and 1909 the dunes were cleared on Durban's beachfront and for many years the Beach Hotel (then known as Back Beach) was the only hotel on what is today Durban's Golden Mile. In the 50's the Back Beach made way for the hotel that many South African's have come to love and where many fond memories were made.
Reliance Auctions recently sold the Gooderson Beach Hotel, arguably one of the most iconic hotels in South Africa. Located on Durban's Golden Mile beachfront promenade, within walking distance of the city centre, this landmark provides guests with an excellent base from where to explore everything Durban has to offer.
This 11-storey hotel consists of nearly 14 000m² lettable floor space and is in an excellent condition and provides underground parking for 32 vehicles.
'It is not surprising that this property sold for a record price of R67 million," says Reliance CEO, David Soutter. "It ticks so many boxes when it comes to investments that it was just a matter of time before the right investor came along."
The Beach Hotel was truly an excellent opportunity for an investor to land the right hotel on the most popular part of the Durban beachfront. The triple nett lease, registered with Gooderson Leisure, nets just under R6.2 million per annum and the hotel is situated close to the R39 billion Durban Point Precinct Development project due for completion in 2022.
"There is no doubt that the Beach Hotel holds a special place in the hearts of many South Africans and its location surpasses even the most illustrious executive accommodation along the promenade. For the new owner, The Beach Hotel should achieve a healthy return on investment," Soutter adds.
Business Essentials is Africa's premium networking and business directory.
Read more from our Pressroom:
____
Yes, You can Dramatically Improve the Look of that Scar
____
____
---
Related Articles:
How Can I Wipe My Credit Clean?
0 comment(s)
---
The Smart Money is on Local Tech, Especially for 4IR
0 comment(s)
---
TUHF Secures R700 Million Nod from Standard Bank
0 comment(s)
---
Is Your Organisation Prepared for the Coronavirus? Advice From a Business Resilience Expert
0 comment(s)
---
Learning Through Experience with Johannesburg Business School
0 comment(s)
---