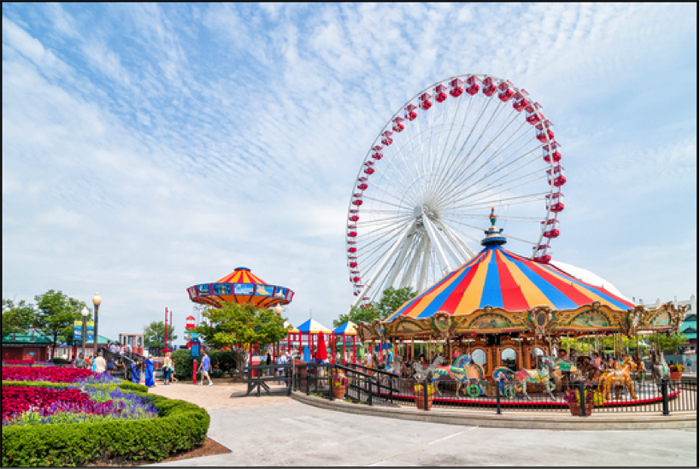 When last did you visit an Amusement Park and experience the thrill of a roller coaster ride?
Very often we land on a merry-go-round situated in the BI Amusement Park. This is not a cool, calm, chilled-out playground where we have zen-like experiences, on the contrary, BI minds are usually exceptionally busy and distracted.
Embarking on a Business Intelligence project might conjure comparable feelings of excitement coupled with trepidation as one approach certain rides. As soon as you are strapped in, ready to be whirled, twirled and dipped at high speed, you realise that there is no turning back and you might as well enjoy the moments to follow. The abundant selection of rides, the choice is yours – stick to those familiar, tested and proven rides, or embrace and try the next, exiting and newest big roller coaster ride if you are feeling brave enough
Compare the similarities
Strict access control to the Amusement Park is customary. Access control to your secure bastion of central information is also necessary to avoid gun-wielding, irresponsible Business Users creating havoc with the data.
Amusement Park visitors complain about access restrictions, gun control policies, safety regulations, high prices (should us lower the prices and offer less safe rides?) and many more factors which in fact, has been set up for their own good.
Similarly, when planning and rolling out a Data Warehouse as the cornerstone for a Business Intelligence project, the experts have to consider various danger points which include but are not limited to: access to sensitive data, making sure data is correct, devise easy navigation, offering advanced search options, avoid storing unnecessary, duplicated, dirty and unwanted data and so on.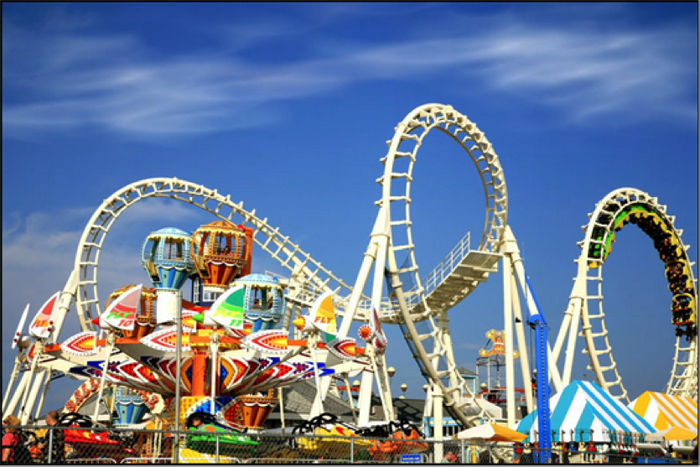 Draw the correlation
An amusement park ("Data Warehouse") is a park that features various attractions, such as rides and games, as well as other events for entertainment purposes. A theme park ("Data Mart") is a type of amusement park that bases its structures and attractions around a central theme ("Business Process"), often featuring multiple areas with different themes. Unlike temporary and mobile funfairs and carnivals (throw-away/stovepipe analytical solutions), amusement parks are stationary and built for long-lasting operation (much like the central Data Warehouse). They are more elaborate than city parks and playgrounds, and usually, provide attractions that cater to a variety of ("User") groups. While amusement parks ("Data Warehouses") often contain themed areas ("Data Marts"), theme parks ("Extended Data Warehouses") place a heavier focus with more intricately-designed themes that revolve around a particular subject or group of subjects.
Fear of Business Intelligence?
Amusement park rides usually induce fear. Tales of thrills and chills on roller coasters are plenty. For the most part, despite a few dangerously designed rides, theme parks remain entirely safe and everyone goes home without any problems – other than some motion sickness or soaked clothing.
Dabbling in the World of Data also exalts reactions of fear and anxiety. To choose between a bewildering selection of data rides, some seemingly scarier than others does compel BI teams to do thorough planning and Business Users to demand a layout of the BI Amusement Park area, list of available rides, duration, and cost plus a safety assurance certificate visible upon entry.
A no money back policy necessitates careful consideration of which rides to pick. To even out the highs and lows, ups and downs of the Business Intelligence roller coaster ride, do attend the Concepts, Design, and Modelling for Extended Data Warehousing which teaches sound principles to be applied no matter what technology is used. Register HERE
Alicornio Africa offers courses on how to complement and extend the lifespan of the existing Data Warehouse by positioning the role each component including the Data Lake. Guidelines for crafting a BI Information Strategy are provided. It gives a comprehensive overview of all aspects pertaining to BI / DW, covers all the related areas and is technology independent.
For more information:
Visit : www.alicornio.co.za
Email : info@alicornio.co.za
Office : 011 513 4083
Business Essentials is Africa's premium networking and business directory.
Read more from our Pressroom:
____
____
Health Through Ozone: Improving Health & Wellness, Naturally!
____
Smart Ways to Negotiate Your Medical Bills
---
Related Articles:
The Africa Continental Free Trade Area Protocol on Investment: A Prickly Pear for SADC and other Regional Economic Communities
0 comment(s)
---
In a Post Covid-World, the Africa Continental Free Trade Area could not come soon enough
0 comment(s)
---
How the Environment Affects Your Health, and What You can do About It
0 comment(s)
---
Resilience is Critical for Business Success in Our Post-COVID-19 Future
0 comment(s)
---
Are You Ready for the 4IR?
0 comment(s)
---