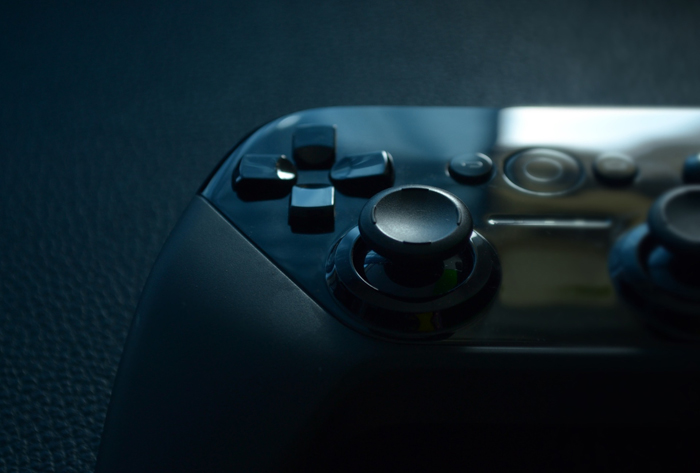 Can we expect games to improve learning effectiveness when we approach it like instant noodles?
Instead of just adding water, we "just add a leaderboard". Not quite. Like most things in life, creating a great learning game requires thorough planning.
As a learning designer, did you ever think that you would be planning "fun" though?
Learning game design should incorporate fun if we want the players to fully immerse themselves in gameplay and learning. We can also call this 'flow'.
Your mind is fully engaged and involved in the game activity, blocking all other distractions. When game players reach a flow state, the game experience balances boredom, anxiety, and frustration to just the right degree and frequency.
This is where deep learning occurs.
How does one design 'flow' into a game? In his book "The Gamification of Learning and Instruction", gamification guru Karl Kapp admits that this is challenging. So, to attempt to rise to this challenge, let's start by understanding FUN!
In "A theory of Fun", Raph Koster says that a good learning game should teach a player everything the game has to offer (that your learner needs to know or be able to do), before he/she stops playing because they are bored, frustrated or because they have beaten the game.
Raph Koster, author of "The Theory of Fun" believes that when people have fun playing a learning game, it is the learning that becomes the 'drug'. He reminds us, as designers that boredom is the opposite of learning. Thus, the moment a game stops teaching us, we become bored and we disengage.
Why do people stop playing a game?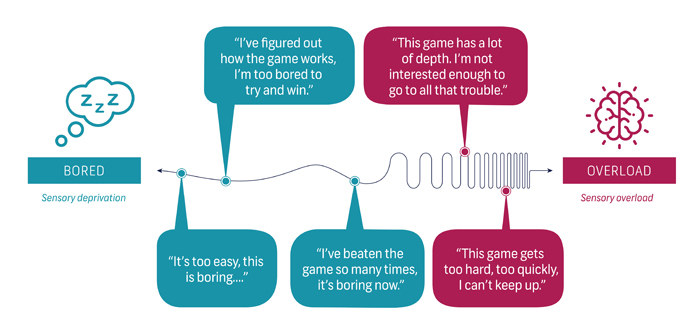 The right balance
Every game designer must aim to hit that sweet spot, the balance that does not burden the player with sensory overload or deprive them of stimulation. A part of creating flow is to successfully engage players on an emotional level. We do this by adding FUN!
Keep players engaged using the '4 Keys 2 Fun'
Nicole Lazzaro describes 'the 4 keys 2 fun' as the four "main reasons why people play games". She explains that each key plays a different role in unlocking play experiences.
According to Lazzaro, the 4 keys 2 fun are: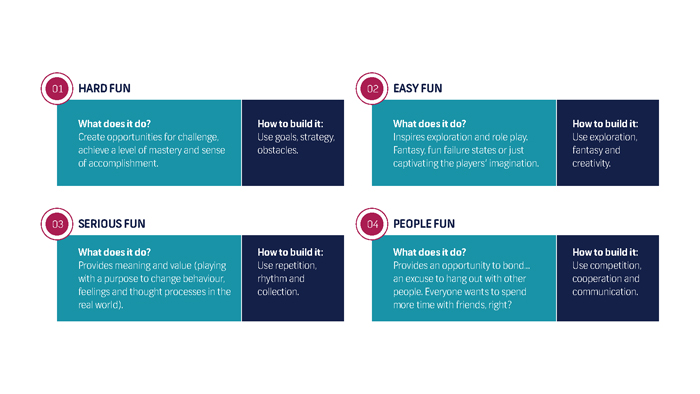 Learning games need to be fun, irrespective of the learning goal we want to achieve. The goal of the game determines the type of game you will develop.
Let's consider a game where a forklift operator trains to move heavy boxes from high storage shelves onto a cargo truck. If a facilitator deems it necessary, they can provide guidance to the operator whilst they are playing the game. The operator gets points for moving objects with accuracy and speed and the operators' game scores are posted on their team leaderboard. This is an example of a serious game. The game creates a simulated environment that resembles a real-world scenario. This game has a definite purpose and outcome.
When designing serious games, you can use elements of 'serious fun' or 'hard fun' or, a combination of the two. In the Forklift Simulation Game example, the following keys to fun can be used:
HARD FUN

Goal 1: Accuracy

Goal 2: Speed

SERIOUS FUN

Repetition: Practice makes perfect, provide several attempts.

Levels: Progression based on mastery of a complexity level.

PEOPLE FUN

Leaderboard: Competition.

Facilitator guidance: Communication.
Now, let's consider another example.
A car dealership sales team are completing an online training module. The content shows them how to use the Features, Advantages, and Benefits (FAB) of the latest model SUV, to do comparative selling. The online training module comprises factual content. A pre-and post-assessment measure individual improvement in applying FAB to comparative selling scenario questions. They are using an open leaderboard to publish the improvement of individuals between pre-and-post-assessment scores. This is gamification at work. The training material does not contain any gaming elements; however, the addition of the leaderboard adds an element of fun through competition.
| | |
| --- | --- |
| PEOPLE FUN | Leaderboard (competition) |
Now, let's use the car sales team example and apply game-thinking to create a different result.
We use the same online training module, but we turn the pre-and post-assessments into branching scenarios that differ in complexity level. Then, we divide the sales team into smaller task teams that tackle the scenarios together. For each level, we provide a team with 2 attempts to explore different approaches. Their third attempt is submitted for points. As teams identify the correct comparative sales approach to each scenario, they move up to a higher complexity level and they earn a badge for each level completed. The team that collects all the badges first, wins the challenge.
Now, your keys to fun could look like this:
HARD FUN

Goal: Accuracy in comparative selling approach.

EASY FUN

Exploration: Apply different comparative selling approaches.

Failure states: 2 attempts to explore different approaches in a safe learning environment, without it impacting on the score.

SERIOUS FUN

Collection: Badges per level completed.

Levels: Progression based on mastery of a complexity level.

PEOPLE FUN

Competition: Leaderboard.

Collaboration and communication: Task teams.
It is tempting to add a lot of 'bells and whistles' to a game without it really serving a purpose. The 4 keys 2 fun demonstrate how elements of fun can aid to achieve the purpose of a game.
The three examples demonstrate the difference between gamification, game-thinking and serious games. In the first example of the car dealership sales training, gamification was used to add some competition (a game principle) to player interaction. This also creates extrinsic motivation which we will cover in more detail, in the articles to follow.
The forklift simulation is an example of game-based learning, where game-thinking was applied to create a real-world scenario where the player is expected to achieve a specific outcome or goal. In this case, speed and accuracy were the goals of the game.
Then, in the last example, we applied game thinking once again to change the car dealership sales training into an interactive, team-based 'solutionist' game. Remember that we didn't change the content; we didn't create a storyline or theme within the online training module. We created scenarios, team challenges and complexity levels around the content so that players could practice using the facts they have learned. This game achieves several outcomes, such as analytical thinking, collaborative problem-solving, exploration, achievement, and mastery. The game, therefore, generates both intrinsic and extrinsic motivation.
In the next article, we will delve deeper into the game design by exploring how to develop a game blueprint or design strategy. The blueprint is almost like 'the theory of everything'… this is where you think about and plan your game from every angle to ensure that the game achieves the desired outcome.
References
Karl, M. K. (2012). The gamification of learning and Instruction. San Francisco: Wiley & Sons Inc. Retrieved June 9, 2019
Lazzaro, N. (2012). The 4 Keys 2 Fun. Retrieved June 9, 2019, from Nicole Lazzaro: http://www.nicolelazzaro.com/the4-keys-to-fun/
Raph, K. (2013). A Theory of Fun for Game Design. Cambridge: O'Reilly. Retrieved June 9, 2019
Business Essentials is Africa's premium networking and business directory.
Read more from our Pressroom:
____
What Landlords and Tenants Need to Know About the Property Practitioners Act
____
____
Directors At War And The Liquidation Option – A Tale Of Sibling Rivalry
---
Related Articles:
How Long Does Debt Counselling Take?
0 comment(s)
---
The Willard® BLUE Battery Promotion Has a Winner!
0 comment(s)
---
The Development of a Solar Photovoltaic Market in Ghana
0 comment(s)
---
Businesses to be Verified Based on New B-BBEE Code Amendments from 01 December
0 comment(s)
---
SAP SuccessFactors & Skillsoft
0 comment(s)
---