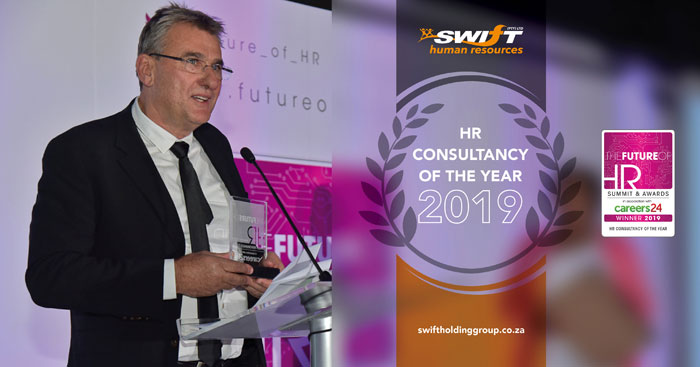 Swift Human Resources, has achieved winner status as the HR Consultancy of the Year at the Future of HR Summit & Awards, that took place on 13 June 2019 in Johannesburg
Future of HR Awards brings together CEOs, CTOs, HR directors and personnel from South Africa and beyond to celebrate and explore the hyper-responsive, agile workplace of the future. Having received a bevy of outstanding entries for both organisations and individuals, Swift Human Resources represents within their category the very best of the best in the South African HR industry.
Hosted in partnership with Careers24, the event celebrated industry leaders achieving exceptional standards of people management by showcasing strategies that make a direct impact on business performance. These innovative practices set new standards for the HR industry, reshaping HR into a cutting-edge strategic business component.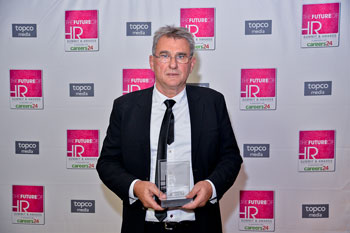 Commenting on Swift's winner status, Tjaart van der Walt (Group CEO) said: "It's a proud moment to receive such an award and to be recognised as Nr 1 in SA! Thanks to our Swifty team who made this achievement possible!"
Swift is leading the charge in creating a workplace of tomorrow. Combining advances in technology with human ingenuity, they are driving an exponential increase in HR's impact and enriching the workplace experience.
Explore the Future of HR here
Temporary Staffing | Recruitment | Payroll Outsourcing | Training and Development
Business Essentials is Africa's premium networking and business directory.
Read more from our Pressroom:
____
SA Businesses Have a Challenge Ahead of Them – Creating an Ethical Business Culture
____
____
3 Steps to a Sustainable Paperless Environment
---
Related Articles:
How Long Does Debt Counselling Take?
0 comment(s)
---
The Willard® BLUE Battery Promotion Has a Winner!
0 comment(s)
---
The Development of a Solar Photovoltaic Market in Ghana
0 comment(s)
---
Businesses to be Verified Based on New B-BBEE Code Amendments from 01 December
0 comment(s)
---
SAP SuccessFactors & Skillsoft
0 comment(s)
---