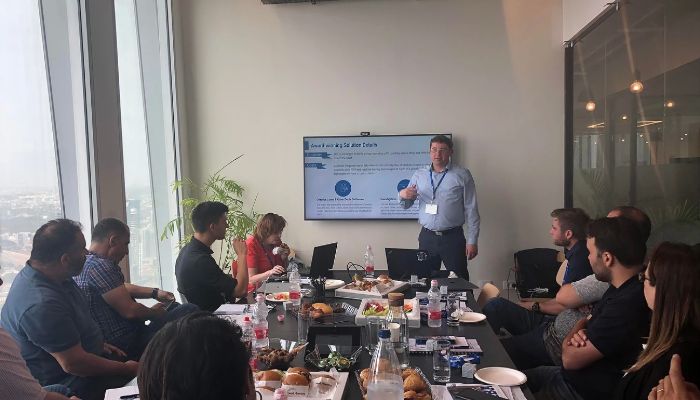 On June 3 and June 5, IBA Group conducted two workshops on Robotic Process Automation (RPA) in Israel. More than 30 companies attended the sessions, including such major players on the Israeli market as Bank Hapoalim, Teva, Netafim, and Strauss Group. The attendees represented financial, pharmaceutical, healthcare, agricultural, manufacturing, and communications sectors of the Israeli economy.
At the workshops, IBA Group spoke about the IBA's experience in the field of RPA. The presentation focused on major benefits of RPA implementation for businesses and employees, provided a comparative overview of leading RPA vendors, and discussed a number of cases from the IBA Group's portfolio.
As RPA is a relatively new concept, the IBA Group's presentation aroused interest and provoked a discussion. The issues that were at the center of the discussion covered a wide array of topics. The attendees wanted to know, which business processes are suitable for automation, how RPA affects the quality of data processing, how to set up a Center of Excellence, and how to choose an RPA platform that would suit customer's requirements. The events provided an excellent opportunity for matching the IBA's experience and expertise to the specific needs of local businesses.
The two workshops open a series of events to be organized jointly by IBA Group and NG Workshop that aims to help companies transform their business processes and improve their performance. In addition to RPA, the attendees will be able to familiarize themselves with the technologies available in the field of business analytics, project management, and cloud computing.
Business Essentials is Africa's premium networking and business directory.
Read more from our Press Room:
____
____
Skills 2.0 – The Face Of The South African Artisan In The Digital Revolution
____
For The Love Of Sunshine And Wine In London
---
Related Articles:
The Africa Continental Free Trade Area Protocol on Investment: A Prickly Pear for SADC and other Regional Economic Communities
0 comment(s)
---
In a Post Covid-World, the Africa Continental Free Trade Area could not come soon enough
0 comment(s)
---
How the Environment Affects Your Health, and What You can do About It
0 comment(s)
---
Resilience is Critical for Business Success in Our Post-COVID-19 Future
0 comment(s)
---
Are You Ready for the 4IR?
0 comment(s)
---