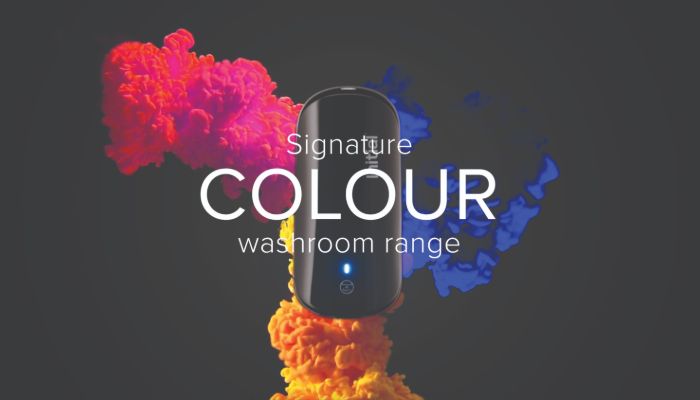 Initial, a market-leader in hygiene services throughout South Africa and Sub-Saharan Africa, has launched their new Signature COLOUR range of bathroom hygiene products.
It's been proven that colour has a profound effect on human behaviour, affecting us both physically and emotionally. Initial worked with a colour psychologist to develop a range of bathroom product colours that inspire positive hygiene activity and cleanliness.
Harnessing the power of colour psychology means you are able to evoke particular – and predictable – psychological responses in the majority of people. The new Signature COLOUR range enables you to leverage the power of colour in your bathroom. Colour not only influences mood and behaviour, but will also create a powerful visual impression in the bathroom, reflecting brand personality and allowing customers to personalise both the bathroom and the customer experience.
Combining the innovative design features and superior hygiene qualities from the red dot award-winning Signature range, Signature COLOUR is now available in a choice of nine striking colours in either a matte or gloss finish, across a range of products. These include soap and sanitiser dispensers, air fresheners, sanitary waste disposal units and paper dispensers.
Just like Initial's original Signature range, Signature Colour contains integral antibacterial protection in the form of silver ion technology, designed to raise hygiene standards and help reduce the risk of cross-contamination within all types of organisations from offices and manufacturers, to hotels and restaurants.
Signature products, including the new COLOUR range, feature antibacterial ions embedded within the plastic and painted coatings to provide hygienic protection on key touchable surfaces, whilst also incorporating surfaces specifically designed to be more hygienic, thus making it easier for dirt, debris and bacteria to be cleaned and removed from the surfaces. Antibacterial properties have been evaluated to meet global standards for antibacterial plastics (ISO22196 and AATCC147 or JIS Z 2801).
Initial's entire Signature product range – COLOUR included – has been extensively developed, designed and tested. The whole project required more than 4,500 man-days and the units have been tested for long-term reliability and robustness. For example, the Air Fresh Spray was tested for 1.5 million operations and the Soap Dispenser for almost a million operations.
"We've created the Signature COLOUR range to ensure that our customers and their employees, or customers, get both a superior hygiene solution combined and the ability to personalise their bathroom experience. The COLOUR range meets every hygiene need, and provides modern, stylish colour choices to enhance the appearance and hygiene of the modern bathroom," said Greg Smith, Sales Director of Rentokil Initial Sub Saharan Africa.
Further details about the Signature Colour range can be found on www.initial.co.za/bathroom-hygiene-services or by calling 0800 77 77 88. 
Business Essentials is Africa's premium networking and business directory.
Read more from our Pressroom:
____
New 'Soil Hospital' Alternative to Landfill Disposal Developed at EnviroServ's Port Elizabeth Landfill Facility
____
Save Money and The Planet By Being Power Savvy
____
A "Batho Pele" Approach To The ICT Business Success Matrix
---
Related Articles:
How Long Does Debt Counselling Take?
0 comment(s)
---
The Willard® BLUE Battery Promotion Has a Winner!
0 comment(s)
---
The Development of a Solar Photovoltaic Market in Ghana
0 comment(s)
---
Businesses to be Verified Based on New B-BBEE Code Amendments from 01 December
0 comment(s)
---
SAP SuccessFactors & Skillsoft
0 comment(s)
---