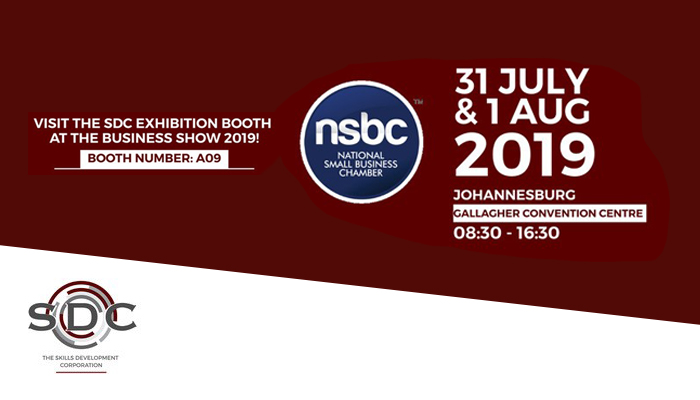 The Skills Development corporation recently partnered with The National Small Business Chamber (NSBC), which is a non-profit membership organisation and the driving force fuelling small business growth. The real purpose behind the organisation is fostering the sustainability and growth of the SME sector, driving job creation, alleviating unemployment and nurturing the country's entrepreneurial spirit.
SDC's partnership with the NSBC will allow for greater awareness and reach putting SDC in sight of thousands of business scattered around South Africa. The NSBC has also become the largest organisation of its kind in Africa and one of the fastest growing organisations of its kind in the world making them an incredible partner to SDC.
On the 31st of July & 1st of August SDC will be exhibiting at The Business Show 2019 taking place at Gallagher Convention Centre. The expo gives business across Africa the opportunity to showcase their current offerings and meet some potential customers. SDC will be at booth A09 showcasing our long list of services & offerings. All Business Show attendees will have the opportunity to receive a FREE Skills Audit for their companies from the SDC team. This audit will help identify if their current skills spend is being used in the best way possible and if they are able to save any money.
The NSBC will do whatever it takes to make a positive difference to the everyday life of the South African SME Entrepreneur and Business Owner and we at SDC are very excited about this recent partnership.
Make sure to keep up to date with all things B-BBEE & SDC by following us on all our social media pages.
Facebook: https://www.facebook.com/skills.development.corporation/
LinkedIn: https://www.linkedin.com/company/the-skills-development-corporation-pty-ltd-business-solutions/?viewAsMember=true
Twitter: https://twitter.com/TheDevelopment
Instagram: https://www.instagram.com/skillsdevelopmentcorpsa/?hl=en
Business Essentials is Africa's premium networking and business directory.
Read more from our Pressroom:
____
New 'Soil Hospital' Alternative to Landfill Disposal Developed at EnviroServ's Port Elizabeth Landfill Facility
____
Save Money and The Planet By Being Power Savvy
____
A "Batho Pele" Approach To The ICT Business Success Matrix
---
Related Articles:
Embrace AI to Remain Competitive in the Digital Business Environment
0 comment(s)
---
Restless Leg Syndrome
0 comment(s)
---
How Can I Wipe My Credit Clean?
0 comment(s)
---
The Smart Money is on Local Tech, Especially for 4IR
0 comment(s)
---
TUHF Secures R700 Million Nod from Standard Bank
0 comment(s)
---