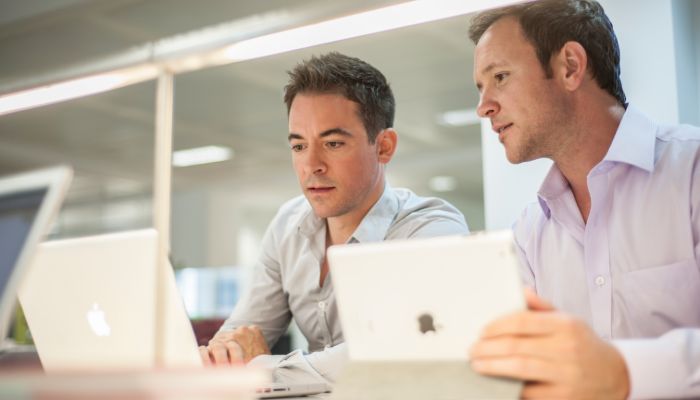 "an opportunity to diversify away from traditional franchise industries"
Three in ten buildings in every city around the world could offer a new franchise opportunity in the coming years. Flexible workspace, sometimes known as co-working, is a booming industry. The term refers to office space, meetings rooms and co-working areas that can be rented by individual workers or companies for a temporary period of time, from one hour to several years. The co-working industry is estimated to be growing by 24% each year. By 2020, 50% of all workers will be remote most of the time.
In 2022, the global mobile workforce will be 1.87 billion people. All those flexible workers need somewhere to work. This is why nearly every country in the world will one day have flexible workspaces in most of their major cities. Global real estate giant JLL estimates that up to 30% of corporate real estate could be flexible workspace by 2030. It is also why the serviced office market is one of the most exciting growth markets in the world. It is the next franchise frontier.
A recent study of 18,000 business leaders in 96 countries by IWG reveals why flexible workspace has become such a critical component of working life. The survey revealed that:
89% believe flexible working helps their business grow and optimise costs
87% believe it helps their business stay competitive
83% believe it helps their business maximise profits
82% believe it helps them create a presence in new markets
80% stated that enabling their company's employees to work from anywhere helped them recruit and retain top talent
Interestingly the same survey has been running for ten years, and the positive responses have jumped up by 10-20% in the past two years. At that rate the above percentages will all be 100% in the next three years. In other words, every business will be using flexible working to boost their performance, and every business needs great flexible workspace to do it.
Imagine being given the chance to work with previously successful franchise industries such as restaurants or gyms at the beginning of their growth explosions. A similar or even larger opportunity awaits in the serviced office market. It's an opportunity to diversify away from traditional franchise industries, and benefit from strong cash returns and significant double-digit returns on investment. For the first time ever, franchise investors can now enter this exciting growth industry. Regus, the world's largest provider of flexible workspace, has launched a new global franchise programme into South Africa.
Though a flexible office space franchise model will require more investment outlay than your local chip shop franchise, Alan van der Westhuizen,Head of Partnership Growth, South Africa for IWG plc., suggests, "It can provide partners with a highly attractive return on investment. It's an opportunity to diversify away from traditional franchise industries, and benefit from strong cash returns, with the backing of a comprehensive infrastructure to support franchisees throughout the lifecycle of their investment."
Regus has been running successful workspaces for almost thirty years, ever since it founded the industry in 1989. Part of IWG, the global operator of leading workspace providers, Regus is present in almost 3,300 locations, 110 countries and 1,000 towns and cities. It now wants to accelerate its global growth with franchise partners worldwide.
So, how can our franchisees work with us to ensure that they are doing everything they can to reap the rewards of the workspace revolution? Successful franchising means developing flexible workspace options that provide customers with choice while maintaining quality and consistency – allowing customers to have the same experience no matter where they are globally.
The perfect candidates are partners with the right skills, drive and finance to work with Regus to develop their locations across South Africa. A brand with deep market awareness and customer understanding, offering franchisees the opportunity to get involved early on in the first steps of a franchising journey in an industry set for growth.
The numbers show that the commercial real estate franchise market has huge potential for investment and growth as the "flexible work revolution" gains momentum.
Building a quality flexible workspace offering requires trust and support. Regus works closely with its franchisees to ensure they have a framework to find the right location and design; are able grow their market footprint backed by world-class operational and marketing support; and have the quality, 24-hour customer service Regus is known for.
Regus understands the market and we understand our customers' needs. We have been established for almost thirty years and have developed our business model through many economic cycles. Our operating model is proven, demonstrably successful and can provide our partners with a highly attractive return on their investment. Early adopters will have first pick of the growth opportunities.
Business Essentials is Africa's premium networking and business directory.
Read more from our Pressroom:
____
New 'Soil Hospital' Alternative to Landfill Disposal Developed at EnviroServ's Port Elizabeth Landfill Facility
____
Save Money and The Planet By Being Power Savvy
____
A "Batho Pele" Approach To The ICT Business Success Matrix
---
Related Articles:
MasterCard and ATI Partnership Trains Over 200 TVET Trainers Across SA, Addressing Critical Deficit in Technical Training System
0 comment(s)
---
Futureproofing – How Legacy Brand Stand The Test Of Time
0 comment(s)
---
Carol Weaving Named as a Finalist in the Standard Bank Top Women Awards for the Second Year
0 comment(s)
---
Does My Child Have a Cold, or is it Flu?
0 comment(s)
---
Financial Planning Made Simple
0 comment(s)
---