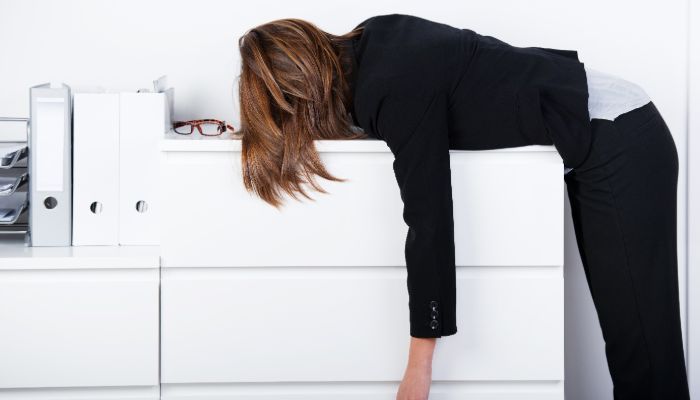 Have you ever seen a person who used to be ambitious and a go-getter, then without good reason seem to lose interest in life, always tired and often bad tempered or detached? Burnout may be the cause. Burnout occurs when someone who could usually be described as "on fire" burns out and then feels like a heap of cold ash. Particularly people who are hardworking and ambitious are good candidates for burnout.
What is burnout?
Burnout is a condition where an individual experiences a serious lack of energy or drive. Too tired to get up, too drained to take care of personal matters, too exhausted to even care if the world comes tumbling down on you. This is what happens when you push yourself too hard for too long. You give more than you really are able to and then you run out of energy; like a car with a flat battery.
The main symptoms are extreme tiredness and exhaustion and often also changes in mood. But burnout should not be confused with depression which is mainly about a person's mood, or post-traumatic stress that follows as a result of a person's reaction after a single severe event or a series of stressful of traumatic events. Burnout is about extreme exhaustion, physical and mental, which if left untreated can contribute to depression as well as other, often damaging, symptoms. The main difference is that while a person suffering from burnout usually still wants to perform, but cannot due to a lack of energy, a depressed person often does not want to perform.  Burnout is closely related to the workplace and often occurs as a result of prolonged stress due to various taxing work-related reasons.
Stress is the body's natural reaction to challenges and it is useful to assist with the drive to get things done as the body prepares to take action. More adrenaline is released and physiological changes take place in the body. These changes prepare a person to perform or take action. Think for example, of a 100 meter sprint athlete: intensely concentrated to put in every effort when the shot is fired, absorbed on the track ahead, fading the sound of the crowd cheering while listening raptly for the sound of the starter pistol, attention so fixed that the presence of the adjacent athletes is blocked out. Imagine then that the shot does not come and the athlete must remain in that state of readiness, always alert, always ready to sprint. This 'ready to race but the starter pistol does not fire' is, unfortunately, the state many of us are in: constantly feeling stressed by work demands, financial demands, uncertainty, crime, bad relationships and the list can go on. The constant readiness leads to exhaustion that often leads to burnout.
Symptoms
Typical symptoms of burnout are:
Exhaustion: feel tired when getting up and tired through the day, getting more and more tired as the day progresses
Low feelings of personal achievements: the person feels as if he/she works harder and harder and achieves less and less
Negative outlook on life: the person loses his/her sense of humour and enjoyment of life; work and personal relationships usually suffer
Disturbed sleeping patterns
Disturbed eating patterns; also sometimes, weight gain for no clear reason
Lack of work performance: the person is usually unaware of how many mistakes he/she makes and how the standard of work has dropped
Bodily symptoms, which could be anything from fluctuating blood pressure to aches and pains in any part of the body, for which there is often not a clear medical explanation
Who Can Suffer From Burnout?
The answer is anyone. A long time ago, when burnout was first described, it was seen as a disease of people in helping professions, such as social workers, teachers and ministers of religion. The typical age was late twenties when many people are under a lot of pressure: often adapting to marital life, having children, paying study debt, buying a first property, taking care of parents and the like. There has been a change: nowadays people in any job and any age can experience burnout. In fact, very many people in their fifties are experiencing this nowadays.
Typically, any of the following characteristics can contribute towards burnout:
a high-performance drive
perfectionism
hardworking  
a high need for recognition
unrealistic expectations of self and others
In addition, working in an environment of rapid/constant change, a lack of support, unclear expectations, work-overload, mistakes resulting in severe consequences, lack of feedback, uncertainty, lack of boundaries between work-life and home-life, lack of recognition and intense people contact, it increases the chances for burnout.
If you recognise any of the burnout symptoms in yourself or are working in a stressful environment, or recognise the characteristics in yourself which could lead to burnout, you should consider investing in your health for a morning. Attend the Maurice Kerrigan Africa Stress and Burnout workshop, led by our expert Industrial Psychologist, where you will identify stress factors in your work and life, design ways to turn stress into positive motivation and gain an understanding of your current burnout status. Steps organisations and managers can take to prevent burnout will also be part of the workshop. One-on-one coaching sessions to address your specific needs are offered as an optional extra.
Please contact us on info@mauricekerrigan.com to invest a morning in yourself.
Business Essentials is Africa's premium networking and business directory.
Read more from our Pressroom:
____
New 'Soil Hospital' Alternative to Landfill Disposal Developed at EnviroServ's Port Elizabeth Landfill Facility
____
Save Money and The Planet By Being Power Savvy
____
A "Batho Pele" Approach To The ICT Business Success Matrix
---
Related Articles:
Embrace AI to Remain Competitive in the Digital Business Environment
0 comment(s)
---
Restless Leg Syndrome
0 comment(s)
---
How Can I Wipe My Credit Clean?
0 comment(s)
---
The Smart Money is on Local Tech, Especially for 4IR
0 comment(s)
---
TUHF Secures R700 Million Nod from Standard Bank
0 comment(s)
---