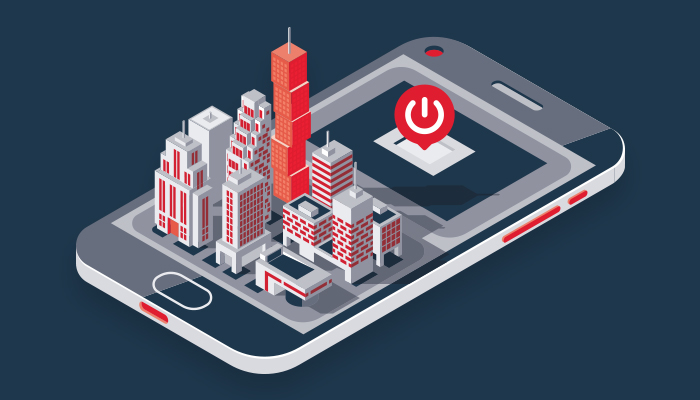 By Nico Steyn, CEO, IoT.nxt
The key to levelling up a facilities management offering isn't more buildings, but smarter ones. With new reports showing the rapid growth imminent for the global IoT energy grid management market, it's unsurprising that energy management is on everyone's minds.
Facilities management companies look after buildings – big and small, residential and commercial, industrial and retail. As clients and market trends demand real-time solutions, how does a facilities management professional keep track of what's happening in every building in the company portfolio without splitting themselves into a million pieces? The answer lies in a 375mm black screen.
An IoT platform consolidates the data collected from every piece of software, sensor, endpoint, and actuators into one single view. All relevant data in one place to drive evidence-based decisions for building facility management. It's time for total visibility to be a reality for your buildings.
In a hyper-digital landscape, every industry is facing intricate modern challenges, such as human behaviour and engagement, which become impossible to manage when scaling up. Buildings are getting larger, with more complexity and ingenuity on every floor, coupled with increasing concerns about energy consumption and water wastage, while also optimising for cost-saving solutions.
According to Barometer, a report developed in associate with Centrica Business Solution, 45% of energy managers noted behavioural change and engagement as top-tier challenges facing energy-saving strategy in business. Going hand-in-hand with this result, 53% of energy managers noted motivational and empowering others was a vital skill for energy managers to execute their role effectively.

So, the question is, how do you manage scalability and continue to tackle the fragile energy challenge? How do you proactively redistribute energy resources based on real-time building usage without being in the room? The answer lies with an IoT solution. Once this in place, efficiency of operations can be improved, leading to energy savings.
It's not about how many buildings you can manage, but how smart you can make each one. Only once you have detailed insight into not only energy management but the infrastructure influencing consumption, can you truly scale up without having an on-site building manager in each hub.
Smart data lies at the heart of maximised energy savings, by delivering insights to the right people and driving change. In a market that demands a reduction in energy usage, IoT technology works towards leveraging every device in a building to achieve an efficient energy management solution, tailoring each solution for individual ecosystems.
Business Essentials is Africa's premium networking and business directory.
Read more from our Pressroom:
Vitiligo: Is a Cure On The Horizon?
____
Fever in Children – What You Should Know
____
Flexible Workspace Is The New Franchise Frontier
---
Related Articles:
How Long Does Debt Counselling Take?
0 comment(s)
---
The Willard® BLUE Battery Promotion Has a Winner!
0 comment(s)
---
The Development of a Solar Photovoltaic Market in Ghana
0 comment(s)
---
Businesses to be Verified Based on New B-BBEE Code Amendments from 01 December
0 comment(s)
---
SAP SuccessFactors & Skillsoft
0 comment(s)
---