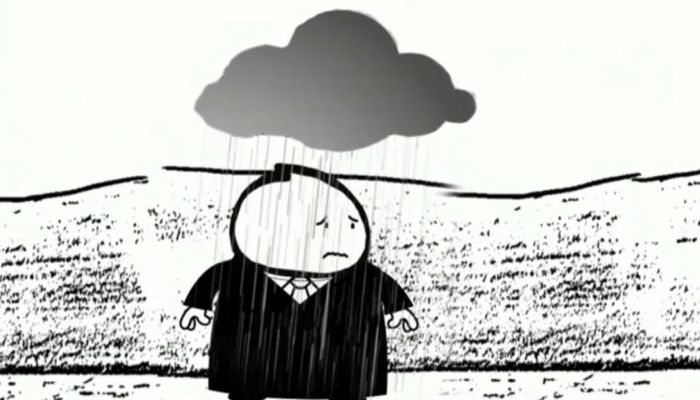 In the movie, Alexander and the Terrible, Horrible, No Good, Very Bad Day, the main character, Alexander Cooper, suffers from a very bad day, much of his own making. Having fallen asleep with gum in his mouth and waking up with gum in his hair, the day gets incrementally worse. His run of bad luck seems to rub off on his family who end up having a horrible day themselves. While the story ends on a positive note, as most stories do, the road to this ending is one that most people would not care for if they are given the choice.
A comparison can be drawn between this movie and the current situation in South Africa.
Setting the scene
We recently witnessed market commentators, politicians, strategists, and even investors commenting on the unavoidable realities facing South Africa after years of living beyond its means. The popular narrative is that the only solution to fiscal laxity in an ailing economy is an IMF bailout or the re-introduction of prescribed assets.
Speculation around these issues seems to ignore the fact that certain conditions need to be in place before such a bailout becomes necessary. What is an IMF bailout and when does it happen? Does South Africa meet the preconditions? If not, what are the current mitigating factors? What is the link to prescribed assets? Why are we here? And importantly, how does this play out?
The Basics
The most common form of an IMF bailout (used in bankruptcy threat situations) occurs when an economy faces an economic or financial crisis. Often it is because it is mismanaging economic policies, but sometimes it could be due to export- or import-led shock, or a natural disaster. The practical side of the bailout is to alleviate cash flow constraints – for instance, when a country is not able to service interest payments or debt redemptions, or even worse, public sector salaries. The IMF (and other similar institutions) provides cheaper lending facilities than local institutions can.
While it is not a pure lender of last resort, it aids where resistance from other sources seem to rise. In South Africa, we are seeing a reluctance from the banking sector to continue assisting with SOE bailouts and rather insisting on conditionality clauses (rightly so) and/or not being prepared to, for instance, carry on financing fossil fuel projects (an increasingly important ESG consideration).
An important factor to understand is that the IMF often focuses specifically on correcting economic policy mistakes, while paying attention to protecting the poor and vulnerable. These groups are usually the most impacted by crises and poor economic policy decisions – something our Reserve Bank governor, Lesetja Kganyago, is at pains to highlight at every opportunity he gets.
Practically speaking, an IMF bailout, especially in the South African context, would more than likely follow a balance of payments (BoP) crisis.
We can all have our own opinions, but not our own facts
Similar to 2014, foreign speculators once again seem intent on creating a BoP crisis narrative in South Africa.
A country's current account balance is the difference between its saving and investment flows. Alternatively, it is export and income receipts less import and income payments. If the balance is positive, the country is saving more than it invests or exporting more than it imports (and vice versa). In most cases, it is better to have a positive balance than a negative balance.
As can be seen from Figure 1, South Africa's current account position has been improving steadily since 2014, but not quite managing to move towards a balanced level.
Figure 1: South Africa Current Account Deficit as % of GDP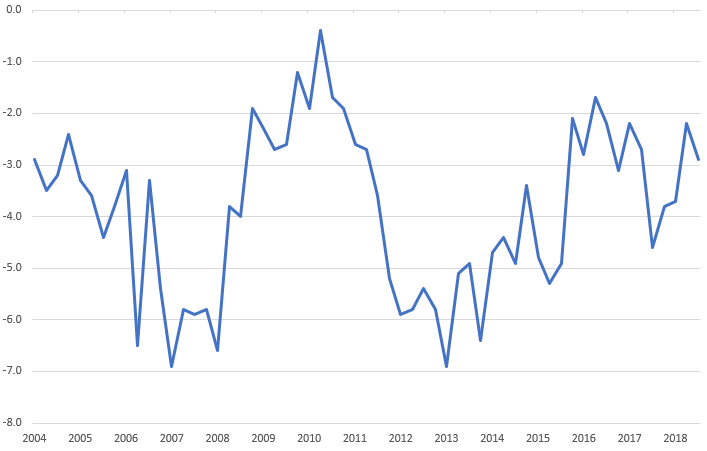 Source: Bloomberg
A current account deficit in itself is not necessarily bad. Some might argue that a developing economy that is investing in infrastructure could be running deficits given that it is productivity enhancing. However, a deficit needs to be of a manageable size. Clearly, the recent trend in our deficit is in the right direction. Hence, the size of the deficit is not the primary cause for concern. Rather, it is the fact that the deficit is being funded by non-resident inflows into our bond market that entails interest payments flowing out of the country. It is safe to say that we would not be worried about this if the borrowings were being used for value-adding investment (functioning infrastructure, education and health), rather than spending on goods, services, and salaries.
A vested interest exists by those selling our market (the rand or bonds) to create the perception that our BoP situation is set to worsen dramatically. The simple truth is that the average IMF bailout only occurs at levels beyond 15% deficits and the evidence is clear, South Africa does not currently have a BoP crisis and will not easily have one.
Why? Creating a BoP crisis in a country with one of the biggest savings pools in the world is no easy feat. For every seller there is (some are now arguing has to be – aka prescribed assets) a buyer.
However… When the only tool you have is a hammer, every problem starts looking like a nail
South Africa's pension fund industry is very big, even in global terms. When measured in GDP per capita the numbers are quite impressive. On a % of global pension assets to % of world population South Africa's ratio of 2.0 is one of the highest in the world.
Figure 2: South Africa's pension fund assets/GDP (%)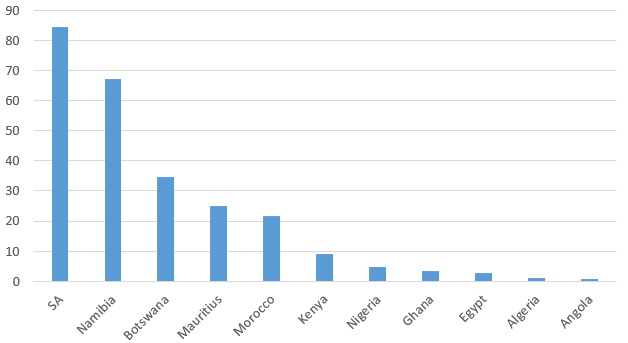 Source: PwC Market Research Centre, National Authorities, Bloomberg, TradingEconomics, World Bank
This is unfortunately where the rubber hits the road (or the gum gets stuck in the hair). Despite numerous promises of redoubling efforts and everyone needing to tighten their belts, South Africa's fiscal consolidation promises continue to fade. It is expected that South Africa's fiscal deficit could reach (and even exceed, depending on decisions around Eskom debt consolidation) 6% of GDP at the upcoming MTBPS. We also risk shattering what previously appeared to be a sacrosanct debt ceiling of 60% of GDP. Our interest expense, together with the public sector wage bill and social welfare grants, are all on unsustainable trends. Which make it hard to believe that we can stomach NHI, free education, and even the establishment of a sovereign wealth fund.
Figure 3: Share of wage bill + grants + interest tot total revenues as %/Government Revenue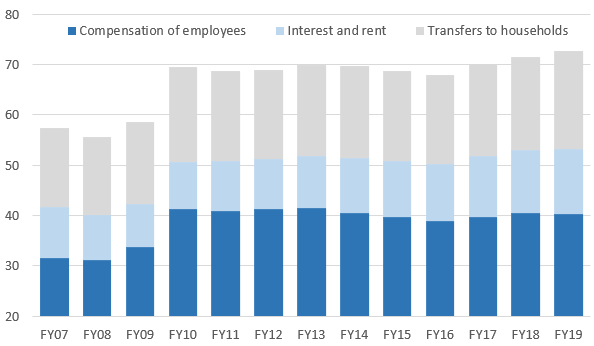 Source: National Treasury
It is for all these reasons that people are conflating the potential need for IMF support with the risk of a reintroduction of prescribed assets. But can you blame them?
"They are not going to put money into coal anymore. To me, that's an invitation for prescribed assets." (Enoch Godongwana, ANC head of economic transformation)
"As part of the drive to radical economic transformation, it is necessary to review the PIC's role in driving transformation instead of it being seen narrowly as an instrument for empowerment of a few elites." (Malusi Gigaba, Finance Minister)
While I sang the praises of our large retirement savings industry earlier in this article, a concerning fact is that almost a third of our nation either directly or indirectly contributes or draws from a pension fund. So, in what can be a positive in the pushback against the 'let's manufacture a balance of payments crisis' narrative (a large pension industry that has the capacity to absorb large amounts of foreign portfolio selling), to populists a large pension industry looks like a very attractive piggybank.
Conclusion
South Africa is not having a good day. Alexander has been the creator though of his own run of bad luck. This is a country that has suffered from looting on a grand scale, where the political and economic elite have most likely externalised ill-gotten proceeds like so many global examples before them. The rest of the family is not having that bad a day (yet). While the current account deficit, and reliance on hot money flows, makes the economy vulnerable in a period of large-scale disinvestment, risk is to an extent mitigated by a large local pension industry, the fact that South Africa still has prudential limits in place (really a form of prescribed assets if you like), and can tighten rules on repatriation of money at the flick of a switch. Furthermore, a freely floating exchange rate, the ability to use reserves to provide liquidity, and the SARB's ability and willingness to aggressively hike interest rates provides further hurdles to a BoP crisis or any other speculated potential route towards IMF assistance. Importantly, the structure of our debt stock is also favourable. A long term to maturity on local debt and a low hard-currency debt component reduce short-term refinancing risk in local and offshore capital markets.
There are few signs off excesses or imbalances, outside of the public sector. Our country is not overheating, we do not have runaway credit, our banks have been stress-tested and have increased liquidity buffers post GFC and thus does not present any systemic risk. Importantly, our current account is smaller than in years gone by. Quite simply, as a whole our economy is not living beyond its means.
What the country could do without is even more looting and mismanagement. Prescribed assets are really just another form of confiscation and a gross misallocation of capital. South Africa is a very heavily and progressively taxed economy, but the application of our taxes is currently directed to unproductive areas that aren't assisting the economy in growing and developing. Key changes in policy could easily alter this dynamic.
Understand this: if you tamper with prescribed assets, then you might create a mass outflow of investments, from not only foreign investors, but the local savings community also. This may very well expedite the route to an eventual visit to the IMF.
Therefore, to avoid the need for any bailout we should implement economic reforms, cut back on wasteful expenditure, tighten procurement processes, rid ourselves of corrupt individuals, improve efficiencies in the economy, and become a more attractive investment destination to lower the reliance on short-term speculative inflows.
In sum, let's be sensible. Let's help Alexander remove the gum from his hair, and avoid a Terrible, Horrible, No Good day for all through the floating of Very Bad Ideas.
Business Essentials is Africa's premium networking and business directory.
Read more from our Pressroom:
____
New 'Soil Hospital' Alternative to Landfill Disposal Developed at EnviroServ's Port Elizabeth Landfill Facility
____
Save Money and The Planet By Being Power Savvy
____
A "Batho Pele" Approach To The ICT Business Success Matrix
---
Related Articles:
SolarAfrica Accelerates Growth Strategy with Three Key Staff Appointments
0 comment(s)
---
AI can make a profound difference to retail decisions
0 comment(s)
---
Zutari Offers its Expertise for Mandatory EPC Compliance for Buildings
0 comment(s)
---
Should Companies have a Moral Voice
0 comment(s)
---
Theranostics in the Fight Against Cancer
0 comment(s)
---