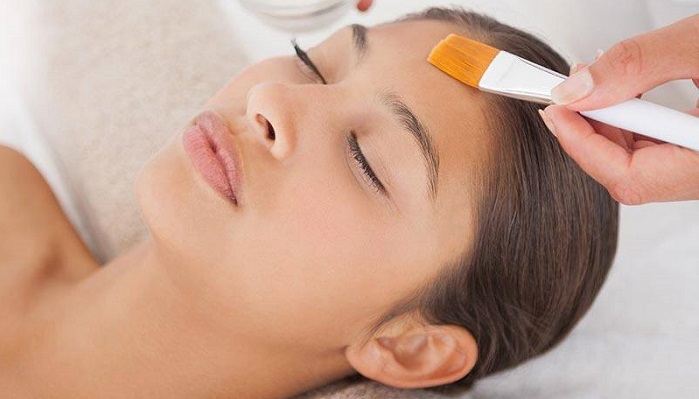 If you're wanting to get your glow on, you'll be glad to know that Skin Renewal has a myriad of gentle, no downtime peels for you to choose from. However, if you're struggling with superficial acne scarring or pigmentation, be it due to hormones or sun exposure, then you might want to consider our signature 3D Peel.
What is a 3D Peel?
A 3D Peel is a three-staged medium depth chemical peel performed by a highly-skilled doctor. Layer one is a mix of lactic acid that can exfoliate the surface of your skin, salicylic acid that can penetrate your pores and resorcinol – a keratolytic with antibacterial properties. Layer two makes use of trichloracetic acid (TCA), a derivative of vinegar that's been safely used for decades to perform mid-strength peels. The final step, layer three, makes use of retinoic acid, a prescription retinoid that can help encourage cellular turnover and encourage collagen synthesis in a way that can minimise the look of pigmentation, soften fine lines and improve skin's firmness.
Because of how the different actives are layered, it allows the doctor to address more serious skincare concerns in a way that's very effective as well as safe and low on discomfort. As ingredients have a synergistic effect, you'll get to enjoy similar results to what you could expect from a far more aggressive peel, without the heavy downtime. In short, there's a lot to love about a 3D Peel!
Could I be a candidate?
Most people with a skin type no darker than a 4 on The Fitzpatrick scale could benefit from a 3D Peel. (If you have darker skin, don't worry. There are lots of other just as intensive peels from which you could benefit. Like we said, Skin Renewal offers a wide variety of peel types, so you'll be sure to find something to suit.) There are certain contraindications, however, such as allergies to certain ingredients as well as pregnancy and breastfeeding. Either way, you'll get to enjoy a thorough doctor's consultation beforehand to ensure you're a suitable patient.
Something else you should know? The treatment begins long before the peel itself. After your initial consultation, you'll be given a brightening cream to use for 10 to 14 days before "peel day". This slows down the enzyme pathways in your skin that are responsible for producing melanin (the pigment that gives your skin its colour) to prevent the possibility of hyperinflammatory pigmentation. This is the type of pigmentation that can be triggered after anything the skin perceives as an "insult", be it a pimple or a wound like a burn or cut.
As a 3D Peel is a medium-depth peel, you can expect a little downtime, but this usually isn't longer than up to 7 days. Also, for best results, you'd need between 4 to 6 peels, dependent on the severity of the condition you're wishing to treat.
The bottom line
If you're wanting to treat pigmentation, whatever the cause, while improving the look of fine lines and creating a smoother, more even-looking complexion, a series of 3D Peel can deliver dramatic results. To find out if you're a candidate for this effective yet safe minimal downtime treatment, make an appointment to chat to a Skin Renewal doctor today.
Business Essentials is Africa's premium networking and business directory.
Read more from our Pressroom:
____
Skills Development Corporation is Growing!
____
New Venture Creation Courses Broadening the Horizons of South Africa's Learners
____
---
Related Articles:
ContinuitySA's Willem Olivier Named African Industry Personality of the Year
0 comment(s)
---
Instigating Innovation: Where To Start
0 comment(s)
---
Working Tribes: 30 Years of Changing the Way You Work
0 comment(s)
---
Everything You Need to Know About South Africa's Credit Bureau's
0 comment(s)
---
Put Your Best Face Forward With a 3D Peel
0 comment(s)
---