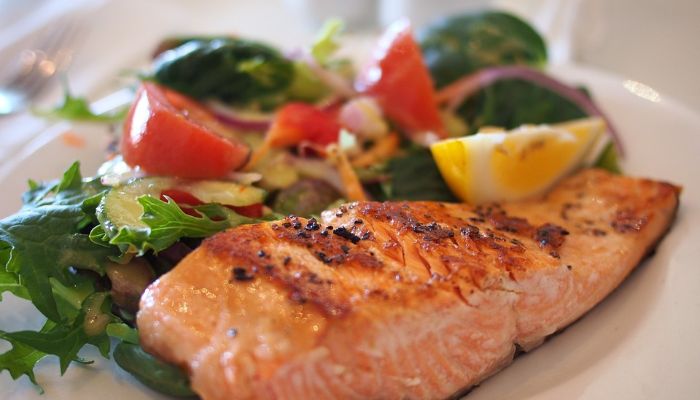 Fish, particularly the fatty kind, has long been one of the healthiest things you could put on your plate. Alas, due to the harsh realities of climate change, our oceans are no longer a pristine playground for its marine life. Now, roughly eight million pieces of plastic waste make their way into our oceans every single day. As a result, our fishy friends are consuming microplastic – tiny pieces that range from visible to microscopic – and it's making its way up the food chain. So much so that a study in the journal Environmental Science and Technology says we're possibly consuming up to 52,000 microplastic particles a year. While the exact ramifications aren't 100-percent clear, we know one thing for sure and that's the effects aren't good. Certain plastics have varying toxic properties and, if we ingest enough of them, the build-up could have a devastating effect on our immune system.
Plastic aside, fish eaters also have the mercury aspect to consider. While mercury is a naturally occurring element, industrial activity such as waste incineration and coal-fired electricity generation increases the airborne type. This is how it finds its way into the water and the stomachs of anything living in as well as around it. A recent local study performed by the Council for Scientific and Industrial Research (CSIR) revealed that fish sold in South African supermarkets contains mercury levels that are above the World Health Organisation (WHO) standards. The biggest offenders included swordfish, kob (kabeljou), monkfish, black mussel crackers, kingklip, tuna and Cape salmon. Predatory fish sitting at the top of the food chain tend to have the highest levels of mercury because they accumulate the mercury found in the fish they consume. This effect is known as bio-magnification.
It's smart to supplement
In light of recent findings, it's understandable that many people are cutting down their fish intake. What was once a fantastic source of excellent nutrition is now viewed as a potential health risk. Still, you should know that many fish, particularly those at the bottom of the food chain, have gotten the green light. These include sardines, mackerel, West Coast sole and the kind of tuna you'll find in tins. However, if you'd still prefer to give fish a miss or fall short of eating the recommended one to two portions a week, then it's a good idea to invest in a high-quality omega-3 fatty acid supplement such as Renewal Institute Omega 3.
There are three types of omega-3 fatty acids – alpha-linoleic acid (ALA),  docosahexaenoic acid (DHA) and eicosapentaenoic acid (EPA). ALA can be found in plant sources such as seeds and nuts, but DHA and EPA are primarily found in fish, so these should be your supplement's focus. Consuming enough omega-3 fatty acids will help keep the membranes that surround your body's cells in tip-top shape; dramatically reduce your risk of suffering a heart attack or stroke and reduce the type of chronic inflammation that serves as the gateway to disease.
The bottom line
Ultimately, until we find a way to stop polluting our oceans, many are going to think twice before consuming certain fish products. If that's you, or if you're not simply not hitting your portion per week quota, then it's time to invest in a well-formulated omega-3 supplement containing both DHA and EPA. After all, our health is our most precious possession and much like the ocean, we'll only fully appreciate it when it gets into serious trouble.
Business Essentials is Africa's premium networking and business directory.
Read more from our Pressroom:
____
Virgin Active Kicks Technology Expenditure into Touch With Apex BI
____
Leaders in Healthcare – AI, Technology and Digital Health
____
Apex BI Helps MiX Telematics Track Their IoT Expenditure
---
Related Articles:
Celebrating 30 years of Success!
0 comment(s)
---
Lesedi appointed as EPCM representative for Toronto Group New Charcoal Manufacturing Plant in Wellington, Western Cape
0 comment(s)
---
Vredenburg Transport SMME Shows Adaptagility in Her Business Strategies Despite the Pandemic
0 comment(s)
---
New TSIBA Business School CEO Dr Rudi Kimmie packs a heavy punch in education development
0 comment(s)
---
Why is Local No Longer Lekker?
0 comment(s)
---