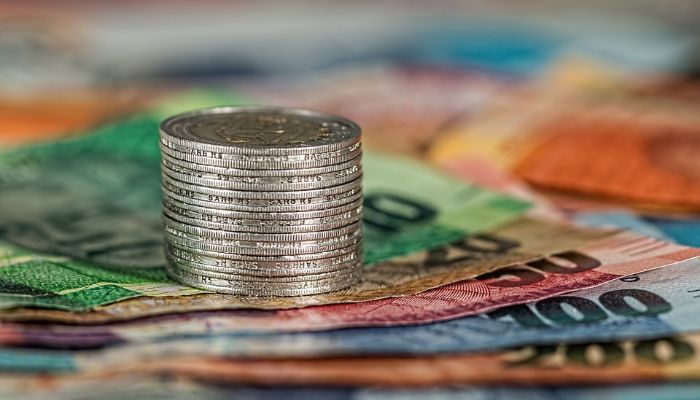 Written by: Erik Nel, Chief Investment Officer at Terebinth Capital
At the recent Glacier Invest Roadshow, a number of important questions relating to fixed income funds were raised, that we didn't have time to address. In this article, Erik Nel, Chief Investment Officer and portfolio manager of the Sanlam Select Strategic Income Fund, responds and delves into the implications for investors within the current unsettling global financial market conditions.
With the relatively great performance, we've seen in fixed-income funds, is there scope for continued performance or is this as good as it gets?
Over the last three years, fixed-income funds have, indeed, delivered great performance. However, the challenging state of the government's finances is a risk that could undermine future bond investment returns. Fixed income funds offer access to the returns delivered by a wide range of fixed income 'tools' and fixed income managers can build portfolios that take advantage of them. Available fixed-income investment vehicles include:
Bonds: these may be in the form of government bonds (both nominal and real/or inflation-linked), state-owned bonds and corporate bonds; 2. Credit – in fixed and floating format); 3. Listed property; 4. Preference shares: this asset class is becoming hard to use in any meaningful size in these strategies given that banks are phasing them out of their capital structures and the liquidity in general in this sector is exceptionally poor. 
This sector has seen stellar returns and it is questionable if this is sustainable; 5. Offshore allocation: this can take many forms, but usually expressed with exposure in foreign market government or corporate debt and direct FX exposure. Put together, an appropriate blended fixed income portfolio in the current investment environment should provide a running yield in the region of between 8.50% and 9.00%. Excess returns can be generated via tactical duration management within the risk parameters allowed in a fund. However, this can introduce unnecessary volatility. 
The only other ways to generate significant excess returns are taking much bigger risks – usually via excessive credit or currency risk. Senior, secured credit spreads from the Big Four banks are currently being offered at 120 basis points (bps) over Jibar which is the interbank borrowing rate currently at 7.00% for five-year notes. In other words, good-quality credit is offering a five-year yield of 8.20%. The further we go out along the risk curve, the wider these spreads become, with senior-unsecured, sub-debt, Tier 2, Tier 1 capital and eventually poorly-rated and even unrated corporate notes. Spreads range from about 175 bps all the way up to 500 bps. The chart below shows the average returns of all the asset classes since January 2014. It is clear that inflation-linked bonds (ILB) have been perennial underperformers over the past few years. Also, offshore exposure, which offers rand-hedging, enjoyed a purple patch during 2014 to the end of 2015 (a period during which the rand weakened from R10 to R16). Since then, the rand actually rallied, on average, almost 4% a year. The only two asset classes that provided the opportunity to generate nominal returns in excess of 8-9% were government bonds and corporate credit. The red line indicates the massive spread compression of Tier 1 capital. These are notes issued predominantly by the Big Five banks.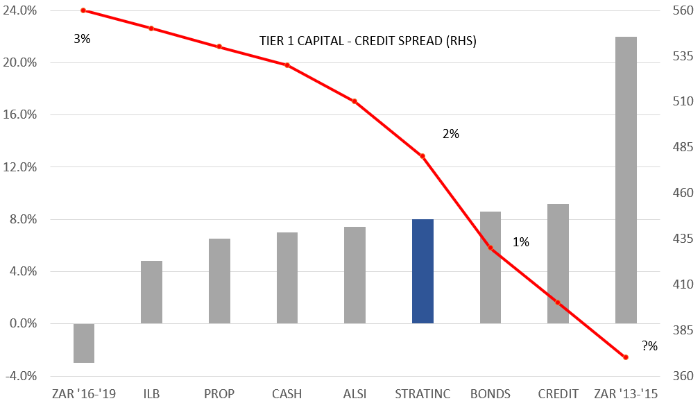 Source: Terebinth Capital, Bloomberg
Clients use flexible income funds to reduce risk in their portfolios. Is using Tier 2 credit not adding too much risk to what is supposed to be a low-risk product?
There is risk in every instrument, even in government bonds. Although government (using South Africa as an example, which has a free-floating currency regime) can print money, and government debt is seen as the 'riskfree' rate, many governments run budget deficits and carry the burden of the debt accumulated by State-Owned Enterprises (SOEs), like Eskom. As we have seen over the past decade, hundreds of billions of rands in bailouts have been given to these SOEs, with no indication that these bailout funds will ever make their way back into the country's coffers. So when you buy government debt (perceived to be the risk-free rate), you are indirectly exposed to State-Owned debt. 
However, because the government guarantees this debt, and hopefully manages the fiscus in such a way that investors' savings are treated with respect, the probability of repayment is very different to the risks of not being repaid in some of the other fixed interest instruments, including Tier 1 and Tier 2 credit. For a better understanding of Tier 1 and Tier 2 capital, it is worth reading the following explanation:
Differences between Tier 1 and Tier 2 capital Both Tier 1 and Tier 2 are riskier than other fixed-interest assets and Terebinth Capital considers itself a risk manager rather than a money manager. Managing the risk associated with assets in a portfolio is of primary importance. We are not suggesting there is no place for Tier 2 or Tier 1 capital in a portfolio, but the price at which the paper trades and the risk allocation need to reflect the risks they present to a portfolio. During distressed market conditions, you run the risk of not getting any money back in a Tier 1 capital instrument. If banks, for some reason, skip a dividend payment, you are also risking not getting your coupon. There are very skewed risks in these instruments.
Globally, we have also seen the likes of Santander not calling their AT1 (Tier 1) recently. Unbeknown to most investors, when they look at their fact sheet they will see an investment manager showing the exposure to their biggest holdings, and often also provide a risk scale of their fund. In most instances they will treat all credit instruments the same in this analysis. They will also use call-dates to reflect the maturity of the instrument, when in truth Tier 1 capital potentially exposes investors to perpetual risk.
These funds are called income funds. Do you recommend them for income in retirement?
We are not allowed to 'recommend' investments, but we agree that they do generate income that could be used in retirement. An investor would need to consider the tax implications for the income distributed by the fund.
Flexible income funds are risk free, right? 
Please see the answer to question 2, which highlights that most fixed-income assets expose investors to some risk. The only theoretically risk-free rates are those that are explicitly guaranteed by the government (you might remember the depositor guarantee/insurance for those that lost money in the VBS banking scandal). Fixed income funds are as risky as the instruments and issuers to which they are exposed. As we saw with Abil, First Strut, Steinhoff and even SuperGroup in the mid-2000s, when there is a soft or hard default or any form of the restructuring programme, the risks become painfully apparent. 
It is important that investors understand the risk exposure of their portfolios. 
What are the potential risks of using Tier 1 paper and in what type of mandate would it be appropriate? What is the appropriate amount to use in one fund?
Please see answer earlier where I unpack some of the issues in Tier 1 capital. The appropriate allocation in a portfolio probably changes from one manager to the next. Our view is that the spread compressions in these instruments are starting to ignore the clear default risks that may arise in severe credit events and believe they may potentially become mispriced if we see further spread compression. Our fiscus is under pressure, growth is constrained by a lack of policy reform and our sovereign rating is at risk of being lowered, or the outlook at least changed to negative. It is important to keep a careful eye on risky assets and a fund's exposure to them, given these macro- economic risks.
Is there another African Bank event on the horizon?
It is hard, if not impossible to predict these catastrophic corporate events. Many managers who weren't exposed at all to Abil might have been exposed to Steinhoff. Claiming perfect foresight is on par with claiming Godliness.
So what about fixed income funds that have a 100% exposure to credit?
In my experience credit-specialist fund managers pride themselves on having the following four strengths:
Deep understanding of each underlying issuer and challenging this understanding on an ongoing basis;
Diversification;
Credit limits (limiting exposure);
Understanding the appropriate price.
It is impossible to determine whether any specialist is 100% invested in credit.
What the four big market shocks (EM crisis, 9/11, the Global Financial Crisis, Nenegate) have highlighted is that when markets go into a complete meltdown, precious little diversification benefit is derived from intra-market allocations. Almost everything moves to a beta of 1, with credit assets moving completely in sync with the market.
Do you currently have property in your portfolio?
Yes, we have a small allocation in the Sanlam Select Strategic Income Fund. Nomathibana Matshoba and Mandy Pick are responsible for the bottom-up analysis in this sector, while the investment committee also agrees on the top-down views to decide on the appropriate risk allocation to this sector. It is the lowest allocation we have had since launching the Fund in late 2013. Green shoots are few and far between. As evident this year, there will likely be ongoing consolidation in the sector. The risk is also that distribution growth will slow from the current greater than 100%, with some suggesting it could slow to as little as 75%. Simplistically, there is an inventory overhang in our economy that is resulting in significant underperformance. These are two unfavourable variables for a growth sector.
Glacier Research would like to thank Erik Nel for his contribution to this week's Funds on Friday.


Erik is the manager of the Sanlam Select Strategic Income Fund. He established Terebinth Capital in April 2013, after launching the absolute suite of products at Atlantic Asset Management in January 2009 that included the award-winning Atlantic Point FI Macro Hedge Fund. Erik was instrumental in assisting with the launch of RMB's Fixed Income research platform. He previously held positions at Lasmo Plc in the UK and Coronation Fund Managers. Prior to joining RMB, Erik headed up Institutional Fixed Income Sales at Nedbank Capital.


Business Essentials is Africa's premium networking and business directory.
Read more from our Pressroom:
____
Virgin Active Kicks Technology Expenditure into Touch With Apex BI
____
Leaders in Healthcare – AI, Technology and Digital Health
____
Apex BI Helps MiX Telematics Track Their IoT Expenditure
---
Related Articles:
SolarAfrica Accelerates Growth Strategy with Three Key Staff Appointments
0 comment(s)
---
AI can make a profound difference to retail decisions
0 comment(s)
---
Zutari Offers its Expertise for Mandatory EPC Compliance for Buildings
0 comment(s)
---
Should Companies have a Moral Voice
0 comment(s)
---
Theranostics in the Fight Against Cancer
0 comment(s)
---