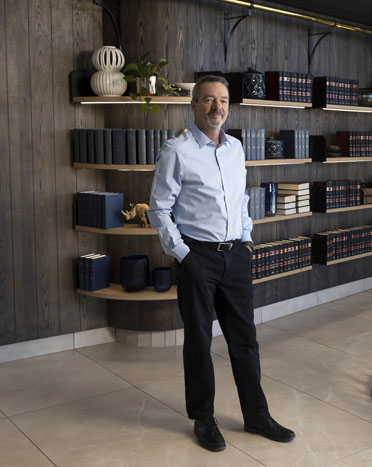 Since 1936, Fedhealth has been synonymous with quality medical aid that's also affordable
Fast forward to 2019, and we have added flexibility, choice and control to the equation.
Although we offer options to suit every lifestyle and pocket, from the myFED option for lower-income, previously uncovered employees, to our comprehensive maxiFED range that leaves nothing to chance for more mature members, it is our flexiFED option range that opens up a whole new level of customisable healthcare.
The flexiFED range… options to suit every life stage
All four of Fedhealth's flexiFED options have been designed to provide valuable in-hospital, screening, chronic, day-to-day and additional benefits that answer very specific health needs within a certain life stage.
There's our flexiFED 1 option that provides excellent cover for young, healthy and single people who want to enter the medical aid market, but don't necessarily need all the bells and whistles of a plan intended for those thinking of starting a family.
For young couples planning a baby, our flexiFED 2 offers a good mix of maternity and childhood benefits – still at very affordable rates. flexiFED 3 and 4 boast enhanced maternity and childhood benefits, as the kids grow up or the family welcomes another baby.
In addition, all our flexiFED options have a Threshold benefit that pays for certain option-specific day-to-day benefits once claims have reached the Threshold level. Think preventative dentistry (flexiFED 1), basic dentistry (flexiFED 2 and 3) and unlimited nominated network GP visits.
By choosing one of these options, the member is already benefitting from solid medical aid cover at competitive rates. And that's before they have even made use of our network discounts, or our MediVault and Wallet system.
Fedhealth's flexible network options place control in members' hands
By choosing between the main flexiFED option, or the GRID and Elect versions, Fedhealth members can choose their own savings, without compromising on the quality of their medical aid benefits!
1.) Save 25% with flexiFEDElect
Fedhealth members who choose a flexiFED Elect option, enjoy the same benefits as on a main flexiFED option, but pay 25% less on their monthly contribution.
The only difference is that they have a co-payment of R12 000 for all planned procedures. This only applies to planned procedures – in any emergency situation members will still be taken to the closest private hospital and they won't have to pay the co-payment.
2.) Save 11% with flexiFEDGRID
Choosing a flexiFED GRID option means an instant 11% reduction in monthly contributions. The tradeoff for the member is that they are restricted to using the Fedhealth Hospital Network for any planned procedures. The hospital network consists of more than 100 world-class facilities across the country, and more than 90% of the Fedhealth membership base lives within 10km of a network hospital anyway – which makes the GRID option ideal for almost everyone. If a member chooses to have a planned procedure at a non-network hospital, they will be liable for a R12 000 co-payment.
Again, this only applies to planned procedures; in case of an emergency, members will be treated at their closest hospital without being liable for a co-payment.
Case study:
On flexiFED 3, a family made up of a principal member, adult dependant and two child dependants will pay R6 671 per month, or R80 052 per year.
By opting for the flexiFED 3GRID option, the family enjoys the 11% discount by choosing to use Fedhealth Network Hospitals only, and will pay R5 934 per month, or R71 208 per year. That means a saving of R8 844 on their annual contribution.
On flexiFEDElect, the same family benefits from the 25% saving on their monthly contribution by choosing a fixed co-payment of R12 000 on all planned procedures at any private hospital. They will pay only R5 003 per month, or R60 036 per year. This results in a significant saving of R20 016 per year.
The savings from choosing a GRID or Elect option can be used to fund day-to-day expenses rather than transferring funds from the members' MediVault facility to their Wallet, or to repay existing MediVault transfers. It can also be reinvested into other financial products, or can be used to pay co-payments.
MediVault and Wallet helps members determine their own Savings
Another main differentiator for Fedhealth is the MediVault and Wallet facility which replaces the traditional Medical Savings Account on the flexiFED options. This allows members to pay for day-to-day benefits only once they start accessing it. It means a lower monthly contribution compared to any other old-school medical aid out there.
Based on a member's option and family composition, they are provided with a certain amount in their MediVault for the year, to fund their day-to-day medical expenses. They can transfer the full amount, or in R600 increments, to their Wallet to cover expenses. They will only start paying it back, over 12 months or less, once they've transferred an amount to their Wallet.
This means the member can choose how much day-to-day benefit they want or need and only access it when they need it, which means a lower monthly contribution. They can also choose to transfer the full amount at the beginning of the year; it will then work exactly the same as the old-school savings account where their "savings" are given at the beginning of the year and repaid by the end of the year.
It's important to note that members will enjoy the same amount of available funds in their MediVault, whether they're on the main, Elect or GRID version of their flexiFED option in 2020.
Scenario 1:
A young and healthy person who is still making their way up in the world, will most likely be interested in nothing more substantial than a traditional hospital plan. With flexiFED 1 for example, they can enjoy better benefits than most hospital plans offer, but also have the peace of mind that should they ever need it, they do have the safety net in the form of the MediVault available. They don't have to pay for it if they never use it. Affordability, with built-in control and flexibility.
Scenario 2:
An established family who is accustomed to having a medical aid scheme, might have a good idea of how much day-to-day benefits they need every year. They prefer simplicity – so they simply transfer their entire MediVault allocation at the beginning of the year, and their repayments then work exactly as they would have with any other medical aid scheme. No further transfers necessary.
Whatever approach members prefer, the control is in their hands.
Fedhealth looks forward to bringing its members even more flexibility, choice and control in the year ahead.
To view our profile, click here
Business Essentials is Africa's premium networking and business directory.
Read more from our Pressroom:
____
You're Not Resilient If You Don't Have WAR
____
Nkanyezini Health Post Opens Doors to Vital Primary Health Care
____
Rethink Retirement; Spend Sustainably
---
Related Articles:
Removing Vulnerability in Residential and Commercial Estate Management
0 comment(s)
---
What Employers Need to Know About Hearsay Evidence
0 comment(s)
---
Unpacking the BEE Management Tool
0 comment(s)
---
IBA Group Opened a Digital Twin Laboratory
0 comment(s)
---
Learning Through Experience
0 comment(s)
---