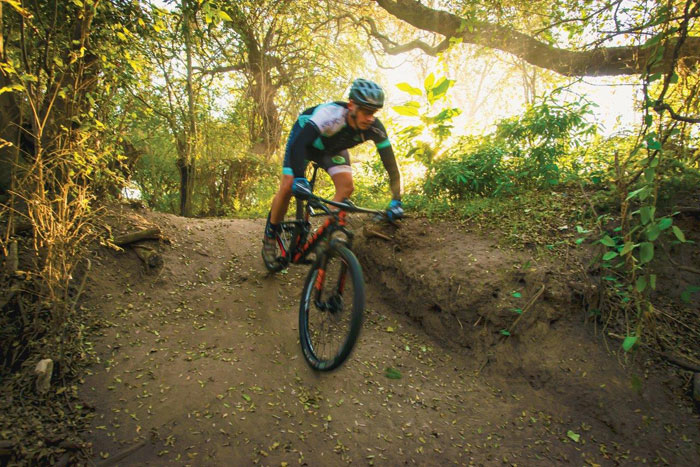 Steyn City has been announced as the host of this year's Discovery 947 Ride Joburg MTB Ride and the Discovery 947 Ride Joburg Kids Ride, taking place on Saturday, 9 November and Sunday, 10 November
The prestigious lifestyle resort will stage both events, offering existing and newly-built trails for participants to explore and tame on their bikes. There will also be a chillout zone where riders and their families can relax and unwind.
"It's an absolute privilege to be hosting this year's Ride Joburg MTB Ride and Kids Ride, particularly since the event is so closely aligned with our own values. Steyn City's carefully considered design promotes family time and outdoor living, with a host of facilities – including outdoor gym nodes, running tracks, children's play nodes and kilometers of promenade – developed with this in mind," said Guisseppe Plumari, CEO of Steyn City Properties.
"Cycling is a big part of this, too, and we're justifiably proud of our extensive cycling tracks, which make it possible to enjoy one of Joburg's most scenic rides literally outside your doorstep. We're also excited to be able to showcase everything our magnificent parkland residence has to offer to fans of the cycle race. We're looking forward to making this a thrilling day for all," Plumari added.
This is not the first time that Steyn City has played a role in the iconic cycling event. The resort has been part of it since 2014 when the 947 Cycle Challenge (as the event was known as) moved up the road to Riversands Commercial Park. In previous years, Steyn City also hosted a part of the 55km mountain bike route that gave cyclists a chance to experience the magnificent parklands trail that traverses the Jukskei River, as well as many beautiful cycle tracks that meander through the resort.
"We've enjoyed a close partnership with Steyn City over the years and we believe there is no better home for the Discovery 947 MTB and Kids Rides. We can't wait for new and returning riders to experience the exceptional beauty of Steyn City as they explore the new, and untamed trails," said Alexia Poulos, Group Events Manager at Primedia.
Steyn City is the ultimate destination for cyclists, offering extensive trails for on- and off-road riding set in an indigenous landscape. The resort is a true treasure for cyclists who seek a serious training route, without the concern of crime.
It's not only the beauty of Steyn City that impresses. It's convenient, too: the entire lifestyle resort has been designed to make it conducive for those making use of facilities like cycle trails. This means that, aside from the major traffic arterial, there are no busy roads to navigate and no congestion. Added to this, the trails are virtually on each resident's doorstep, so there's no need to strap your bike to the roof and head off in search of a suitable route.
What's more, there's something for everyone, from beginners and intermediate to advanced, from weekend warriors to race snakes.
And, if you're concerned with general fitness and maintaining overall peak performance, Steyn City offers a range of workout options, from a high-specked gym to outdoor workout nodes.
It all adds up to the ride of a lifetime for participants in this year's Discovery 947 Ride Joburg MTB Ride and the Discovery 947 Ride Joburg Kids Ride.
For more information, visit www.steyncity.co.za
To view our profile, click here
Business Essentials is Africa's premium networking and business directory.
Read more from our Pressroom:
____
Authentic Mentoring in Business
____
3 Supplements That Really Work for Weight Loss
____
A Flexible Medical Aid Product That Delivers
---
Related Articles:
The 7 Best-Kept Secrets for Buying a Home in 2020
0 comment(s)
---
CRS Engage Platform Builds a More Engaged Workforce
0 comment(s)
---
Can Consuming Collagen Benefit Your Skin?
0 comment(s)
---
Working in Coffee Shops - Is it Safe?
0 comment(s)
---
Cloud Still Too Pricey in SA
0 comment(s)
---